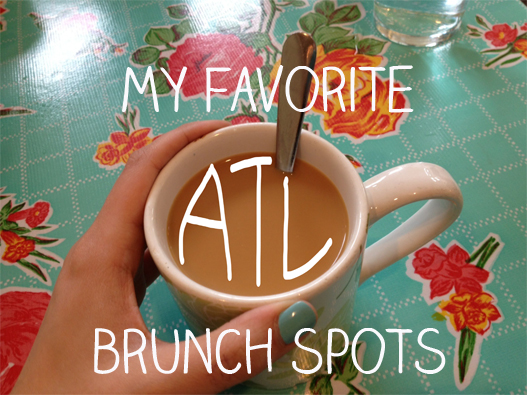 Lar and I have been talking about doing mini city guides for Atlanta and Edinburgh since we like to (window) shop and eat so much. This post is my first attempt with a list of my favorite places to eat brunch in Atlanta. There's something so comforting about a weekend brunch. Maybe I just like the idea of waking up late and driving some place where someone will make me pancakes and eggs with an endless supply of coffee. Whatever the case, when I'm in a brunch kind of mood, here's where I go:
Sun in My Belly - This one is probably my all-time favorite brunch spot because it's within walking distance of my house, has Anthropologie-like decor and offers the most amazing honey-glazed bacon. I always get the Kirkwood Breakfast, but the french toast, the lox and bagels, the homemade granola with fresh fruit, and everything else on the menu is brunch perfection.
Gato Bizco Cafe - Located across the street from the original and very popular Flying Biscuit Cafe (see below), Gato is like a hipster's Waffle House minus the greasiness. I've never had anything bad here and love the small footprint – there's only a handful of booths and a small counter.
Home Grown – Get the biscuits and gravy (unless you're vegan/vegetarian)!! It'll be the best $3 brunch you've ever had. If you've never had biscuits and gravy, shame on you! What are you doing up north? Come down and try Home Grown's and then you'll really know what biscuits and gravy is supposed to taste like.
Ria's Bluebird – Plenty of vegetarian dishes here. I love the huevos rancheros, but I've heard the beef brisket is to die for. Like all the places listed in the post, expect a wait on the weekend. I usually go in the summer, so I can drink my cup of coffee out front while waiting for a table.
Rise-N-Dine (pictured in this post) – Right by Emory University (so expect to see lots of Uggs and North Face), but very down to earth. The first time I came here I immediately fell in love with the vintage decor and oilcloth fabric on the tables. Also, they serve Nutella pancakes. Enough said.
Radial Cafe – Dining here is like giving a big ol' bear hug to the local community. The food is all locally sourced and almost everything that leaves your table is composted.
Flying Biscuit Cafe – With locations all over the Atlanta area now, Flying Biscuit has become pretty suburbanized so I would recommend going to the original location in Candler Park for a little more flair. The biscuits are still some of the best around and you can't go wrong with the organic oatmeal pancakes or a side of the creamy, buttery grits.
Waffle House – Sorry WH haters, I have to put this on my list. I probably eat here more often after a late night than at brunch, but it needs to be included because sometimes Waffle House's cheese 'n eggs are the only thing that will hit the spot. I usually go to the one in Avondale Estates because the service is consistently friendly and it's located a block away from the Waffle House Museum – yes, that's a real thing!!
Keep in mind this is by no means a complete list. There are plenty of other wonderful dining establishments that serve brunch in Atlanta that I just haven't frequented enough to be a fair judge. The latest issue of Atlanta Magazine has a much more thorough, unbiased list (every place I listed is on the east or south side of the city).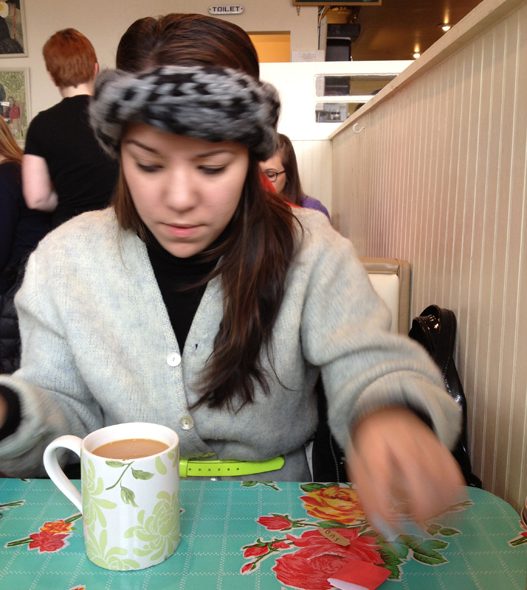 Troy and I went to Rise N Dine on Saturday for brunch. We split the Polish omelet and homemade chicken sausage biscuit. It was freezing this weekend – at least by Atlanta standards – so all I wanted was warm, comfort food.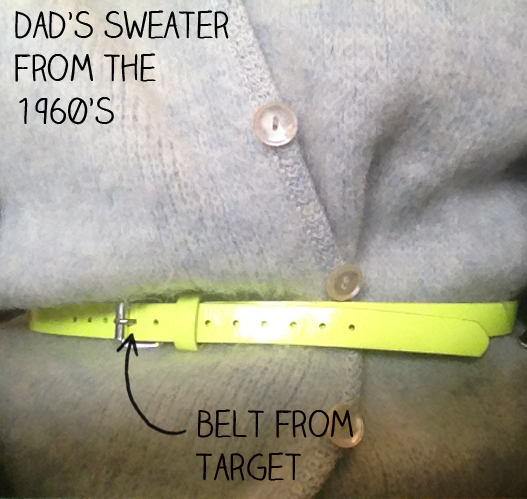 Outfit details: H&M turtle neck • dad's sweater • Target belt • Eugenia Kim knitted headband
Any brunch fans out there? What are your favorite brunch spots in your hometown? Any Denver readers? Troy and I will be going to Denver in April and need some brunch suggestions.
PS: Congrats to Marian for winning the Sinless Cocktails contest! I used Randomize.org to choose a winner. Thank you to everyone who entered! Marian, I'll be sending your email to the owners of Sinless and they'll be getting in touch with you.
____________
Dear Lar,
As I was writing this, I was trying to think of all of the places I like to each brunch in Edinburgh. There's the German bakery of course and there was that cute French bakery we went to last August near your old flat in Morningside. I'll get the oatmeal at Chocolate Soup any day and a bagel at Elephants and Bagels, but surely there's other brunch/breakfast-y places. Or is brunch not as big in the UK? I always figured that if there were elevenses then surely there's brunch, right?
I can't believe I got to talk to you twice this weekend on Skype! So glad you and Matt had fun in Glasgow and actually found some sun. I can't wait to see your post on your weekend adventure!
xoxo, Cath