For over a year Lar has been following a strict, low fat, low sugar, high-alkaline diet with the hopes of lessening her endometriosis symptoms. The diet basically consists of lots of veggies, fruits, no gluten, no alcohol, and occasionally organic chicken and fish. So when she was in town for the holidays I tried to make it as easy as possible for her to stick to her diet. Here were some healthy eating highlights: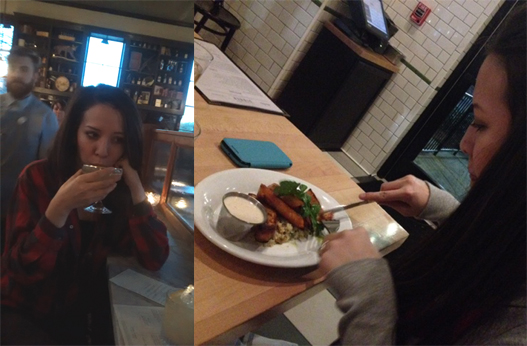 1. The mocktails at Kimball House were amazing. I didn't even miss the alcohol with the delicious blend of clove and lime. 2. Lar loved the quinoa and sweet potato appetizer at The General Muir.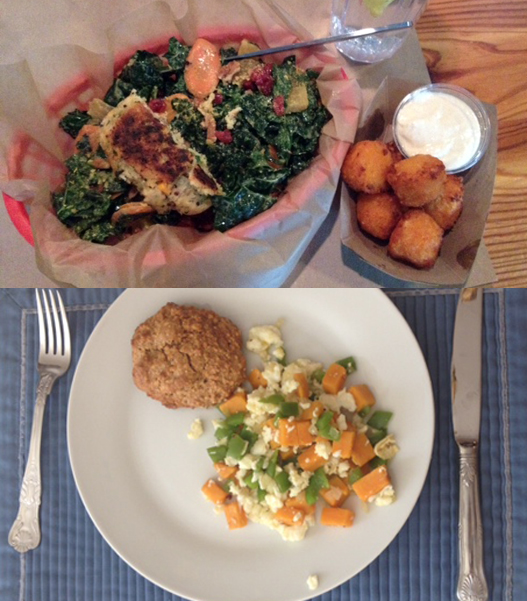 3. The Superfood salad at Farm Burger is incredible: lacinto kale, roasted carrots, pecans, honey cinnamon, spiced pumpkin, caramelized onions, dried cranberries, tahini dressing, nutritional yeast. Lar and I each got one with half a quinoa burger on top. 4. Lar made a yummy, healthy breakfast for the family yesterday: gluten-free, almond biscuits and an egg white scramble with peppers, onions and sweet potato.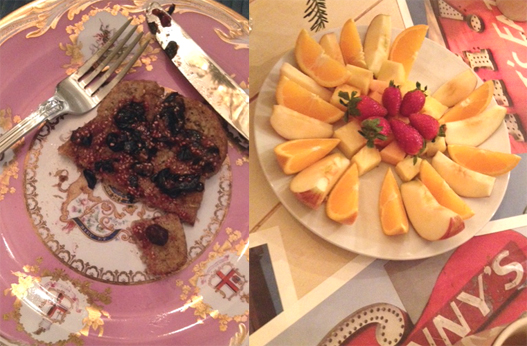 5. Last week Lar made vegan french toast with blueberry and chia seed jam. She used Exekiel bread, which isn't gluten free, but it's made with sprouted wheat, which is easier to digest. 6. Almost after every dinner at my parents' house, my dad cuts up a bunch of fruit for dessert.
I also made a ton of vegan, gluten-free dough balls. They're not pictured because I couldn't get them to look appetizing, but check out this blog for inspiration. I used her recipe, but substituted the whole wheat flour for gluten-free flour. Another favorite was this shredded kale salad. I'll definitely be making that again soon.
Lar does splurge every once in a while – especially around the holidays. She tried a piece of this Cro-dough (Revolution Doughnut's version of a cronut):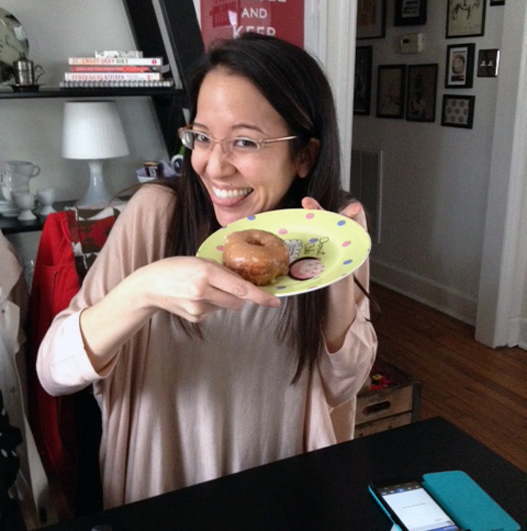 I am so in awe of how much Lar has changed her lifestyle to make it healthier – she even makes her own, all-natural deodorant! And while I probably won't be making my own deodorant anytime soon (mostly because I'm too lazy), I do want to try to eat healthier like her. More kale, less beer! That's my motto. How about you, dear reader? Are you on a health kick this January? If so, what are your favorite recipes? I need some inspiration!
PS: Thank you to everyone who responded on our Four Simple Goals Recap post. I loved reading about your experiences!
_______________
Dearest Lar,
I'm so glad you made it into Seattle safely. It didn't seem as hard to say good bye yesterday because 1.) I'll get to see you in less than two weeks and 2.) I know you'll be in this country for the next four weeks!
I hope you and Matt get some time to explore your new temporary home. Hopefully the weather won't be too similar to Scotland.
See you soon!
xoxo, Cath