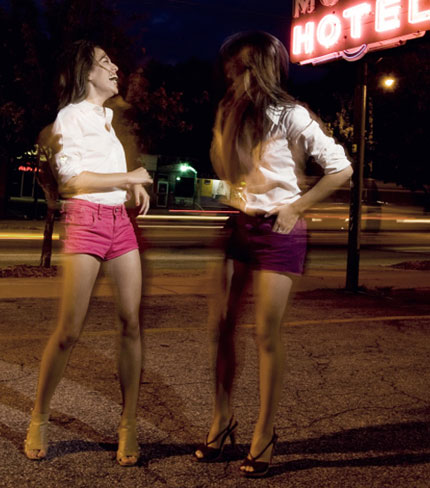 Lar and Cath, Photo by Andy J Scott

Our mom's family is from Cajun country in Louisiana. Our dad's family is from southern China. Mix the Cajun and the Asian together and you get AsianCajuns! And that's us. Technically we are part Creole and not actually Cajun (our ancestors came from France directly, not via Canada where the actual Cajuns come from), but AsianCreole doesn't have the same ring, does it?
Confused yet? Don't worry! Essentially "asiancajuns" is a totally made up word and doesn't really mean anything, or at least it didn't mean anything. Since beginning our blog in May 2007, "asiancajuns" has become our moniker for all things we love and want to share with you. It doesn't mean you have to have any interest in gumbo or dim sum (though we are definite fans) because we love lots of things: house museums, Atlanta/Decatur (our "hometown"), traveling and taking you with us, platform shoes, chocolate cake… we run the gamut.
Oh, and we do happen to take a lot of photos of ourselves. . . outfit photos.
AsianCajuns has evolved to kind of an outfit/style blog, but we try to not focus solely on fashion or clothes. We love style and figuring out how to evolve into stylish women (fingers crossed!), but we also just like talking about things. Feel free to join in the conversation and leave us a comment, or email us!
ps. If you are looking for our first blog (asiancajuns.blogspot.com), you can still find it here.
Why are you an ocean apart now? What's this Edinburgh nonsense? Don't you live in Atlanta?
Cath and Lar both studied together at the University of Edinburgh in 2004 and fell in love with the city. In 2011, Lar and her mustachioed man (aka Matt, Lar's husband) moved to Edinburgh. It's just a temporary move while Matt continues to work on his mad scientist skills. So now we/AsianCajuns are an ocean apart and though I (Lar) love Edinburgh and it's Cath's favorite place in the world to visit, we are devastated to no longer live in the same city. AsianCajuns (the blog) has become another way for us to stay in touch. We've made Decatur/Atlanta and Edinburgh unofficial sister cities.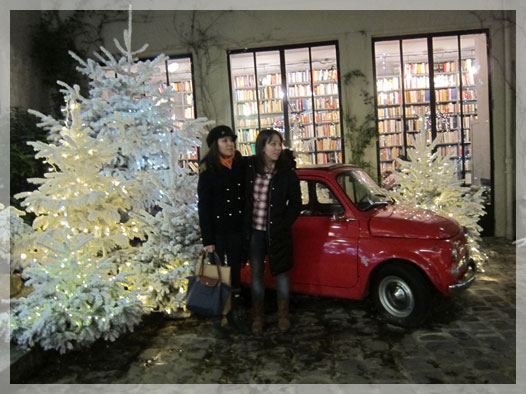 We are the identical twin sisters (i.e. AsianCajuns) who write AsianCajuns.com.
Cath lives in Atlanta/Decatur, Georgia. She is the older of the two (by thirty seconds- whew!), works for the local government and is a very talented french hornest and former ballet dancer.
Lar lives in Edinburgh, Scotland. She also has a bunhead past, and used to play the violin, but mainly spends her hours in front of her Mac graphic designing, and dreaming of being something a little more artsy-fartsy.
How to tell us apart:
We try to be clear about who is the author of each post, but we know that can get confusing. Cath usually has the more conservative outfit on (because of her work environment) and tidier hair. Lar dresses with a bit more color (because of her work environment), wears a hair pouf (not like Snooki – I did it first!) and is not quite as tidy in her execution of said pouf. Also, we think of ourselves as very not-identical people. Once you get to know us, you'll have no problem telling us apart- really!
We are petite:
We say we come in at 5'3 on a good day (technically we are 5'2.75, but close enough, right?). Most of the time we don't mind being short, but we do like to add a bit of height with a heel. When we dress we do tend to keep our stature in mind: shorter jackets, higher-waisted pants (not nearly as comfy as the lower-raise ones we realize), a heel, etc. But other times we just say screw-it and wear blocks of color and roll our pants up ("no-nos" for the petite set) because rules can get a bit boring.