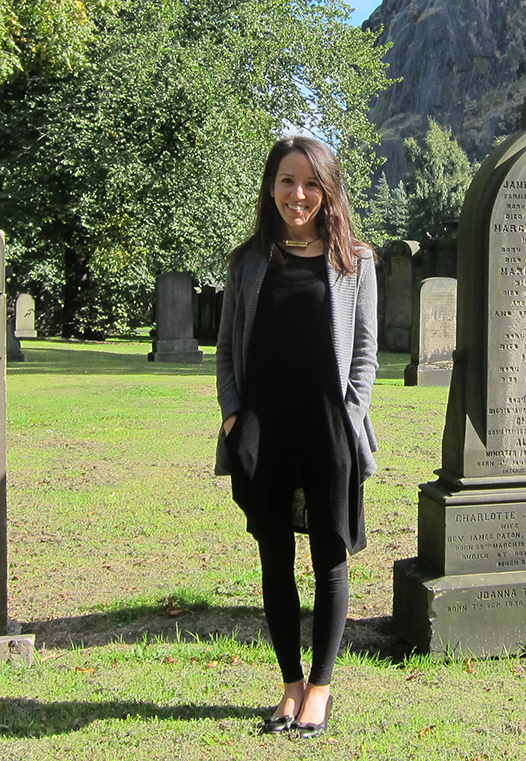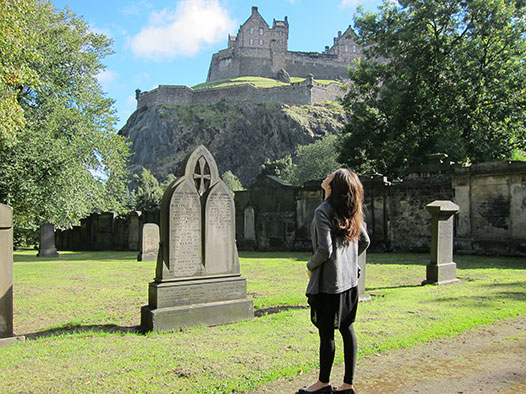 I didn't think about this at the time these photos were taken, but I hope it doesn't weird you guys out that I look so cheerful in a cemetery. I know headstones and buried bones are morbid, but I've always been a sucker for old stone (Cath too — she just was partying at a cemetery in Decatur a few weeks ago). If they are in the middle of the city like this one in the pics, they are beautiful, serene green spaces tucked into bustling urban life. This particular cemetery is just below Edinburgh Castle — a pretty darn good view if you are going to rest your bones anywhere for eternity, eh? (Sorry, too morbid again?). And I do enjoy reading headstones and thinking about what those people living in 1830 in Edinburgh must have been like.
Even if you still aren't a fan of tip-toeing around burial plots, doesn't it get you into the Halloweeny mood?! It makes me want candy corn and caramel apples, and to smell bonfires crackling.
Since our two year stint in the UK began, it seems more and more people are embracing Halloween. Nobody knows what candy corn is (or Milk Duds) and it's still sometimes tricky to find pumpkins, but there are more decorations this year than the previously. Just look at these at our favorite local, FYUL. Martha would be proud!
Re: the stretchy pants. I'm afraid Cath will continue to have to be the lone fashion inspiration on this blog. Apart from having a teeny tiny wardrobe these past two years, I've also discovered the joys of leggings and jeggings! Those black stretchy things that even at their peak of trendiness a few years ago made onlookers feel ambivalent at best and like they got a dose of TMI at worst.
But I've embraced leggings and their pants-pretending cousins, jeggings, whole-heartedly. My abdominal area is still not quite back to normal after my surgery 10 weeks ago, and an elastic waist band feels like a gentle hug rather than a corset like my skinny jeans do. And they are perfect for layering cosy sweaters and tees. If you are worried about a TMI situation occurring (or is that me just being paranoid?), layer longer tees under your shorter sweaters or blouses.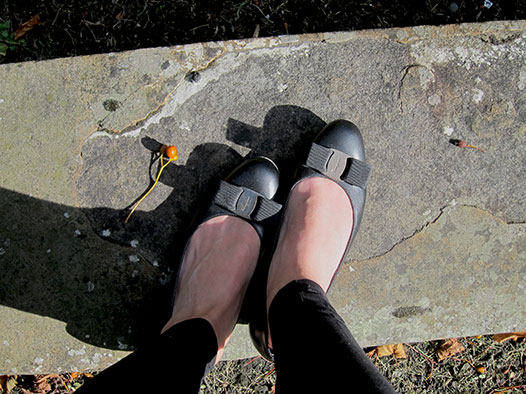 Outfit details: gray cardi Lands End, black tunic and leggings New Look, fair trade necklace by Mettle, shoes are Vara by Ferragamo
———
Dear Cath,
I'm so sorry you've been dealing with this nasty virus right when you are meant to be in NYC! I wish I could be with you to give you chicken soup and then fly with you to your conference. I'll be thinking about you all week and sending you lots of healthy, happy vibes from Edi!
Love you like candy corn loves Oct. 31,
Lar