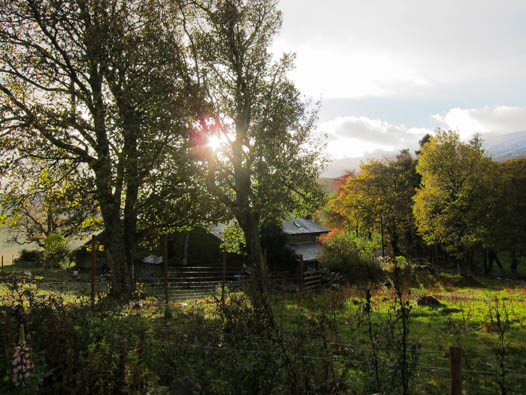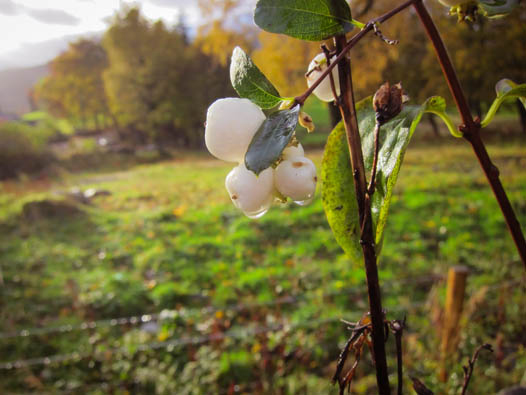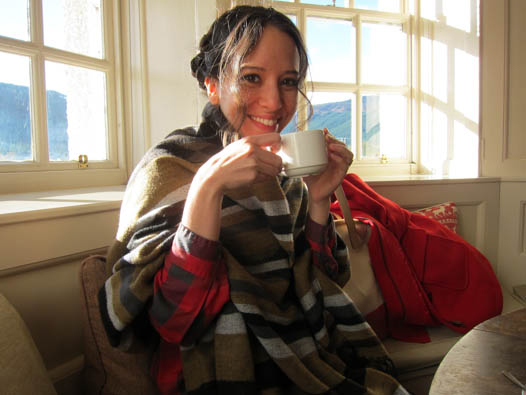 Scotland is notorious for its rainy temperament, but even at its most cranky it is one of the best places in the world.
Most of our five days in Perthsire have been cold, windy and rainy, but when the sun shines I swear this place looks like something from the pages of Brothers Grim. This from a girl who was never that interested in fairy tales and who used to think nature was best left alone to the bugs and people who enjoy the sound of water-proof clothes rubbing together.
So be warned: I'm going to bombard you with pictures in this post. I want you guys to get a taste of the magical place that is the Highlands of Scotland. And then come for a visit.
Here's a few pics of the wee cottage Matt and I stayed in: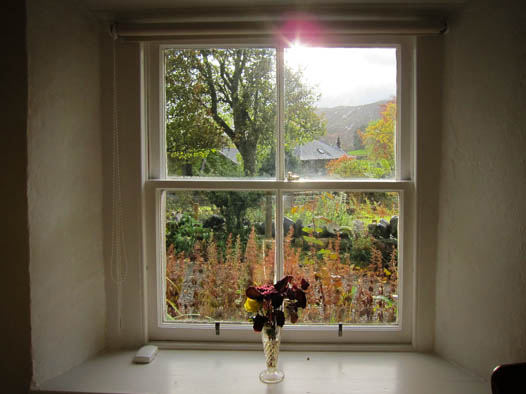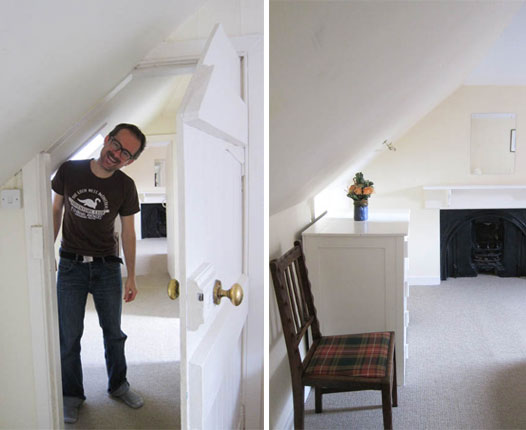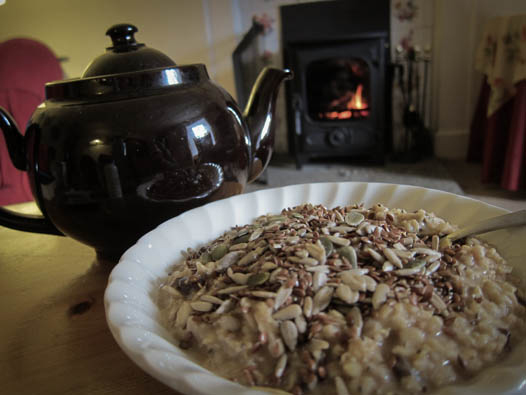 One of Scotland's famous peaks, Schiehallion mountain, covered in snow — this was our view from the front door of our cottage: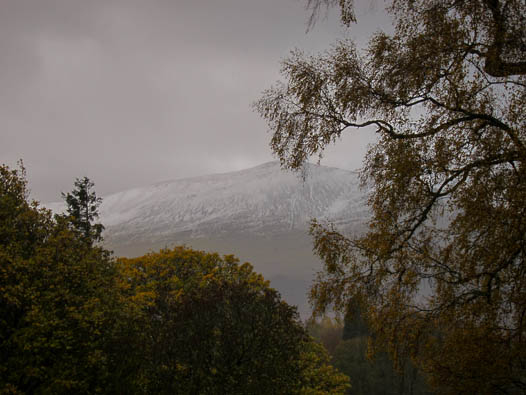 This has got to be the Brigadoon  bridge. Is that Gene Kelly behind that peat bog?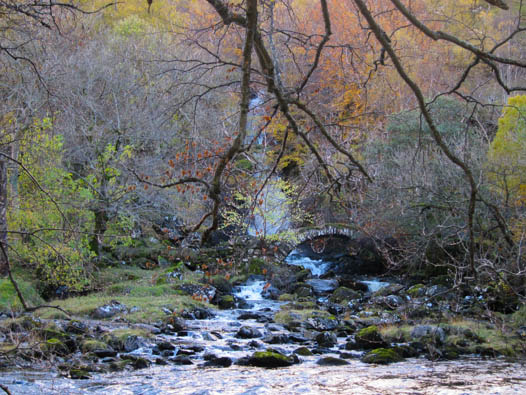 We drove through Dull, Scotland: sister city (village?) to Boring, Oregon. Cath and I have been fans of the Dull & Boring Facebook page for a few years. Boring, don't feel left out. Next time I'm in Oregon, you and me have a date!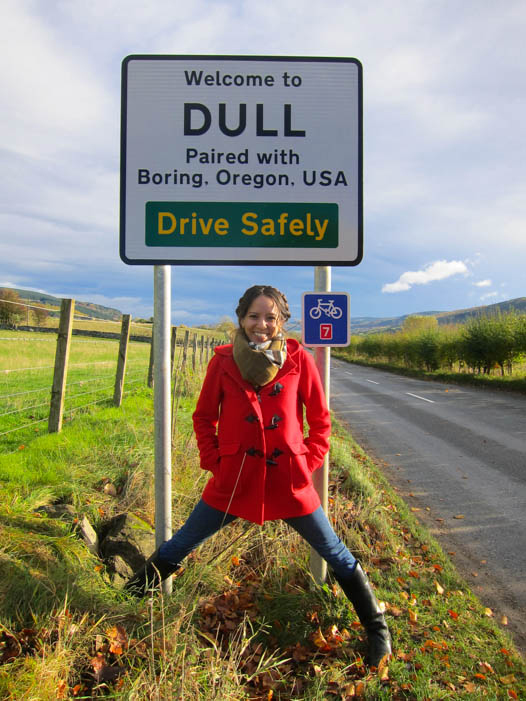 Matt and I foolishly decided we are now, after two years of living in Scotland, as hardy as Scots. Foolish! Foolish, I tell you! Hiking in the driving sleet and freezing rain is not for us. Don't let Matt's triumphant stance with walking sticks fool you: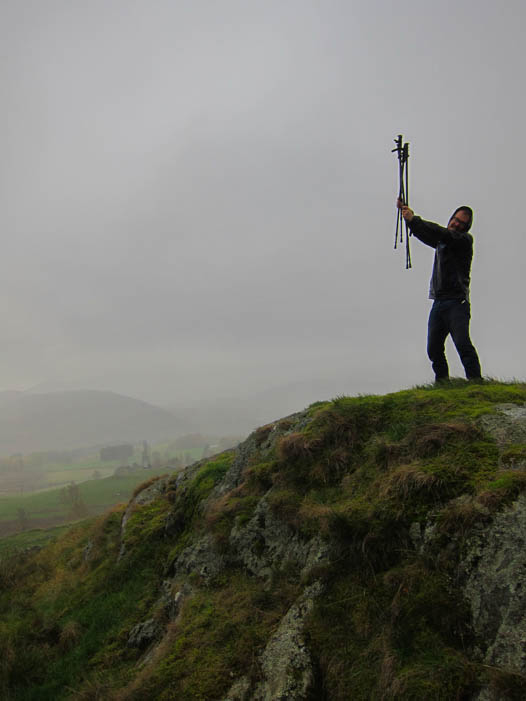 p.s. Just because something is labeled water-proof (North Face, I'm looking at you) does not mean it's water-proof in this damp country. We were soaked to the bone in water-proof trousers, jackets and hiking boots after 20 minutes of schlepping up this hill.
Enough griping! Look what happens when the sun does comes out. It's autumn and the Highlands turn into gold: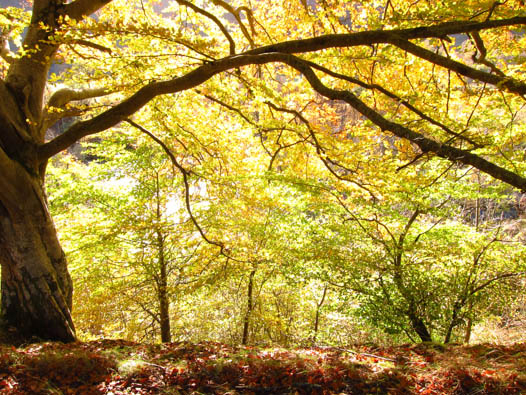 One of the highlights of the trip was going to the wee village of Fortingall and ogling the oldest living organism in Europe: a 5,000 year old Yew tree! It was 56 feet in circumference before the Victorians got souvenir-happy and chopped the base to bits. It's still growing though and mightily impressive: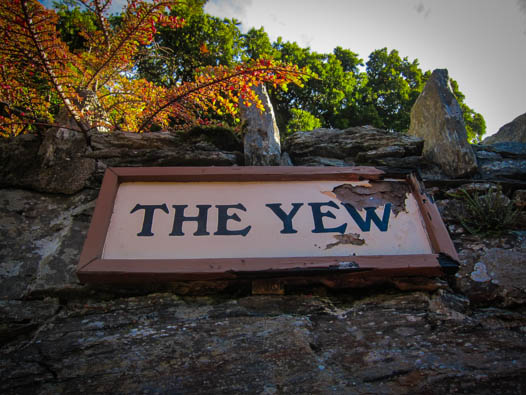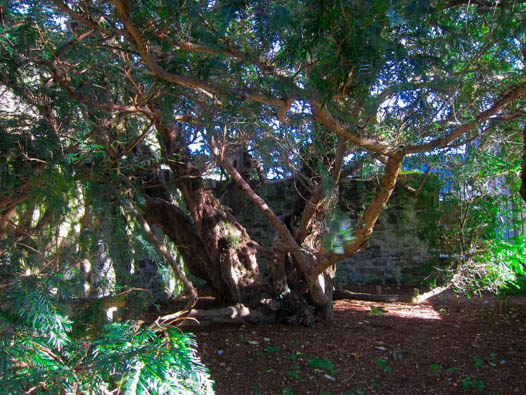 Another fun "fact" about Fortingall? Many questionable sources claim that Pontius Pilate was born here. Yes, here, this teeny village of Fortingall in the heart Scotland. And, yes, that Pontius Pilate from the Bible. Apparently, Pontius' dear ole dad was stationed up here with his Roman legion. So maaaaybe? Anywhoodles, I find the Oldest Living Organism Yew Tree way more awe-inspiring than Ponti P.
Speaking of myths v facts, Loch Ness is no where near Perthsire, but we figured these tees would be appreciated near any loch. So we had a mini photo shoot by Loch Tay: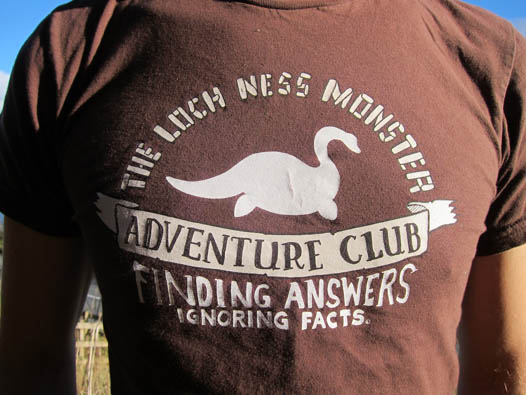 See anything, Matt? Nope, just a questionable shadow and ripple across the loch: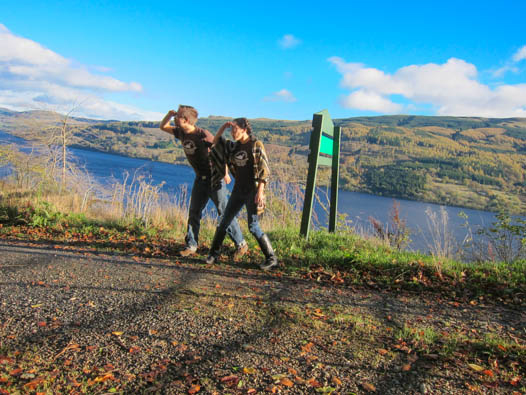 Egads! The Loch Tay Monster is sighted. Lar flees, Matt runs to the rescue: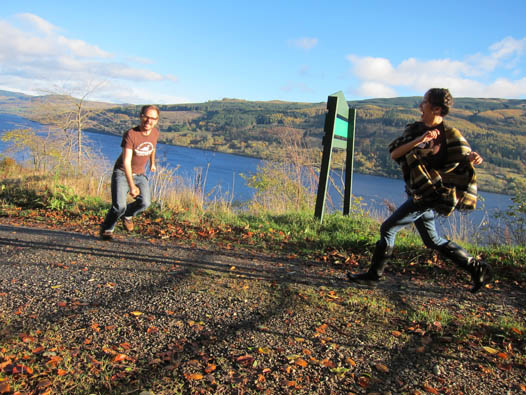 And one last picture of Brigadoon (aka Dunalastair Estate) because it just looks so unreal: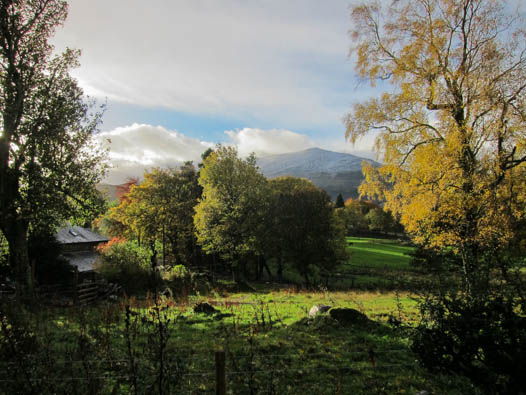 Hope you guys didn't get carpal tunnel in your scrolly finger. I promise my next post won't be so long. But aren't you Scotophiles now? Come rain or shine, this fairy land won't disappoint.
—–
Dear Cath,
I can't wait to see pics from your mountain weekend!!! In some ways, bits of Perthshire look EXACTLY like northern Georgia. There's more trees than on the west coast of Scotland and the mountains look kind of similar from afar. I'm guessing you guys didn't need three layers of clothing made out of wool and Gortex to go tramping around the Blue Ridge mountains.
And as nice as long mountain weekends are, I don't like that we couldn't skype! Miss you oooodles! We must skype midweek then, okay?
Love you like water loves Scotland,
Lar