Once in a while Lar and I sit down and talk about what kind of content we want on AsianCajuns. We frequently circle back to topics like outfits, personal style, and travel, but we always decide we want to include more fun things about the cities we live in. I always enjoy reading blogs that unearth shops and restaurants that I wouldn't know about as a visitor. Lar has done a great job with posts on FYUL and Falko, but I need to step up my game with Atlanta.
I don't blame people who write off Atlanta as a giant suburb with an international airport. If you stick to the typically touristy stuff, you don't get to see what makes this city so great. To get a true feel of Atlanta, you have to explore the inner-city neighborhoods where you'll discover amazing shops and restaurants. So that's where AsianCajuns comes in. I want to start including more posts on my favorite spots.
Let's start with a trip to Worthmore Jewelers!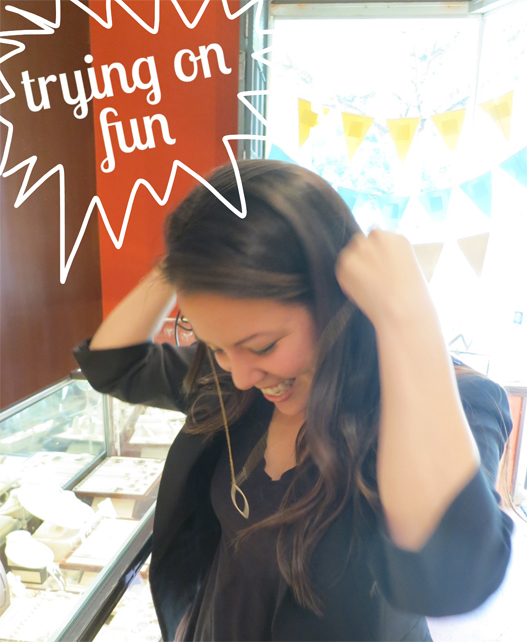 The Worthmore Jewelers in Decatur (the original store is in Midtown) is less than a three minute walk from my work. I pass by it every time I go to Starbucks and always want to press my nose up against the window and see what's new.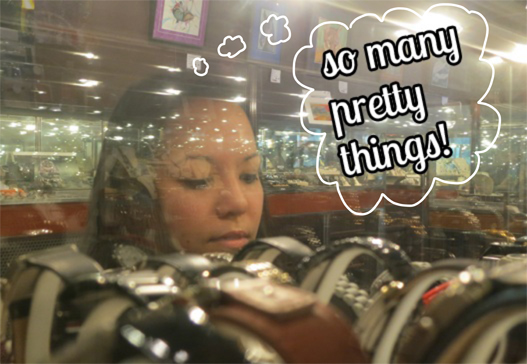 What sets Worthmore apart from other jewelry stores is its inventory. It has a great mix of price points, styles, and items. I'm not a big jewelry person – at least not the fancy kind – so I usually just write them off as places where you buy engagement rings. But I've been going to Worthmore for years because they have unpretentious jewelry you'd want to wear everyday, they have the best selection of watches in town, and the staff is super welcoming and friendly.
Below I'm trying on this amazing Nixon watch. Isn't it a beaut? It's already on my Christmas wish list (hint, hint Troy)!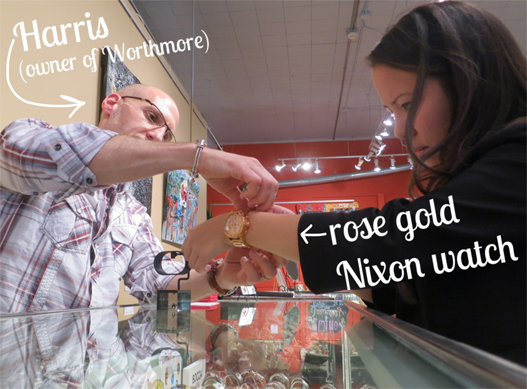 Since I don't know much about stones and gems I might be a little slow on the morganite trend. Have you heard of it? Apparently it's part of the emerald family. It's a little hard to tell in these photos, but the morganite gems are more of a light peach than pink, which I like because it makes it less princess-y – or less J.Lo/Affleck engagement ring-y.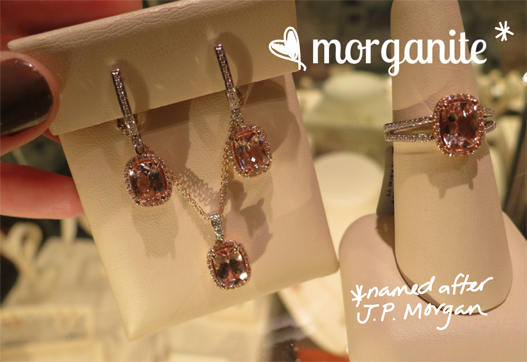 See the delicate necklace in the photos below? Every one of those little beads is a rough cut, black diamond – kinda reminds me of this 😉
There are so many facets on each diamond that the whole necklace sparkles like crazy, but it's ultimately very understated. I would absolutely put this on my Christmas wish list if I thought someone would plunk down $1700 on a gift for me. Still, a girl can dream, right?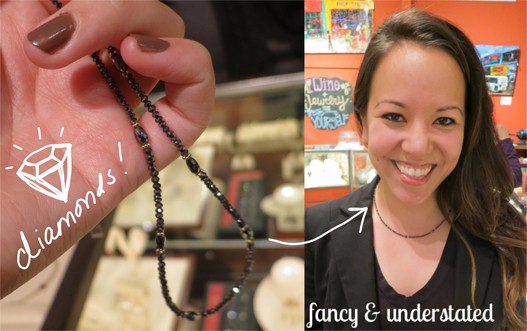 Worthmore carries Nina Nguyen jewelry based out of Colorado, which uses organic stones like geodes and fossilized ammonites.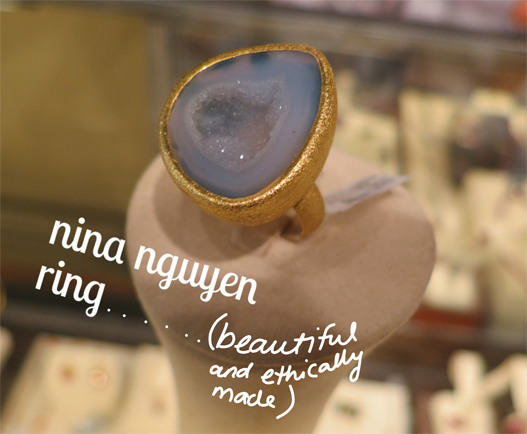 Other reasons why I love Worthmore:
1.) The store is like a jewelry store and art gallery in one. They're always having art openings and participate in the bi-annual Decatur ArtWalks (the next one is Nov. 8!).
2.) Did I mention the staff? Harris, Olya and the whole Decatur Worthmore team are wonderful!
3.) Troy brought Wheatie with him when he came to take these photos and the staff loved him. You might be able to have breakfast at Tiffany's, but can you bring dogs to Tiffany's? I think not! Actually, you can't have breakfast there either, so really you should just shop at Worthmore.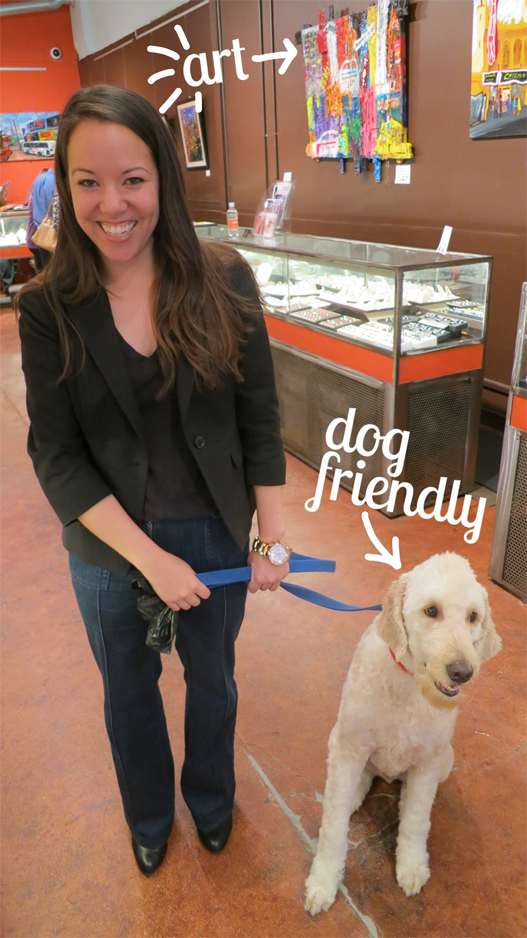 Have you ever been to Worthmore before? For you non-Atlantans, what are your favorite local jewelry shops? I can't wait to hear from you!
____________________
Dearest Lar,
I still can't believe that I'm going to Scotland next month! Never ever did I think we'd be spending Thanksgiving together this year – best Christmas present EVER!!
My only concern? I don't think I can handle real cold anymore. Atlanta weather has made me a weakling when it comes to the cold. The other day I was really cold in my house so I checked the thermostat and it was at 68 degrees. That's just sad! I'll be permanently wrapped in a fleece blanket the whole time I'm in Scotland.
So I'll pack lots and lots of layers for next month and just drink lots and lots of tea.
I can't wait!!! Bring on the cold!
xoxo, Cath