Use Grammarly for proofreading because, it's like a little (comma) splice of heaven.*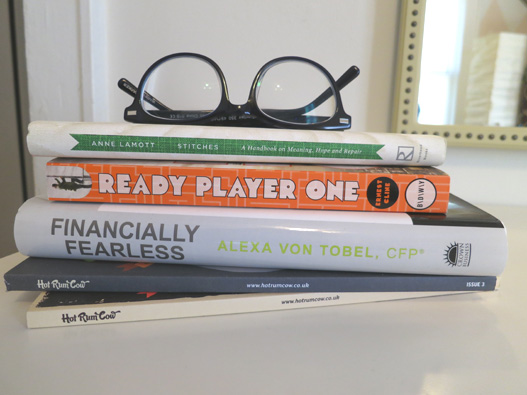 It's been a while since we've talked about books on AsianCajuns. Lar and I have always been big readers, but since I've been going to graduate school while working full time, my reading has tapered off a little bit in the past few years. Lately, I've been trying to take more time to read, even if it's just a few minutes before bed. Here's what I've been reading/planning on reading these past few months:
Stitches by Anne Lamott – My mom saw Anne Lamott give a talk at our local library and immediately bought a copy Stitches for herself, me and Lar. It's about dealing with loss and catastrophic events. It sounds dark and self-help-y, but it's not. I like reading little snippets of it throughout the week.
Ready Player One by Ernest Cline – This is one of those books that I'm planning on reading. Eric from Mosey bought it for me when Troy and I got to hang out with him in Decatur a few months ago because he said it was one of the best books he's read in while. I know fellow blogger, Laura, just finished it and loved it. I've been holding off reading it until I have a free weekend, but that's never going to happen and I'm really looking forward to it, so I might start it this week – can't wait!
Financially Fearless by Alexa Von Tobel – Alexa is the founder of LearnVest.com, which I use to keep my finances in order and occasionally "meet" my online financial advisor. It's a great book (and website) for anyone needing to up the ante on their personal finances. I haven't read the entire book, but I know I'll use it continually as a reference.
Hot Rum Cow – The company that Lar works for in Scotland publishes this independent magazine about beers, wines and spirits. Every time I visit Lar in Scotland or when she comes home for a visit, she brings me the latest issue and I love it. I've kept all of the issues she's given me and have even reread some of the articles. It has everything I love: great writing, awesome design, and a focus on booze!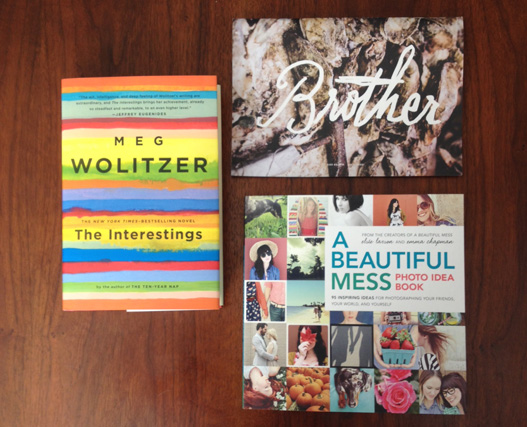 The Interestings by Meg Wolitzer – A Beautiful Mess started an online book club this year and The Interestings was the January book. I bought it in January with every intention of participating in the online discussion, but have yet to finish it. Whoops! Luckily I got my friend, Alison, and Lar to read it with me so we're going to have our own little book club chat via Skype soon.
A Beautiful Mess Photo Idea Book by Elsie Larson and Emma Chapman – As much as I love instagramming and taking photos for the blog, I sometimes feel uninspired and "meh" about my photos. I use this book when I need some inspiration and a little pick-me-up.
Brother – I bought this journal at Octane in Grant Park for Lar since she loves independent publications. I was going to wait to read it after her, but I couldn't help myself and read it before giving it to her. This particular issue was about oysters in Charleston, SC. I read it from cover to cover (it's not a big publication) and immediately went to the Kimball House to eat some oysters after. I can't wait for the next issue.
 * Blogger disclaimer: This is a sponsored post by Grammarly. All thoughts and views expressed are my own.