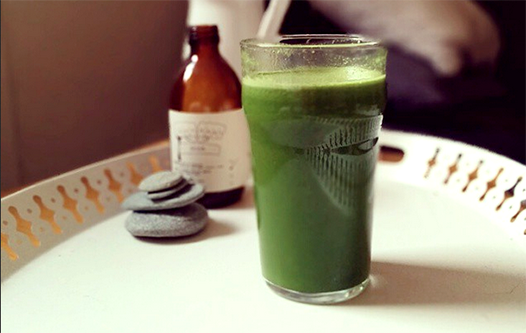 I started changing what I ate about four years ago when my endometriosis was getting more severe. Before I made the change, I remember thinking that being a vegetarian was really tricky. How can you eat every meal without meat?! Fast forward four years later and I eat a mostly vegan and wheat free diet. Old me would have been picking her surprised jaw off the floor looking at new me (and then had another cronut once she got her mouth closed). I seriously never thought I could (or would have to) give up my foodie ways.
Before I made the change, I thought I was pretty healthy because I liked fruit and wasn't opposed to a veg or two on my plate. But I never tried to consciously change my diet just because I had put on 10-15 a few pounds since my early twenties. Loosing weight was never a good motivator for me, but pain was. When my endo got more severe I looked for ways to combat the debilitating pain. The pain motivated me enough to think if giving up hamburgers and beer could help me, let's give it a go.
I started by reading Kris Carr's Crazy, Sexy, Diet. I also started following the endo diet as closely as I could. Green juices, big bowls full of kale and broccoli and beans and brown rice became the norm for my meals. I cut out all refined sugar and most fruit too (and replaced the fruit with lots of veg). It was hard, the first two weeks I felt miserable. And then I felt really, really good.
It shocked me to find out that I felt stronger and more awake on a vegan, wheat-free, sugar-free (and alcohol-free) diet.
Sadly the diet didn't do much for my endo pain even though it made me feel better overall. So about a week every month I would still be in agony (too painful to do anything — even sitting hurt). But I stuck with the diet because it helped me feel stronger the rest of the month.
And I've stuck on the diet on and off again the past four years. Any time I veer off the diet for two long, I begin to feel sluggish, achey, more anxious and my digestion gets wonky. Although it doesn't seem to have much power against my endo, I'm really lucky that my second surgery has helped me feel so much better. I also think it helps keep my body in balance overall, and that should help keep the endo monster humble (Take that, endomonster! You're getting more broccoli!).
So without further ado, here is a general list of what I usually eat during the day. I often have cheat meals where I don't stick to the diet, but I try to keep those to one or two a week. As you can see, it's not completely vegan (I do eat organic eggs), but there's very little refined sugar, dairy, wheat or alcohol.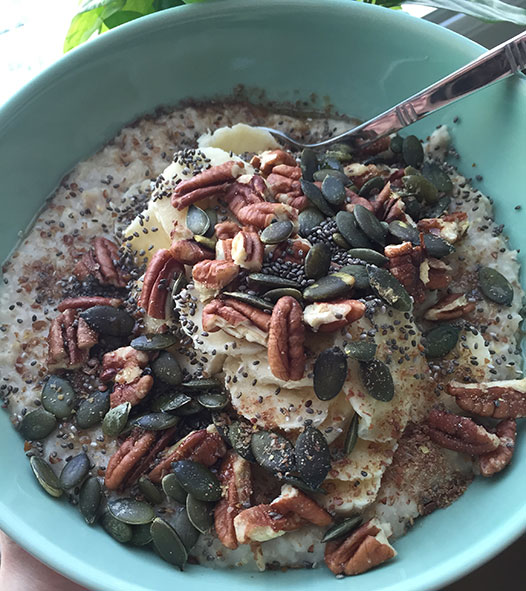 Breakfast:
Oatmeal is one my most favourite foods in the whole wide world. I've always liked it, but since coming to Scotland (and learning to add a pinch of salt to it), I've fallen in love. During the week I'll just throw in a few dates and chia seeds because I'm usually in a rush. But on the weekend –oh the weekend! — there's time for pecans, bananas, pumpkin seeds, ground flax seeds, sunflower seeds, maple syrup — the whole works.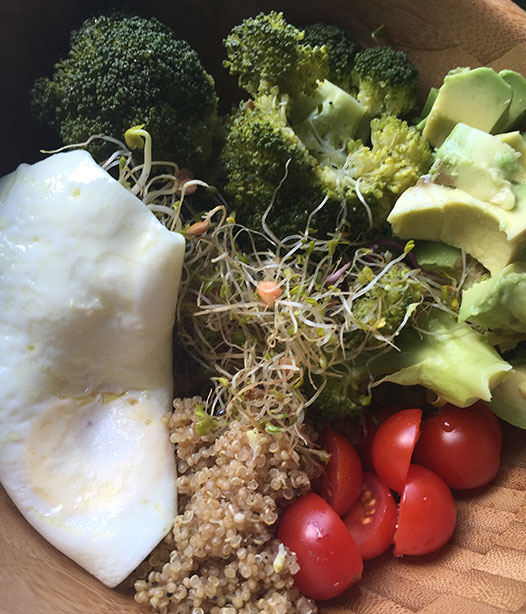 Lunch: Buddha Bowl
Steamed broccoli, avocado, tomato, garlic and quinoa, sprouts and and an egg. All sprinkled with some lemon juice and a pinch of salt and pepper.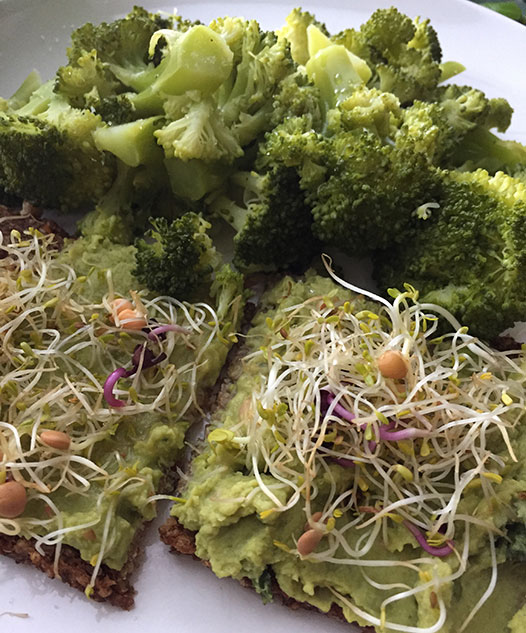 Lunch #2/Snack
Steamed broccoli with lemon juice and sprouted, wheat-free toast with green pea hummus and sprouts.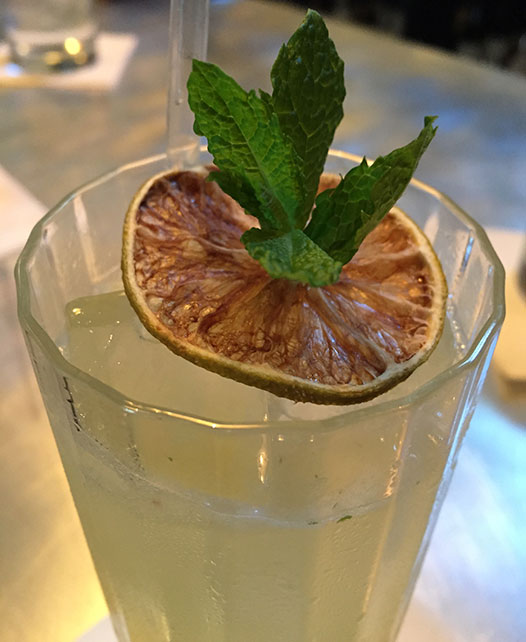 Mocktail
I'm not always great at sticking to my teetotal ways. My job involves tasting a lot of delicious boozey drinks. But I do try to keep it to one or two nips of alcohol per month. If I go to a fancy bar, I'll ask the bartender to make a mocktail that doesn't have much sugar in it like the one above. You obviously don't get a buzz from gingery bubbles and mint, but alcohol usually is one of the triggers to make me feel lousy even after a few sips. Enough motivation to keep my intake to a minimum.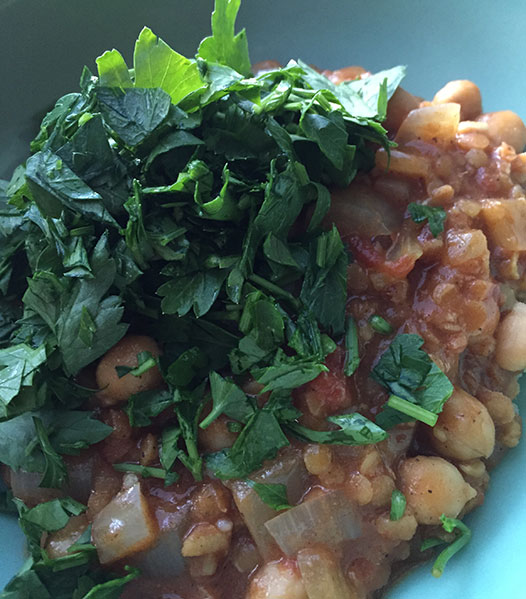 Dinner
I usually have something with brown-rice and beans and lots of veg. This is my new favourite. Endo Diet's daal — sooo good! Even if you don't eat vegetarian or vegan, this recipe will blow you away. I added chickpeas and lots more garlic and ginger and topped it with a healthy sprinkle of parsley.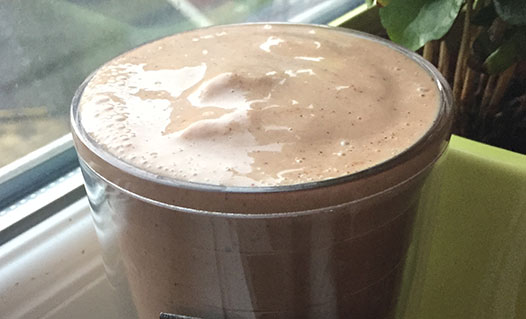 Dessert: Healthy Frosty
I have such a sweet tooth. I've cut out almost all refined sugar, but I do still eat fruit and . delicious, healthy smoothies! This one is based on Wendy's frosty but is much healthier: one frozen banana, a big spoonful of cacao (not cocoa — that usually has sugar added to it), a cup of almond milk, a healthy spoonful of almond butter and a dash of maple syrup if you need it. Seriously, I don't crave other sweet things when I have this and the only sugar is from the banana and a bit of maple syrup.
If you are looking for more recipe inspiration (because I know the idea of eating veggie/gluten-free/dairy-free/sugar-free can seem so daunting), here are some great resources:
Tara eats
Kris Carr recipes
Endo Diet
Detoxinista
Greener Resolutions
Even if eating this way most of the time doesn't sound like your cup of tea, I strongly recommend trying it for a week and just to see how you feel cutting back on some of the foods that do tend to cause inflammation in the body (dairy, red meat and sugar). And let me know how you feel! I love hearing other people's adventures in trying new ways to eat — if you're a foodie or paleo or are an almond-butter junkie like me. I love to hear it all. Happy chomping, guys!