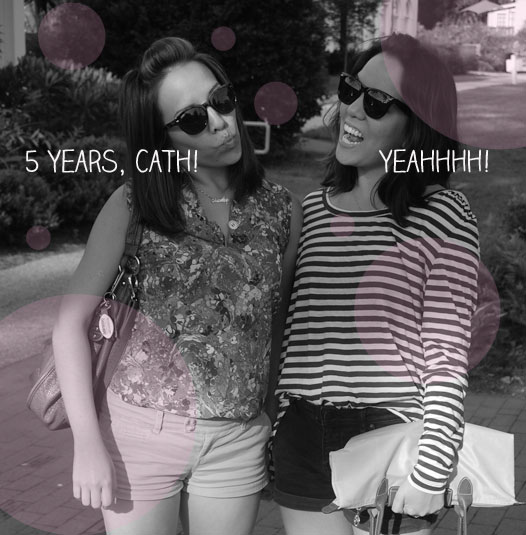 April 26 is our AsianCajuns 5th birthday — yahoo! So what better time to shake things up?
If you guys are like us, you are reading fewer blogs and blog posts (we still love them though!) and spending more time on Facebook, Pinterest, Instagram, and Twitter. When we do go to our favorite blogs, it's with less regularity. Instead of checking in daily, we visit less frequently but stick around longer to catch up on posts. Are you guys the same?
Anywhoddles, that got us thinking. We'd like to use our wee corner of the internet here on AsianCajuns to write well-crafted posts once a week — still about whatever strikes our fancy (you know the usual: twin stuffs, a bit of fashion, a good dose of travel and out-and-aboutness). In between posting, we'll be sticking our link love on Facebook throughout the week, updating our Pinterest boards regularly, and Cath will be instagramming and tweeting away (I needs to get me an iphone!).
We want AsianCajuns here for when you want to sink your teeth into something meatier (more than 140 characters and not just photos of what we're eating and buying). We'll keep the snippity snacks on our social media sites and the main meal here.
Thank you guys for coming along with us these past five years: evolving with us and giving us a wonderful community online and in the real worlds. We hope you like these wee tweaks we're making and continue to enjoy whichever bits of AsianCajuns you choose to visit with us.
xoxox,
Lar (and Cath)