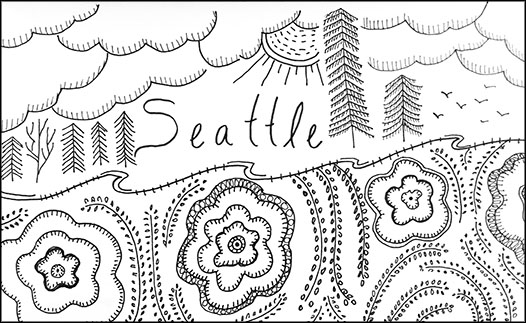 Hi Lovely Readers
Cath and I apologise for leaving AsianCajuns in the lurch these past few weeks. We've been having a think about things because I'll be moving back to the States. Cath and I will no longer be 'Twins blogging an ocean apart'!!!
I can't tell you how happy it makes me to be closer to my twinie — yes, still a hefty plane ride away, but at least on the same land mass with the same network providers. Matt and I will miss Edinburgh and the UK so very much as we feel very much at home here. But Matt has heard the siren call of the Pacific Northwest (i.e. he got a post doc position at the University of Washington), and, apparently, we only move to very rainy cities.
The next few months we'll be traveling quite a bit as things wrap up here and we try to soak up all this nearby European goodness and see as much of Britain as we can. Change and travel always get my mind whirring and that lead to Cath and I deciding we'd like to change things up here on the blog.
We tend to reassess a lot these days because we know blogging isn't a popular platform anymore. And over the past four years whilst I've been here we've really used the blog selfishly — as the way for the two of us to stay connected. It's been lovely, but we weren't really sure if it's that satisfying to anyone else! Also, we're hoping to see much more of each other when I'm stateside and won't need AsianCajuns to be our public pen pal letter anymore.
We plan to keep blogging though — and more! But we are going to shift our blog topics slightly and get a bit more focused. I know I'm being very vague, but Cath and I want to sort of see where this takes us and if anyone has any use for it.
So if you have been a long-time reader, thank you very much for sticking with us through these many years (eight years of blogging — I feel ancient in blog years!). We've loved getting to know so many of you and we hope you enjoy where AsianCajuns goes next!
Ooodles of XOXOXO,
Lar
(Seattle drawing by moi)