Dear Cath
I know how miserable you feel at this moment. Those antibiotics feel like they are not only killing all the bacteria in your body but you as well. I know how exhausted your body is from fighting first the surgery and then the infection and now the drugs. I know it feels never-ending and that even watching "Poirot" for seven hours straight doesn't take all of that away.
So I hope a little distraction might help.
This will be the most mundane post to anyone reading this (sorry!). I'm going to take you to Glasgow with me. On a work trip. Nothing fancy. It's what I did today — this Tuesday in January.
I took a train and then sat in a seminar all day and then took another train home. But I'm going to take you with me because while I was taking photos of myself sitting in a Pret A Manger and on the train, it felt like I spending the day with you. Or at least I imagined I was.
I hate not being home with you right now. And because I can't be there, I want you to see exactly what I'm doing while you are waiting to put all this pain and the hospital visits and the nausea behind you. I want you to feel like you were with me and not having to think about when you need to take the next round of antibiotics and worrying about your temperature.
So without further ado, today I .
Woke up at 6:30 am and dragged myself out of bed — cold mornings are the worst. By 7:30 am I was out the door and heading down Princes Street to the train station (first by bus and then by legs). The sun was still an hour from cresting some distant horizon, so the sky was a dark blue with a turquoise blush around the edges: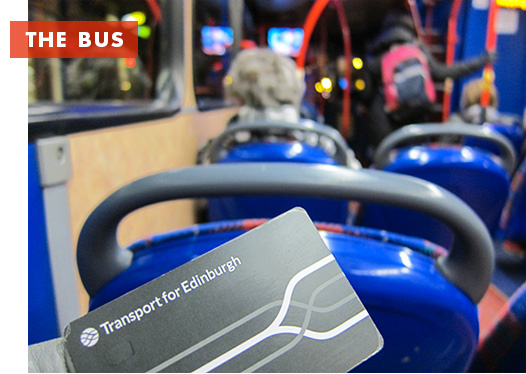 How many daily commutes have a castle in them? I shouldn't take it for granted, but I do — daily: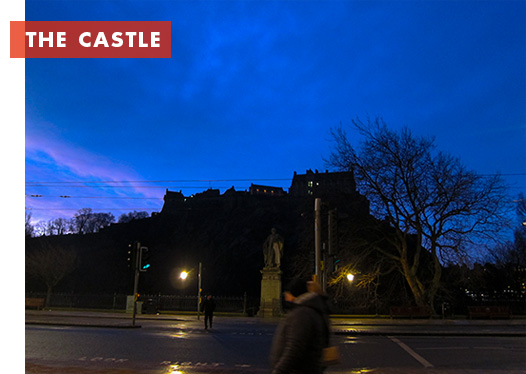 So we've past the Castle mound and now we're almost to the train station. It's just before the Balmoral clock tower and just after the spires of the Walter Scott monument (blurry photo poof of intense pace of walking — or partial awakeness — or just bad photog skillz):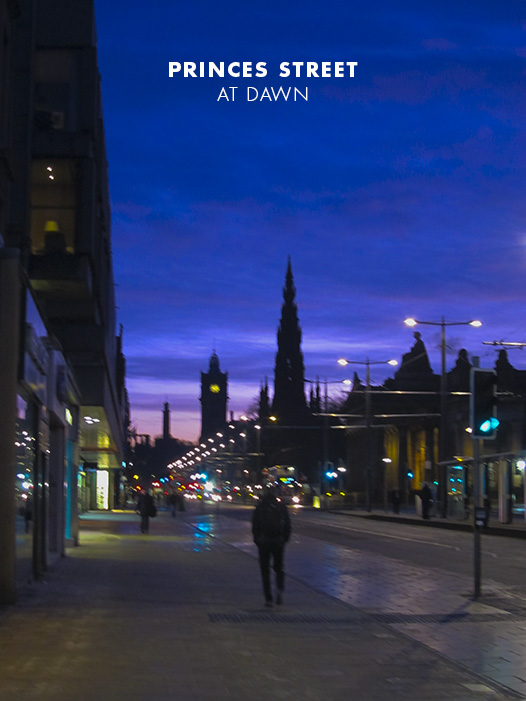 Mmmm train station! I love trains and train stations even on a weekday morning. They have the same buzz of excitement as an airport without the intensity of airport security and, you know, being in the air. Trains are anti-faff. You're on the platform and then you're in the train in minutes:
Oh I almost forgot! My favorite part of train travel — snackies! There's usually a mini M&S at most larger stations in the UK and it's fun to get nuts or chocolates or entire picnic lunch avec some mini wiiine! I just got these guys today as it was 8 am and I had already consumed a large bowl of muesli: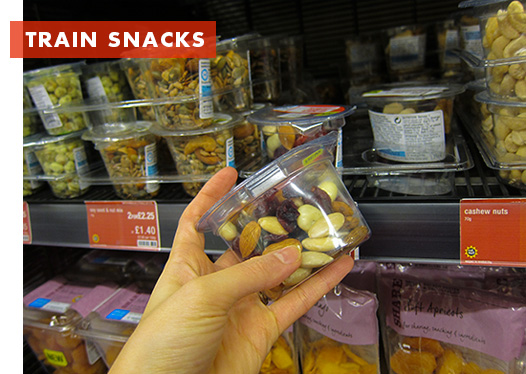 So back to the train. The trip from Edinburgh to Glasgow is nice because you go from city to city but in between are these stretches of rolling hills and picturesque pastures (today they were dusted in confectioner's snow):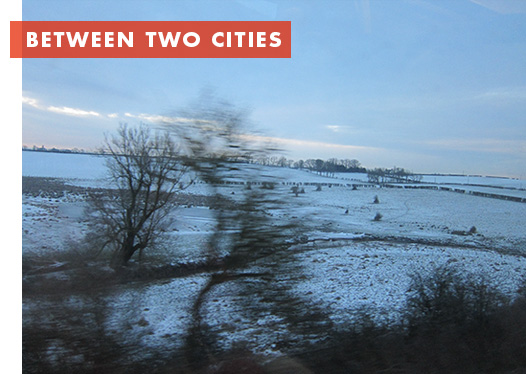 But the train was cold so I stayed bundled (and sleepy looking):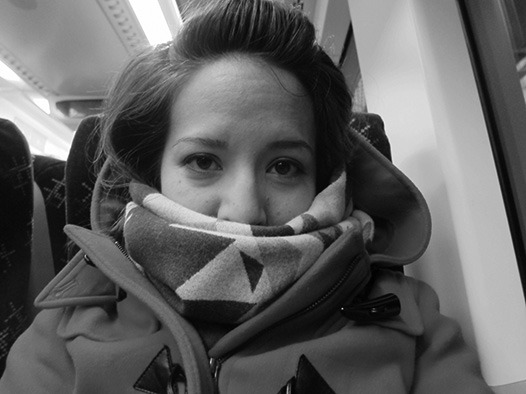 About 55 minutes later and we're in Glasgow, Edinburgh's larger, less expensive, more relaxed cousin: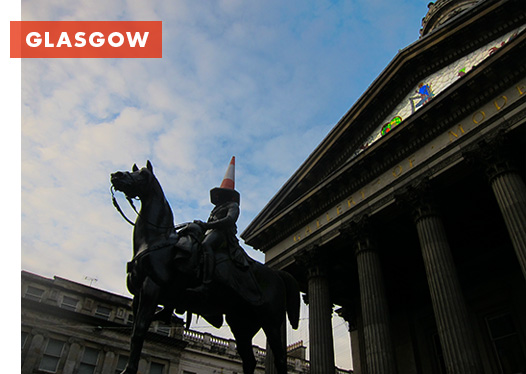 I got to Glasgow ahead of schedule so I thought I would stop into Pret. I wasn't really hungry as I had already had breakie number one at home, but the porridge looked so good and piping hot: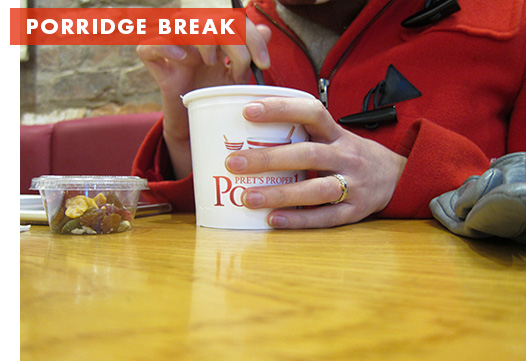 And this is where I spent my day, the Teacher building — home to many-a-seminar: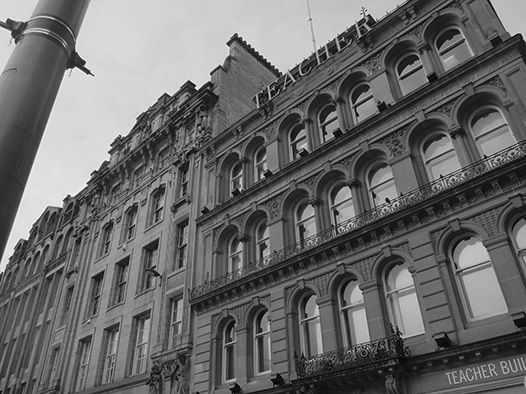 Seven hours after learning about the intricacies of print, I was back out on Glasgow's shopping street (remember you stood by David Tennant's Dr Who's TARDIS there just 14 months ago?):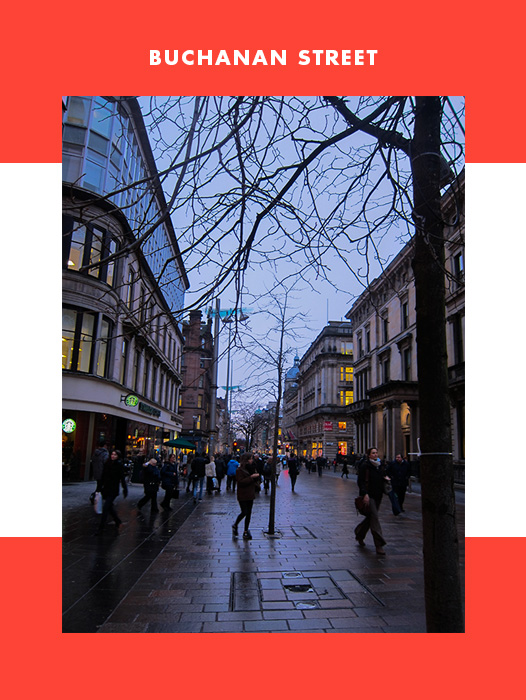 By the time I hopped back on the train and walked home I was cold and tired. Back in the flat looking .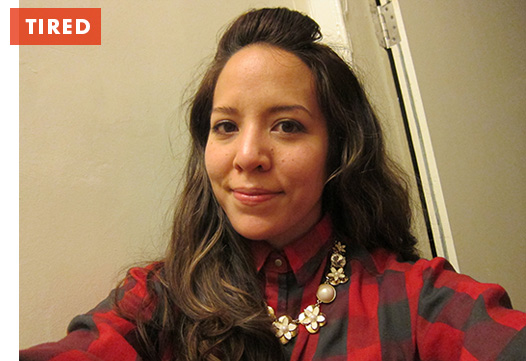 And then Matt came home and we ate a pile of (gluten-free, quinoa and rye) toast. As you do after Tuesday Train Travels.
I hope you felt like you were there, Cath! Every heart-pounding intense porridge moment!
I so, so wish I could speed up this process for you and make it so much less painful and exhausting. Just know that you can get through this and it will be over soon, even though it doesn't feel like it. You see in the photo above I still wear the "lucky charm" necklace all the time –nearly daily. That will work its magic soon if nothing else will.
Love you more than all the train snackies in the world (times infinity),
Lar