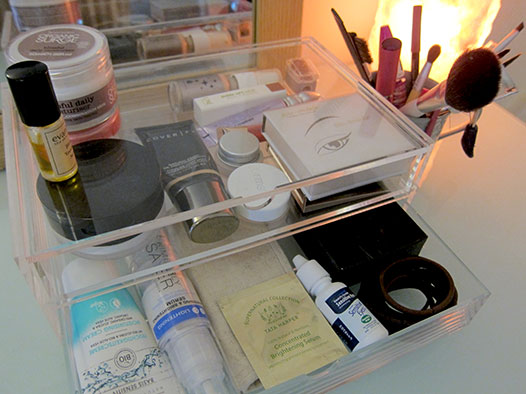 Dear Cath
I clean begrudgingly but I love to organize. It feels like I'm putting in order the scattered contents of my brain. I know you like to do it just as much as I do, if not more so. It almost seems backward that I've read this book and you haven't (darn that academic reading getting in the way of your magical tidying!).
The Life-Changing Magic of Tidying. That title sounds a little overblown, doesn't it? Ignore the slightly-screw translations (Marie Kondo's tidy-guru status is still mainly Japan-based), this book is awesome. Maybe it's not as awesome if you don't list toward Type A on the personality scale, but it all felt very right to me. I couldn't put it down and felt bereft when I finished it. A nonfiction book! About organising! Compelling stuff. Really and truly. I felt like a zen monk when I read it — even the part where you anthropomorphize your socks (remember how I couldn't throw away that laundry-basket full of slippers when I was a teenager because I felt to guilty about how lonely and sad they would feel rotting in a land fill somewhere?).
Don't let the sock thing deter you though. This book will make sense even if you don't attach human feelings to inanimate objects.
Here are the main tenets of the KonMari Method:
• Marie Kondo (KonMari is her nickname, hence the name of the method) doesn't believe in tidying day in and day out. You do it all in an unspecified, short period of time and then you don't ever have to do a massive tidy session ever again. In. Your. Life. Because everything you love and keep will have a place to go.
• You start tidying by categories in the following order: clothes, books, papers, miscellaneous and sentimental items.
• The method to tidying each category is as follows: discard anything that does not "spark joy." Do not start putting things away or organise anything until you have picked up each item you own and felt if it either sparked or fizzed.
"Sparking joy" does seem really vague, and quite honestly I found this the hardest part to do. But it was really, really helpful to be forced to take out each object I own and really look at it and evaluate how much I love something. It turns out I do in fact love that ugly Columbia fleece jacket I have as well as my lemon juicer. And I got rid of some things that totally surprised me at the time because I used them a lot — and now I can't even recall what they were (just 2 weeks after I sent them off to Salvation Army).
Tidying my flat
I don't think you are meant to do the method in one weekend, but I was motivated by the fact that I have become quasi minimalist in the past few years. And because our flat is so tiny, there isn't much room to keep . much. That's not to say I hadn't squirreled away a bunch of stuff. I donated 10 large bags to Salvation army and had about five bags of trash and recycling at the end of my tidy weekend.
In the images below the "before" pics show you the bedroom and lounge/kitchen with everything that I own pulled out of closets, drawers and cabinets. The "after" pics are what's left once everything has been discarded or put away.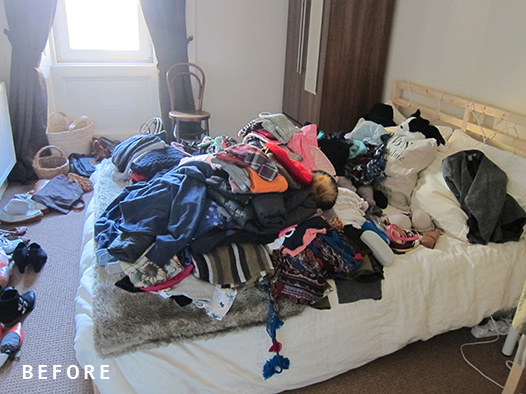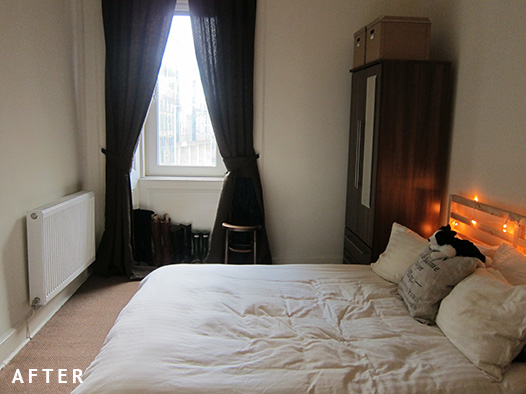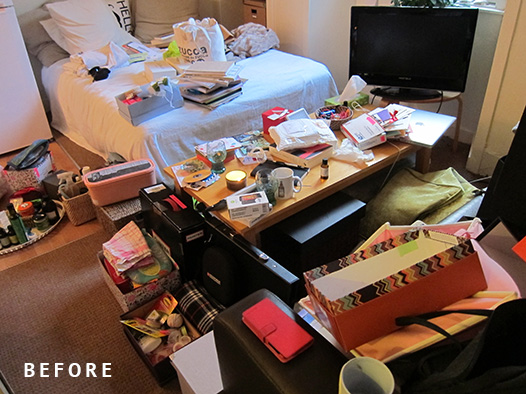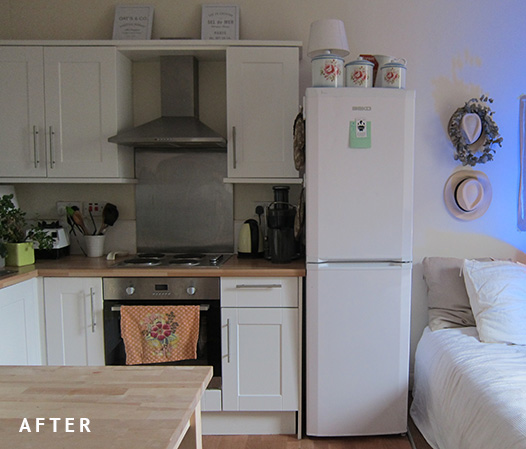 Marie Kondo recommends a specific way to fold everything so that you can see everything you have every time you open your drawers: nothing should be stacked on top of each other. This totally surprised me, but even after two weeks (and a couple rounds of laundry later), my drawers still look exactly like this. It might seem anal, but having a place for everything actually makes it so much easier to put things away: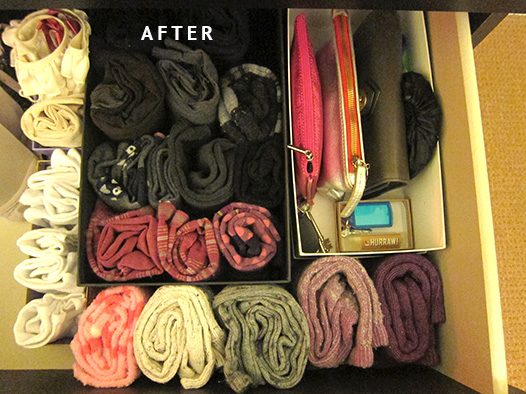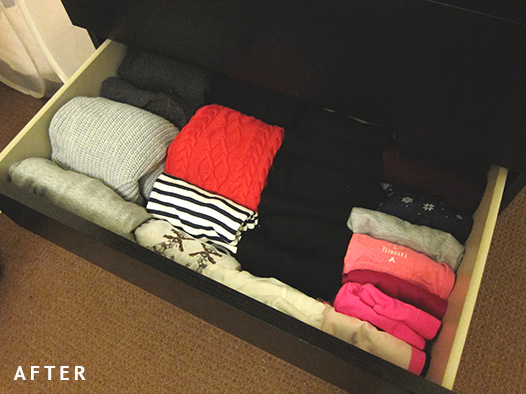 Every drawer, shelf and cabinet has been scoured and reorganized. I went through all of our papers (they now all fit in that grey box on the shelf in the pic below), photographs, cords and chargers. I've even been through all the kitchen and bathroom cabinets. Done and done:
 If you are feeling burdened by the amount of stuff you have, do it
You know how people make ridiculous claims on QVC or cheap cable commercials? I truly feel like I could do that for this tidy method – except it would be sincere (no offense, Shamwow). Not only do I feel calmer and happier at home now, I swear it has helped with the impending winter doom that I usually feel. Who would have thought putting things away and getting rid of things could help banish the seasonal darkness? Maybe it makes sense why we always feel blue post-Christmas season. It's not so much that the celebrations are over, but because we are left with so much more stuff. Stuff is overwhelming. And feeling more calm and surrounded by only the things you love totally works. All common sense really, but it helps to have it laid out for you KonMari style.
Do you think I'm nuts? I can help you KonMari-ify when I'm home this summer. You'll be done with classes by then and freeeeee!
Love you like my socks love being rolled (not folded),
Lar