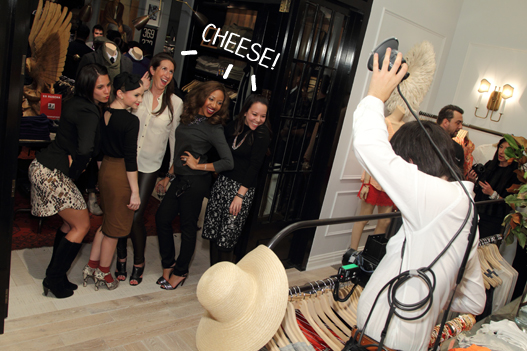 Me and some amazing fellow Atlanta fashion/style/beauty bloggers at the Lenox Mall Club Monaco grand opening a few weeks ago. Left to right: Jessica of My Style Vita, Cathy of Poor Little It Girl, Ashley of Witty and Pretty and Mattie of Mattiologie – a me.
Photo by Ben Rose
• Ever since I made this pom pom holiday garland last weekend, I've gone a little pom pom crazy. I'm thinking of making this pom pom bag charm.
• These fashion posters by Garance are going on my Christmas wish list.
• The perfect holiday stationary.
• Has anyone read Grace Coddington's memoir yet? I can't wait to get my hands on a copy. Listen to her interview on Fresh Air here.
• I need this for my iPhone. I think it will get me out of bed so much better than my boring phone alarm.
• Getting inspired for the holiday season!
• Like AsianCajuns on Facebook. I promise that Lar and I are getting better at updating it!
• A couple of us Atlanta style bloggers are hosting Vintage Saturday at Whiskey Park next Saturday, Dec. 8. Stay tuned for more info.