Lar might have stayed in a British manor house last week, but I got to hang out with the Bloomsbury group at their Charleston house in Sussex. Ha! Jealous, Lar?
Ah, who am I kidding? I haven't left this country in months (I hear a little violin playing somewhere.).
Well, I might not be having adventures in the isles of Scotland, but I've had the pleasure of exploring Club Monaco's fall line of clothing for the past few months. Remember this post where I played dress up? Well, I got another chance to check some of the newer items earlier this week.
I immediately fell in love with all the patterns, which is unusual for me because I tend stay away from patterns – and color, for that matter. The designs in the Fine Print line seem so British-vintage to me. So I decided to cut and paste photos of myself from my most recent Club Monaco dress up session into photos of the Charleston Farmhouse – a wonderfully British house that was once home to Virginia Woolf and other members of the Bloomsbury set.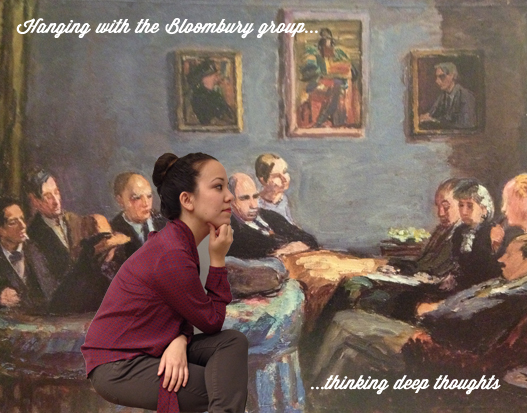 Lar pointed out that the Micaila Dress I'm wearing below is actually much more in the style of William Morris than Bloomsbury, but I think it goes nicely with the hand painted mantel (and wallpaper, furniture and rug) in the farmhouse's garden room.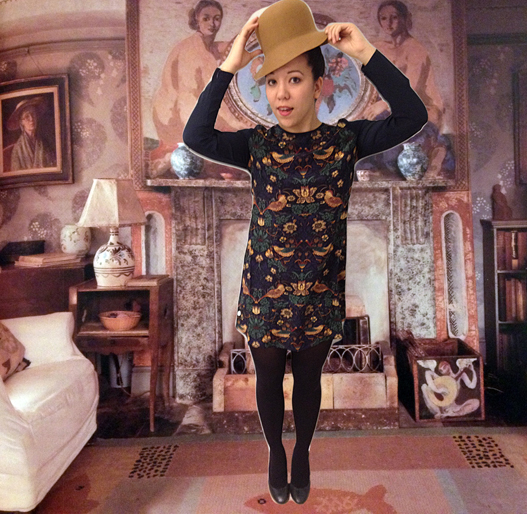 It's the perfect dress for strolling in the garden. I brought my Ally Hat along with me just in case of rain.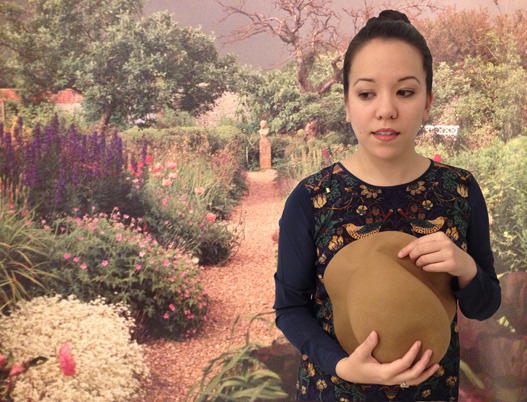 Here I am checking out the books in one of the dressing rooms. . .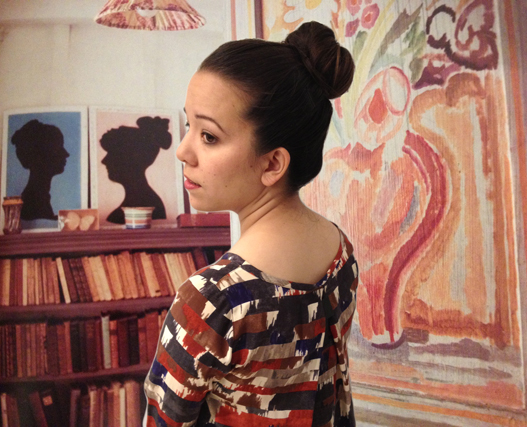 This gorgeous red skirt is on sale! Even the painted guys on the screen are impressed.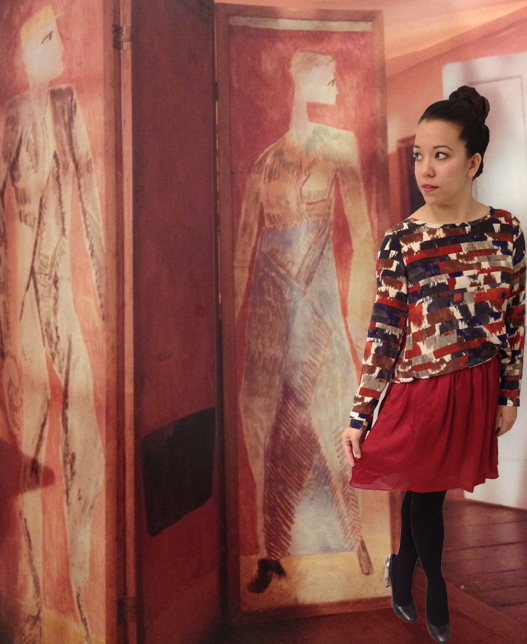 I'm wearing these Schutz pumps in all of the photos. I love the two tone snake skin design. Did I mentioned that they're also on sale? They even look good with the all-time-favorite Elisa Pant and Hilda Silk Shirt. Also, look, I'm floating!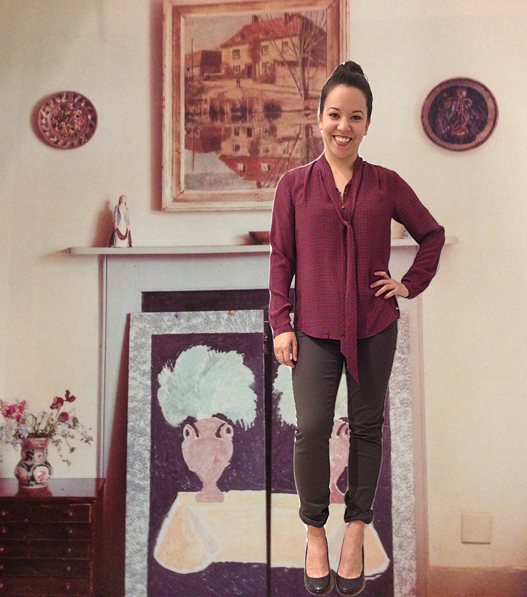 So there you have it! I miss my twin so much I'm having delusions of visiting the UK just by taking a trip to the mall! Fortunately Lar is coming home in less than 20 days, which hopefully means you won't get a post from me pretending to have tea with the queen.
_________________
Dearest Lar,
Someday we'll make it to Sussex and take a tour of Charleston together. Until then, I'll keep cutting and pasting photos of myself into photos of the rooms. Next time I come to Scotland we'll have to rent the Saddell House together.maybe in the summer 🙂
xoxo, Cath