Ack! We've been so remiss on the internets of late. Beaucoup apologies to our wonderful readers. Somehow, every year, I forget how insane the holidays are: local events, shopping for the perfect presents, concerts, a house museum to decorate, baked goods to make (and eat and eat and eat), family and friends to visit. We love it all, but it means our blogging, emailing and commenting get left out in the cold.
Well here's a lovely little warm up: a cozy pair of sweat pants! Yes, indeedy. The girl who wouldn't even wear sweat pants when required in middle school gym class, is now wearing them to work! See Exhibit A below: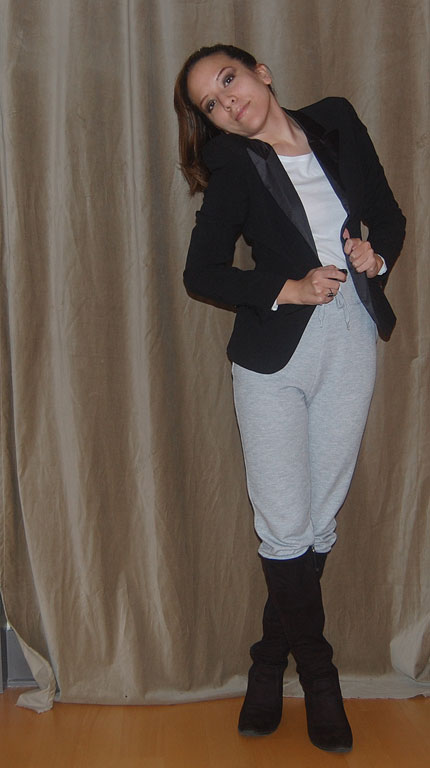 Can you tell how much I love this Nasty Gal shoulder-padded blazer? I'm hardly ever without it. And what better why to dress up sweats, but with structured shoulders and a neutral/minimalist (okay, nonexistent) palette?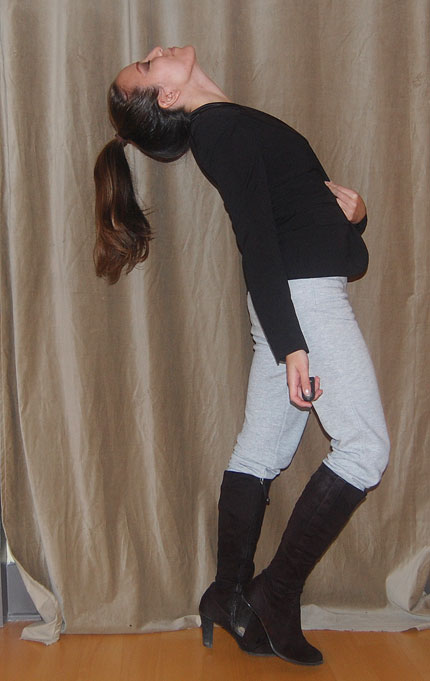 So the sweatpants kinda sorta look more like leggings, 'tis true. And many of you reminded me that wearing leggings to work is pretty much like wearing sweats. So no ground-breaking fashion moments here. But I really do love when fashion and comfort collide – not so much in footwear (begone, crocs and uggs!). If my waist band can expand whilst I eat more Christmas chocolate and gingerbread, and I can maintain a certain level of superficial chic-ness, well, I'm all for it!
Here's how some svelte models (of the non-waist-expanding-variety) donned their sweats on the runway (click image for photo credit).
Below, Chloe creative director Hannah MacGibbon makes sweatpants look so good, you'll burn your Juicy Couture track suit. Heck, she's even wearing a sweatshirt- on her runway! A sweatshirt and sweatpants combo to work? That's the next step.
Cath and I are out of town this weekend, but we promise to respond to all of your wonderful comments and emails – they truly make our day/week/month/year!
Also, stay tuned for an upcoming post on some lovely things the boys over at Epidemik Coalition sent us. Thanks for the early xmas presents, guys!