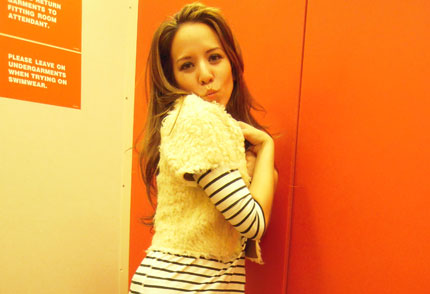 Get thee to a Target! Rodarte is here! Cath and I had our early Sunday (Dec. 20) morning line-waiting technique ready to go, but we headed to Target this evening for some Christmas shopping and we stumbled into nearly the whole Rodarte for Target collection!
How is it possible that the Edgewood Target in Atlanta got a "preview" of the Rodarte collection? Officially only a few places (New York and San Fran, I think) were supposed to get a preview. I imagine our Southern style preview wasn't exactly official, but we we're still giddy that it happened- inadvertently or no!
I think we spent a total of 30 minutes in a family size dressing room and tried on everything available. Here are some of our favs (Cath had less luck, so it's just me in these pics. The only thing she purchased was the see-through mustard cardi- a bit tricky to photograph).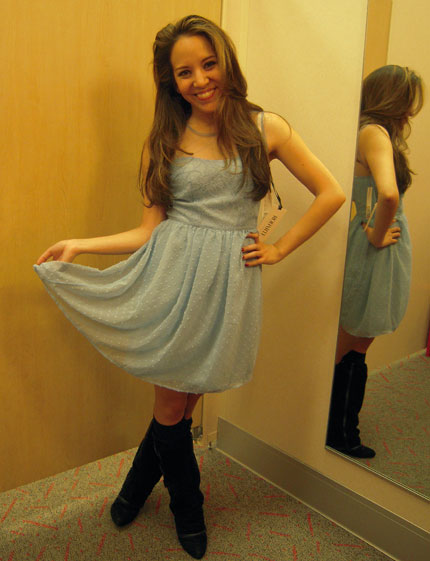 The blue dress above looks a lot more flattering in person. It's super girly (I love, love a swirly skirt), so I'd probably toughen it up with some pleather and more black for the winter.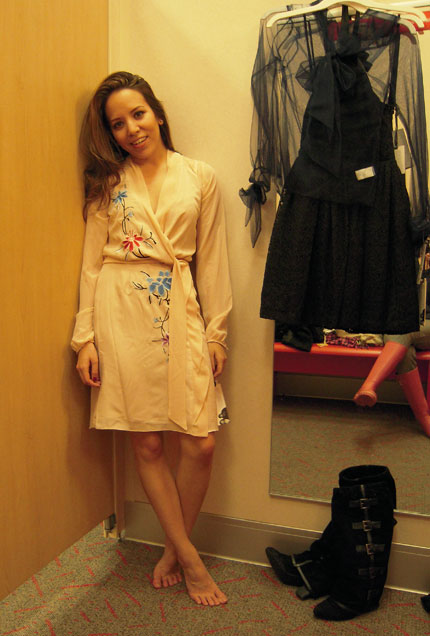 Ooo this kimono dress! I wanted to buy it to just hang it on my wall! I think I looked a little too much like I was wearing pajamas. If it were an actual robe or if I had extra cash to spend on impractical wall hangings, I totally would have bought it.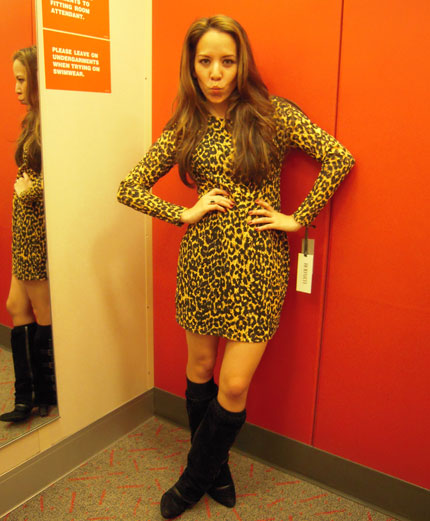 I did get this! I love how it's not super-tight, so I don't feel too Casino-y. Tight + animal print is a tricky line to walk. Some ladies can pull it off, but especially with my big hair I can look the wrong side of va-va-voomy.
Have any of you guys seen the Rodarte stuff in your Targets? Maybe this is yet another stellar aspect of the deep South, lack of long queues for designer lines. Now if only H&M would get Sonia Rykiel intimates- le swoon. 
Ladies, let us know what you pick up! Gents, are you fans of Rodarte? I'm always curious what the fellas have to say about the things that make us go crazy.