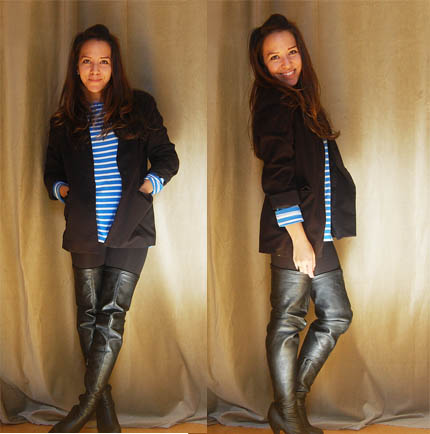 We apologize for the lack of outfit posts lately. Cath has been running around being a super-awesome City employee, and I've been . uninspired in a rut discovering my cold-weather uniform! Black leggings or skinny jeans, large blouse/shirt, blazer and boots (thigh-highs preferable). It's the most comfortable uniform yet, and apart from the boots, darn cheap! The shirt and blazer were thrifted and the leggings are from Tarjay. 
I always have grand plans for awesome next-day outfits in the evening, and then come morning, I'm crawling out of my nice warm bed looking for the next best thing to my robe. And do you know what's comfy? Leggings! And you can hide this cop-out version of pants with some chic boots and a boyfriend blazer. Nice, huh?
(Lord, someone get me out of this shopping-freeze/fashion rut I'm in or I'll start wearing sweat pants to work!)
Do you guys have a uniform for cold, early mornings when you're in a scramble to get ready for work or school? My closet would be eternal grateful for your inspiration.