This outfit here is just a way for me to talk about my mom's great Halloween table decorations.
A few weekends ago, our mom had us over for brunch and had decorated the table for the season. Cath and I couldn't stay as long as we liked because we had a photo shoot later that afternoon. The lovely people behind the shoot asked that we wear black and white, so I tossed on my Forever 21 sixties tunic (from a few years back- and actually pretty good quality for $30) and my thigh-highs. Cath wore this blazer outfit. (You like how – kinda, sorta – I tied this outfit to Halloween decor?).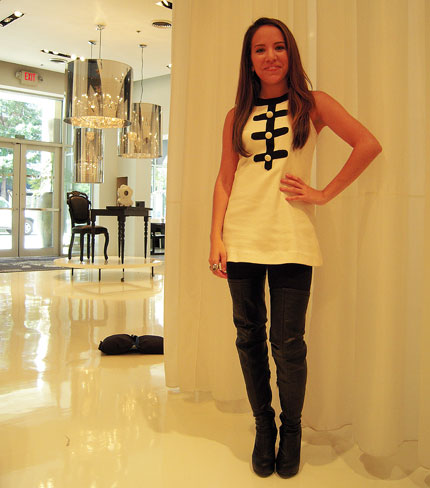 Below- the real reason for the post! The table! 
Now I know lots of people do good tablescapes, but my mom whipped this out with a miniscule budget (I would guess under $10). 
The center piece is the retired cast of Nightmare Before Christmas– an assortment of characters from years past. The black water goblets and black plates are my mom's wedding china (yes, really) from 27 years ago.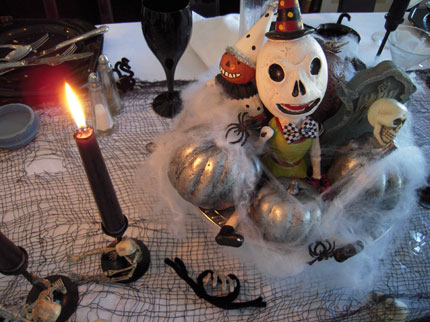 The napkin rings are skeleton hands attached with black pipe-cleaners, and an assortment of plastic skulls and spider webbing are scattered over a length of black cheese-cloth.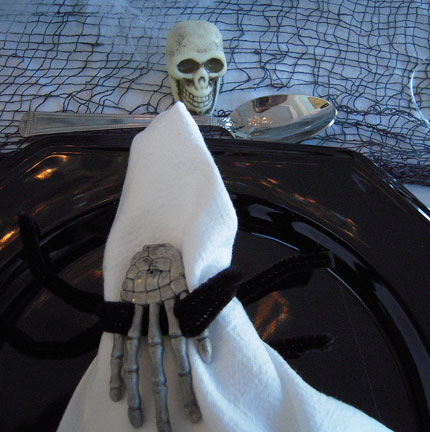 My favorite part of the table are these skeleton candle sticks. My mom bought 6 brassy candle stick for $1 at a thrift store, spray-painted them matte-black, and hot glued these skeletons in different poses (skeletal yoga- so the candle wax wouldn't hit them). And don't you love black tapers? Morticia Addams would bes sooo  jealous.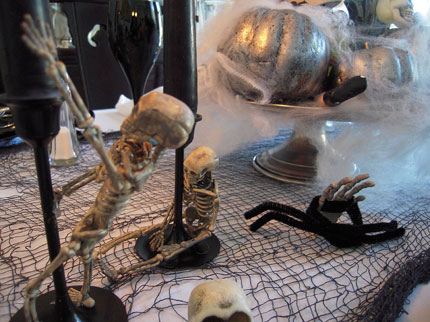 My mom is quite possibly the most creative person I know; Martha Stewart with a heart, I like to say. Eddie Ross* should take notes.
*Both my mom and I love Eddie (and Martha) and are constantly inspired by both– I just like to be cheeky. And when Amelia and I met him last year, I was anything but (just giddy and star struck). Check it out here.