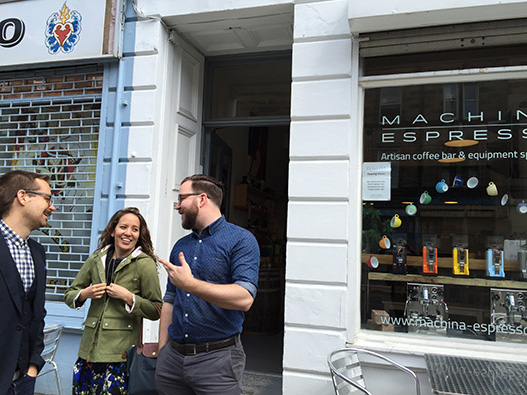 Why don't I go to more cafes in Atlanta?
This is the thought I had as I was eating my way around Edinburgh a few weeks ago. Now that Lar has lived in Edinburgh for four years, she knows all the best places to grab a quick, scrumptious bite. Vegetarian lunch? Hendersons! Daytime meet up with the girls? Love Crumbs! Hipster coffee shop without the hipster pretension? Machina Espresso! The best breakfast burrito (seasoned with rosemary, no less)? Milk! Craving a green juice and a coffee? Filament! The list goes on and on. Edinburgh is packed with wonderful cafes/eateries.
Which brings me back to Atlanta. I know Atlanta has wonderful cafes. I've just gotten into the habit of going to my same eateries over and over again. So my late-summer resolution is to explore a little more in my own backyard. First on my list: Tipple and Rose Tea Parlor and Apothecary. Anyone been yet? They just opened.
Hopefully I'll have a post up soon featuring my new found Atlanta cafe favorites. Until then, here are some photos from the Edinburgh cafe scene.
This cheddar cheese, basil, tomato, chutney, slice apple sandwich I ordered at Machina Espresso is like my idea of heaven. I would eat this over chocolate any day!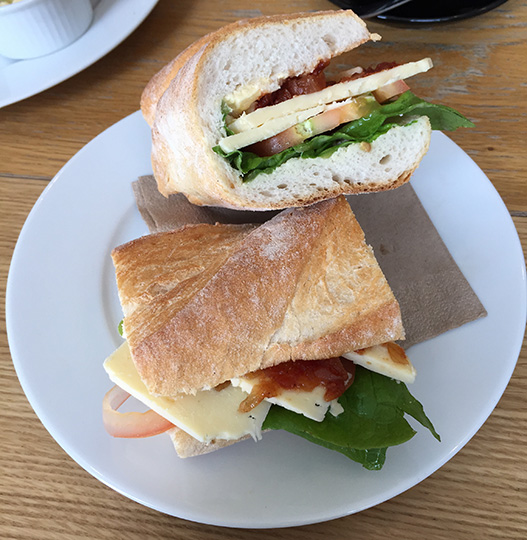 See that black storefront in the photo below? That's Filament on Clerk St (the same street I lived on as a student 11 years ago!). See those people sitting out front? That's Lar and Troy.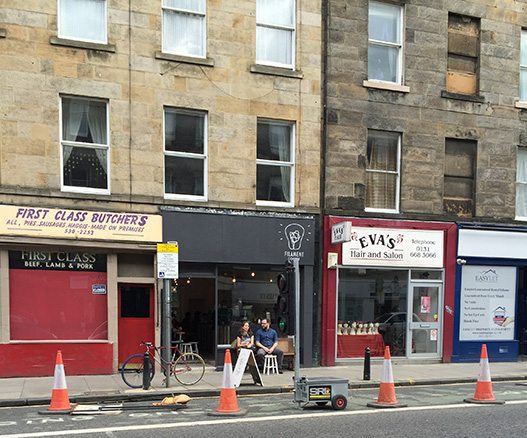 Troy and I ordered way too much food when we went to Milk the first morning we were in Edinburgh, but it was all so delicious. My favorite was this courgette (that's zucchini for us Americans) cake with cream cheese icing – perfectly moist and sweet, plus I could pretend it was healthy because it had a vegetable in it. Even three weeks later I'm still dreaming about it: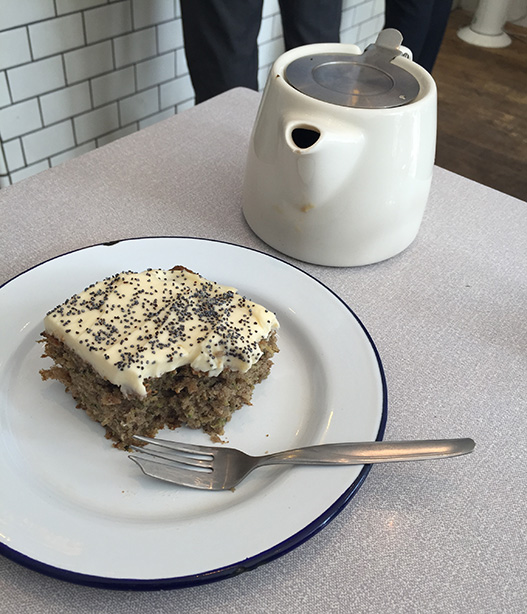 I don't want to bore you to death with food pictures so just trust me when I write that I could have included A LOT more in this post. If I wasn't eating or drinking in Edinburgh, I was sleeping – or walking to some place where I could eat and drink 😉