I love the concept behind subscription boxes (even though they kind of go against the whole simplifying your life/KonMari method). The thought of receiving a gift in the mail once a month is so happy-making. Am I right? Initially I was thinking about trying out Ipsy, but because I'm working on switching out all my makeup to more all-natural products, I went with Petit Vour instead. It's $15/month – so $5 more than Ipsy, but so far I it's totally worth the money!
Here's what arrived in my April box: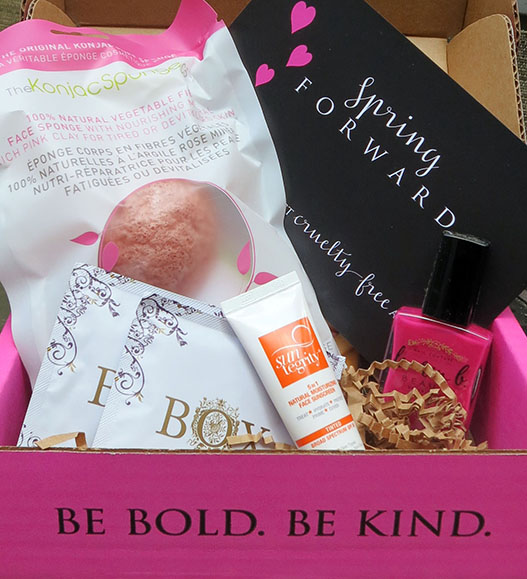 1. Konjac Facial Puff Sponge. It's an all natural sponge that you can use as a cleanser even without any additional products. It has a kind of hard texture, but as soon as you soak it in water, it gets a nice springy texture. I've used it a couple of times in the shower on my face and really like it. It's supposed to last around three months, so if I find that it makes a difference in my complexion, I'll include it in my Q2 favorites post.
2. Box Naturals Luxe Towelettes. These are not your average face wipes – and I've used a number of different brands before. They're made with all natural ingredients, scented with organic essential oils, and 100% biodegradable. I was kind of skeptical before using one of these, but ended up loving it so much that I've decided to save my other sample for Lar. Unlike most wipes these towelettes didn't irritate my skin at all and left my face feeling both clean and moisturized. I'd love to buy a box of these, but at $10 for 12 towelettes, it's a little pricy and I'd be tempted to use them everyday.
3. Suntegrity "5 in 1" Natural Moisturizing Face Sunscreen – Tinted. This is my favorite item in the box hands down. It's like a sunblock, BB Cream and moisturizer in one. It goes on pretty thick, but absorbs into the skin fast. As soon as I run out of my current BB Cream, I'm getting this stuff!
4. Lauren B. Beauty Nail Polish. This polish isn't just free of parabens, petrochemicals, phthalates, sulfates, and triclosan, it's also chip resistant and long lasting. I'm testing it out on my toes at the moment and love the color – perfect cherry color for the summer. I'll post a photo either on here or on Instagram of my toes at some point this week.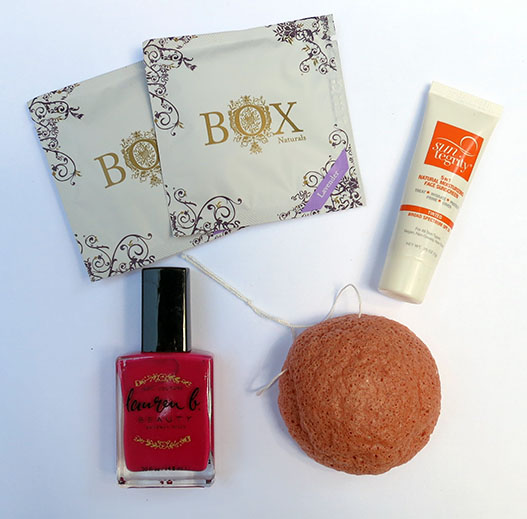 My May box should be on its way and I can't wait to see what's in it. I probably won't do an unboxing type post like this one for every box, but I'm sure my favorites will end up on this blog at some point.
Do you subscribe to any boxes? I've heard good things about Birchbox and I have a friend who is loving LeTote. Let me know what you like – I just might sign up!