So that you can decide if you want to incorporate any of these steps into your routine, I'll give you a wee background on my skin and what we're working with:
• I'm 33, so some fine lines are starting to become permanent (I'm totally okay with that. I'm totally okay with that. I'm totally okay with that. Ha! Aging is hard.)
• My skin is very reactive — or what is usually termed "sensitive." It doesn't like to be scrubbed hard, touched with harsh chemicals (benzol peroxide makes it mean and red), it doesn't like sun, wind, air, cold, heat … life basically. If I eat lots of refined sugar, I break out and/or my pores look bigger. If I don't drink enough water, it looks dull. On the upside, my pores do shrink if I eat cleaner, but where's the fun in not eating chocolate cake once in a while?
• On top of being hyper-sensitive, my skin is also lazy. It won't look bright and happy on it's own. I need to exfoliate (difficult with sensitive skin) and it needs more than all-natural products to do the heavy lifting. I so wanted to be the girl that can just slather on coconut oil and just glow, but instead I break out and my skin looks dull, dull, dull without a few meanie chemicals thrown in. (But again not too "mean" because then my skin will go red — quite high maintenance, this skin of mine).
• Breakouts: these still happen, but are controlled by birth control (which I take non-stop for my endometriosis). On most days, my skin is clear of acne, which is still unbelievable to me because as a teenager I had terrible acne (3 doses of accutane that I wish I never took, worked temporarily) and I was still fighting with flare-ups in my mid-twenties. My skin is still oily though — especially my t-zone and eyelids (nothing keeps eyeshadow on!). That said, my skin can still feel flakey and dry at times. Combination it is!
So now that that's out of the way, here's how I get my skin looking the best it possible can without genetically engineering it to be better skin (wait, can we do that yet?):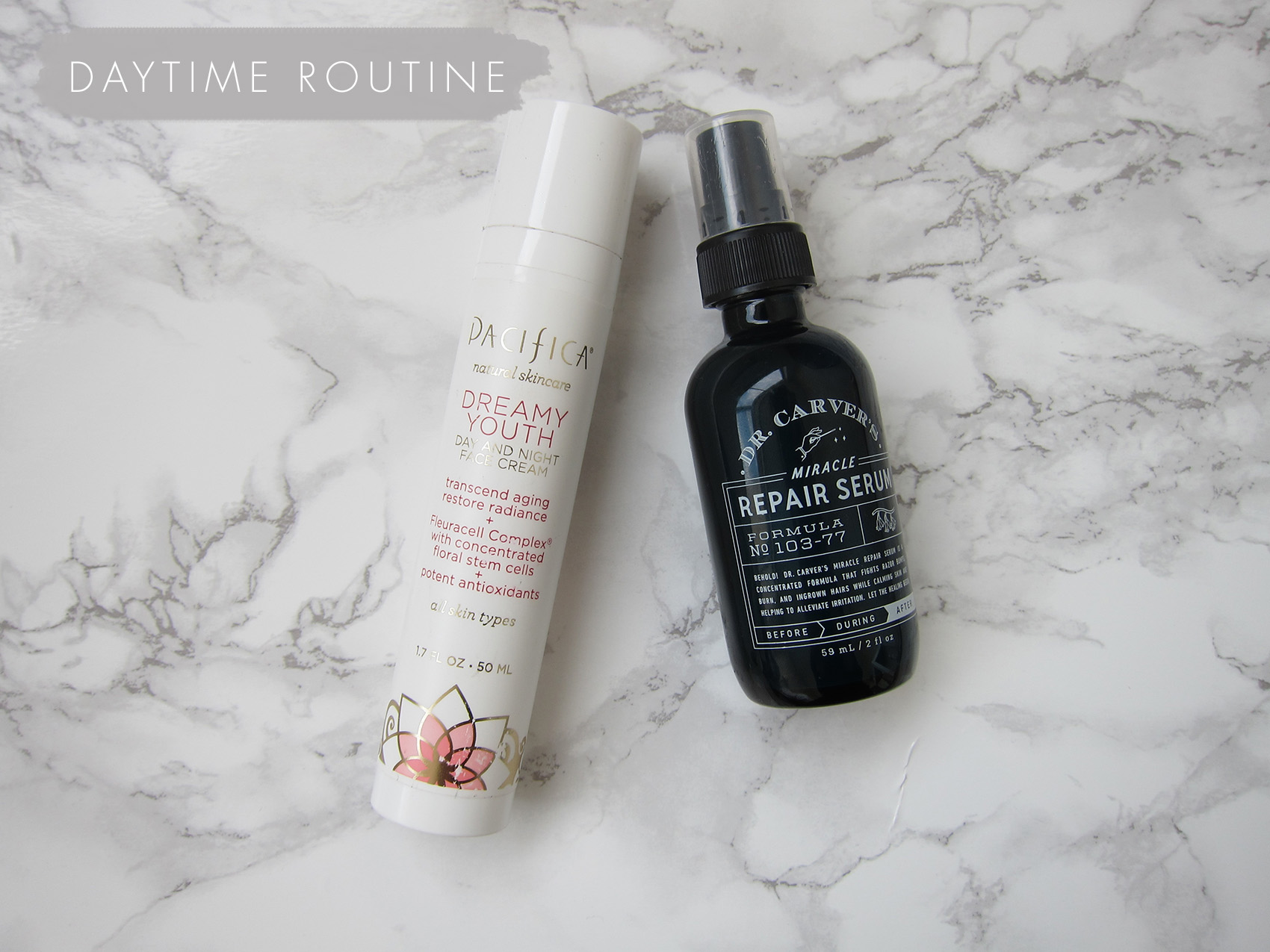 Daytime
I don't actually wash my face in the morning — is that weird?
1) I give it a good rinse in the shower and then
2) before I put my make-up on, I prep it with this cheap, but mostly natural serum from The Dollar Shave Club. Yup, this is the stuff that gents use to prevent razor burn on their face. It's not a miracle serum, but it does give my skin an extra dose of moisture and does seem to keep a little bit of my redness down. And for a $12 serum, that's worthy in my book.
3) On top of the serum, I put on whatever natural-ish lotion I have going at the time. I'm currently using Pacifica Dreamy Youth, but I use whatever I find at Whole Foods that's on sale. This is nice and light-weight and sinks in quickly without being too oily. Come to think of it, I might buy this one again even if it's not on sale.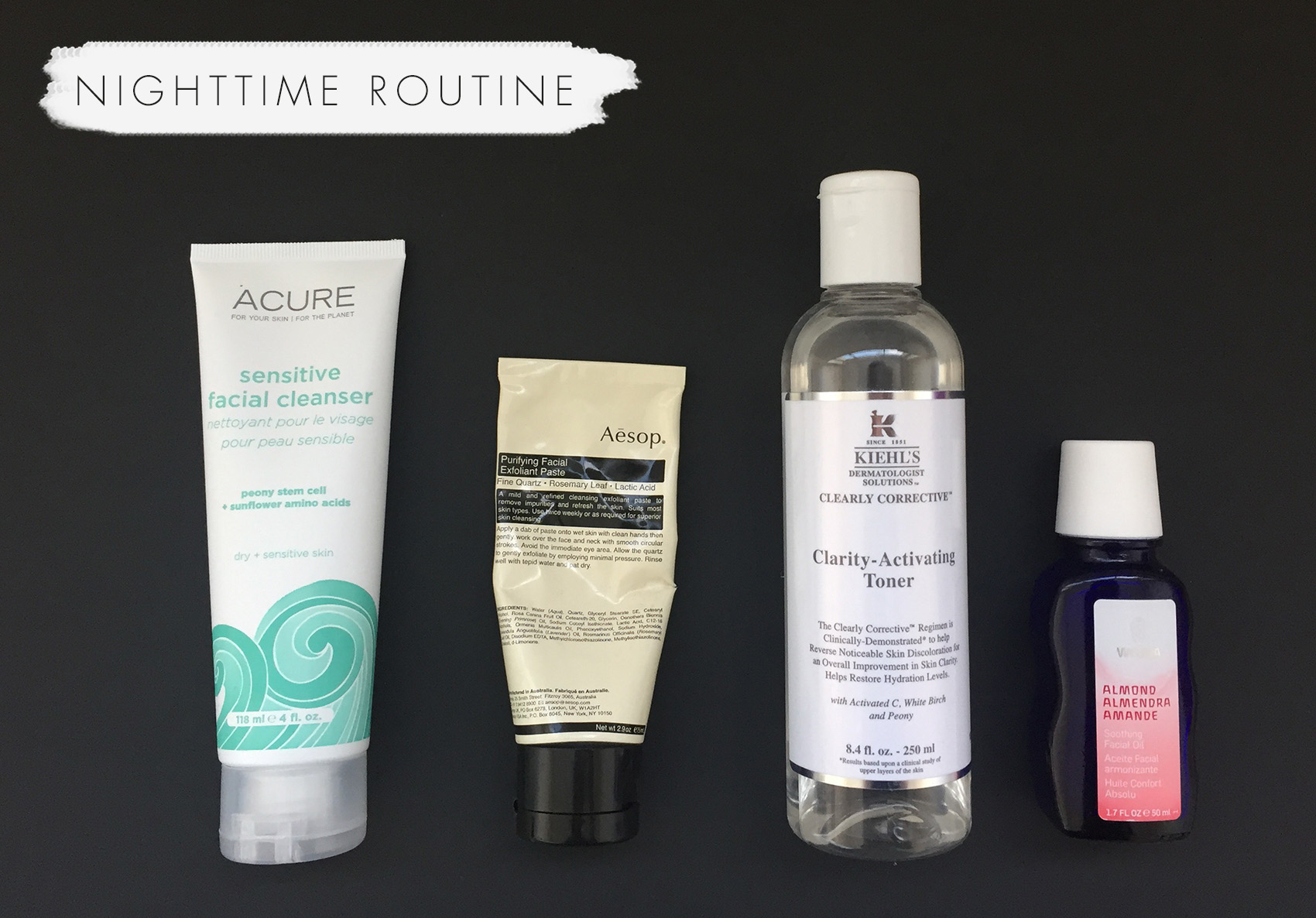 Nighttime
1) I use two-three drops of organic, cold-pressed jojoba oil mainly to take my eye make-up off pre-washing. I've been doing this for years instead of using a proper make-up remover — works just as well as anything more chemical-laden and I swear my eyelashes seem healthier giving them a good dose of jojoba every night.
2) Cleansing time! Again, I use whatever natural-ish cleanser I can find on sale at Whole Foods. I really haven't found one I'm willing to be monogamous with, but I do think a cleanser is one skin product you can be a little less particular about because it doesn't sit on your skin and get absorbed like a serum or lotion.
3) About twice a week I'll use this Aesop exfoliator instead of a cleanser (I suppose I could do it after cleansing, but I'm lazy). Now, this is by far the spendiest thing in my whole routine, but it really does clear away any dullness without rubbing my skin raw like a lot of exfoliators do. I'm careful to just gently rub it on my damp face even if a good scrub seems like it will work better (It won't. At least not on my skin.).
4) After either cleansing or exfoliating, I'll follow up with this toner from Kiehls. Okay, this is also more spendy — so I lied about that Aesop exfoliator, but I swear this is another product that totally makes a difference. It's also not totally natural and organic. And I can't describe exactly what it does, but my skin looks brighter and less red in the mornings when I use this at night. What is this magic? Chemicals of some sort! I'll just pretend I can't read the ingredient list because I got some jojoba in my eye!
5) And finally! Moisture! I've been using this almond oil from Weleda for a few months. I think I would prefer a heavier night cream, but I like using a more natural oil for the time being. If you guys do have any magic potions for slowing down the aging process, do let me know.
6) There isn't actually a number 6, but there needs to be. Eye cream. That's where my pesky wrinkles are most pernicious. I dream about purchasing the SK-II eye cream because the guru-est of all make-up gurus Lisa Eldridge says its a miracle, but I'm balking at the price a bit. I tried this eye cream from Kiehl's but I didn't notice much except that it burned my skin a little. If it burned away my wrinkles, I would have kept at it — but no such luck!
And there you have it! Let me know if you guys use any of these products and have holy grail items. I'm also thinking I'll try getting regular facials (if I can afford them!) — and seeing if that makes my skin any happier. I feel so grown up saying that. Spending money on skincare instead of lipstick colors does that to a girl, I suppose!