Happy 12 Days 'til Christmas! Time to celebrate with a Tacky Christmas Sweater T-shirt.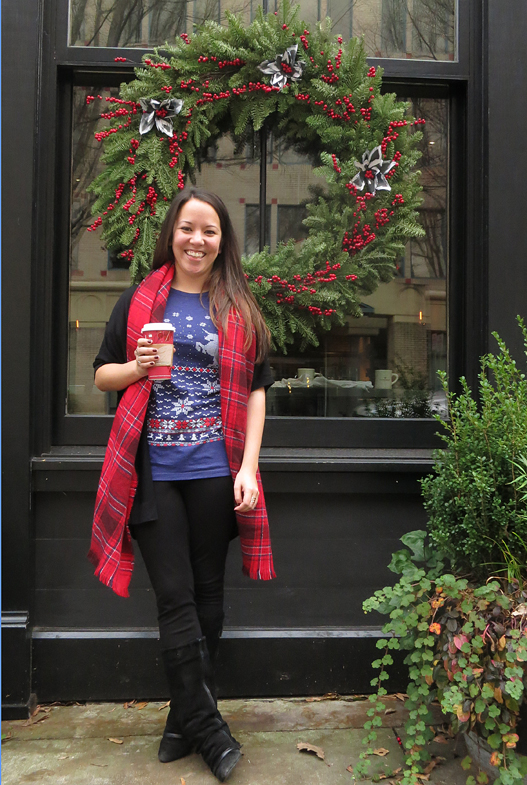 Skip 'N Whistle Unicorn Christmas t-shirt • COS cardigan • H&M scarf (similar here)• Old Navy leggings • Asos boots (ancient)
My 2012 Tacky Christmas Sweater T-shirt was such a hit last year, that as soon as Skip 'N Whistle offered to send me another one this year I said, "Yes please!!"
I went with the unicorns pattern this year because they're magical. Christmas + unicorns = unstoppable.
Would you like to purchase yourself a magical t-shirt? You can get it here or check out the other Christmas versions here. My friend said last year she ordered t-shirts for her whole family. Tackiness for the win!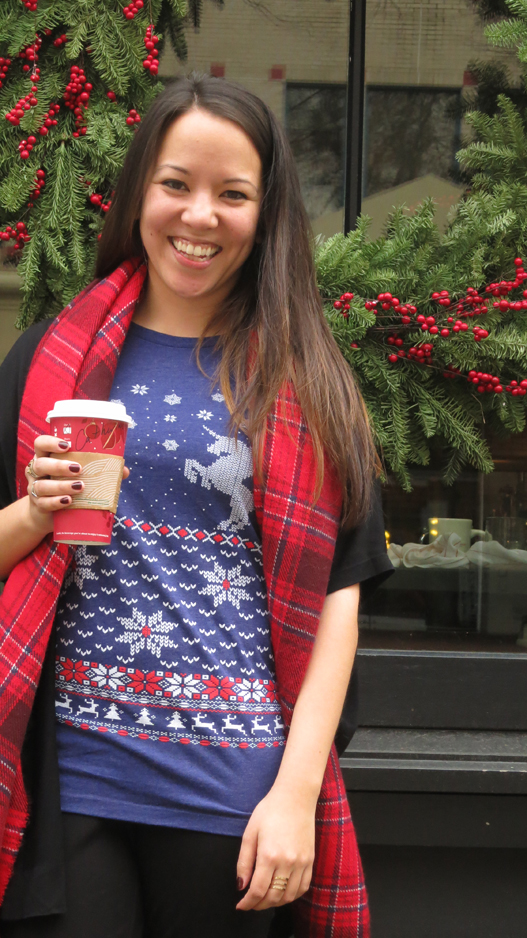 When Troy took these photos of me last weekend, the weather in Atlanta was balmy and so not Christmas-y. I'm happy to say the temps are back down to our seasonal, blustery high 40s (don't laugh, northern readers!). So it's feeling a lot more holiday-ish and there's good reason to order peppermint mochas, hot chocolates and ciders.
I decided to include this photo below to explain my current state of mind:
1.) I've been so caught up in work and studying for my final that I haven't even gotten half of my Christmas shopping done. Twelve days is plenty of time, right?!?!?!
2.) Starbucks peppermint mochas are amazing until about 15 minutes after I finish mine and I start to feel really sick. Does this happen to anyone else or is this just the universe telling me that I should have ordered herbal tea instead?
3.) Really wishing I had some make-up on in these photos. Note to self: carry make-up in purse like a normal woman. A half empty bottle of lip gloss doesn't count.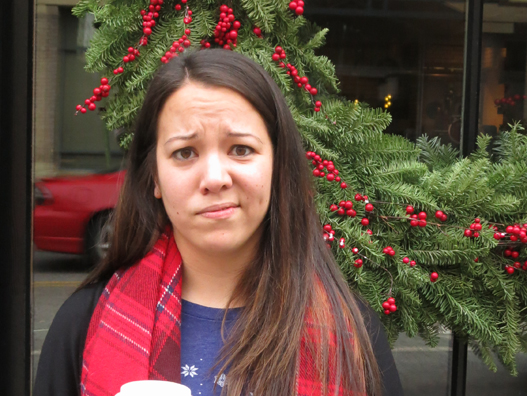 Hope you all are having a wonderful holiday season. Let me know if you get yourself a Tacky Christmas Sweater T-shirt!
Legal blog necessity: Shirt courtesy of Skip 'N Whistle. All opinions are my own.
____________________
Dearest Lar,
12 days until Christmas! You know what that means? 12 days until I get to see you!!!!! Yahoo! That's even better than Christmas. In fact, that's better than Christmas and unicorns combined!
Skip 'N Whistle was kind enough to send you a shirt as well, so we'll have to wear our shirts together when we celebrate!
xoxo, Cath