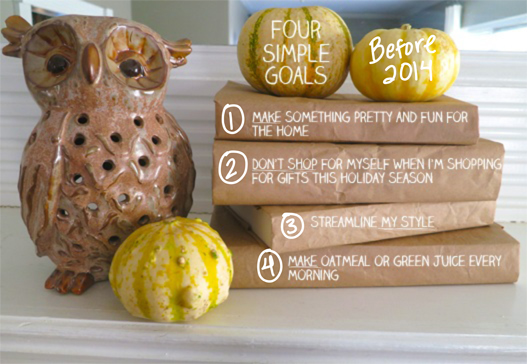 I stumbled upon A Beautiful Mess' Four Simple Goals post and wanted to take a stab at it. I love the idea of having action-oriented, simple goals before the new year instead of huge, impossibly impossible new years resolutions.
My goals are pretty self-explanatory, but I'll add a bit more thought to them:
1. Make something pretty and fun for the home. Lar and I were big crafters when we were younger and I think my inner crafter is coming back. I recently made a felt flower wreath for my front door and I want to find a good holiday craft for the next month. Drop me a line if you have a great holiday project in mind!
2. Don't shop for myself when I'm shopping for gifts this season. This one is the hardest for me. Even if I don't have a ton of money to spend I'll still be tempted to buy myself a little something. I'm the worst at this when I'm shopping for Lar. It usually goes a little something like, "Ooohhh, Lar would love this. I love this. I'll get one each!" I'm determined to not let this happen this year.
3. Streamline my style. I talked a little bit about this in a previous post. I'm clearly drawn to grays and blacks, and want to stop being so tempted by the latest trends. I don't usually buy a lot of clothes in December since I spend most of my money on gifts and other holiday stuff. Nevertheless, if I do happen to be shopping for clothes, I'll make sure to stick to a strict shopping list.
4. Make oatmeal or green juice every morning. Earlier this year I was on a roll with my morning green juices and smoothies, but at some point I just got out of the habit. As a result I've early been eating less healthy breakfasts and/or spending too much money at my local Starbucks. For the next few weeks before the new year, I want to make an extra effort to prepare green smoothies for my weekday mornings. I've frozen some pre-made smoothie packs (spinach, lettuce, celery, banana, pear) so it'll be easier to make each day.
What are your four simple goals? Lar will post her's next week. Let us know if you post yours on your blog – or if you don't have a blog, write your goals in the comments section.
Have a wonderful weekend!