First things first, thank you all for the sweet birthday wishes! I think Lar and I are both a little in shock that we've turned 30, but that's only natural, right? Right?!?! Regardless, I had a wonderful birthday filled with surprises (like all of your sweet comments) and our birthday celebrations will continue when Lar and I meet up in Italy next month.
These mid-week post have become sort of regular, thanks to my fellow Souther Blog Society blogger buddies. First we all styled our outfits around our Paige Denim jackets. Last week we showed off our statement necklaces. And this week it's our cropped Levi's.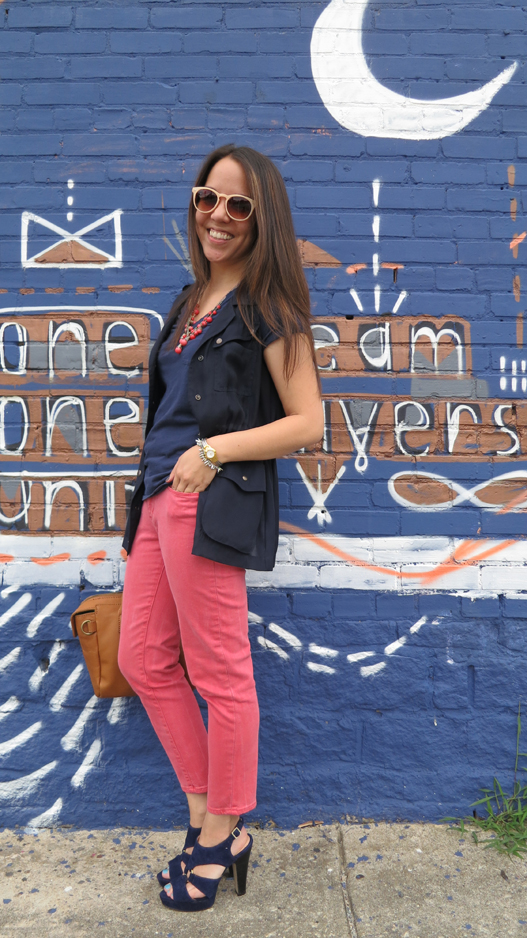 Sunnies c/o Sole Society • Madewell v-neck • FCUK for Sears vest (old) • cropped jeans c/o Levi's (similar) • Evelyn heels c/o Sole Society • second-hand necklace • Liebeskind bag • watch – a gift from friends • Stella & Dot bracelet
I think everyone got a different color denim. I ended up with this salmon (coral?)-colored pair. I didn't think I'd have much to go with them, but then I remembered this coral necklace that Lar got at a clothing swap ages ago. It pulls everything together nicely.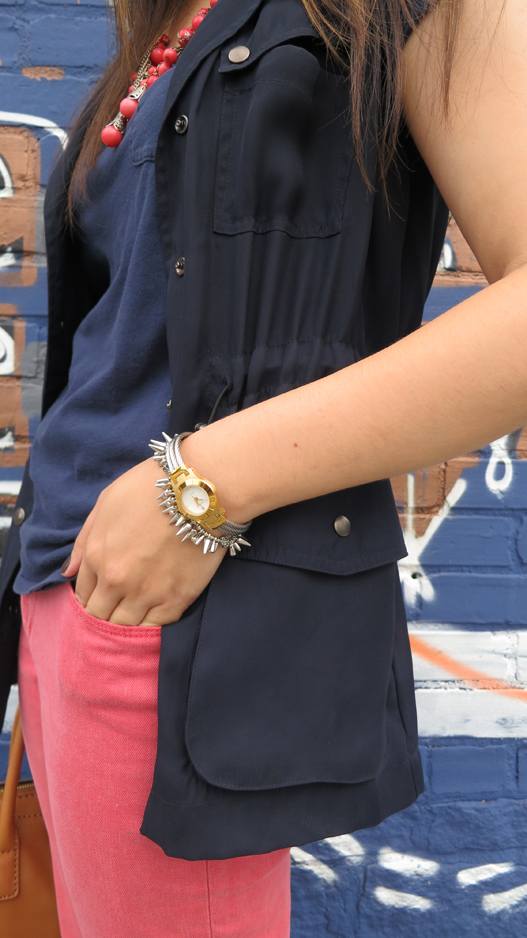 I finally jumped on the Stella & Dot Renegade bracelet bandwagon. I love it so! It has the perfect mix of punk and delicacy. It also leaves weird indentations on my arms when I cross them – all in the name of fashion!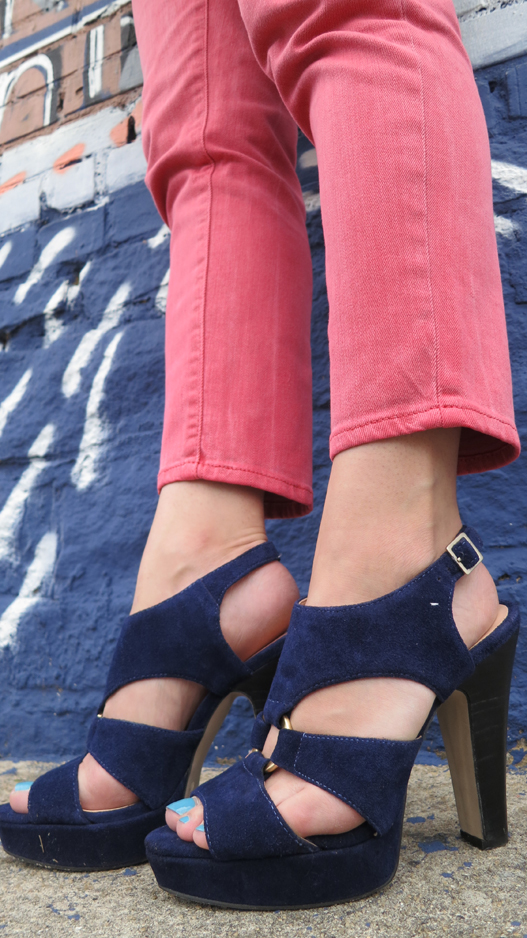 These shoes are fast becoming my favorite summer heels. I've been looking for a pair of navy sandals for a while and snatched these up from Sole Society as soon as I saw them. Please ignore the grass and bits stuck to them. Apparently I don't take as good care of my shoes as I claim to.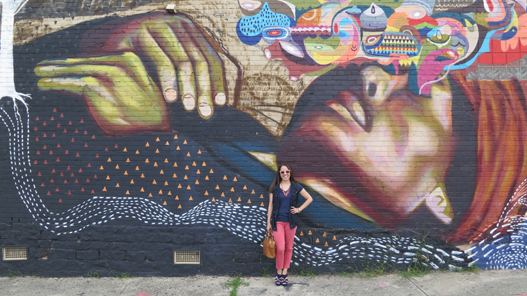 This mural is located in downtown Decatur, GA (my hometown). It was highly controversial when the artist painted it about two years ago because it's on the side of a building located in a historic district. I think it's lovely and hope it never gets painted over!
Take a look at how my fellow bloggers styled their Levi's:
Katie of Pearls and Twirls | Jessica of My Style Vita | Shelby of Glitter and Gingham | Jessica of Here & Now | Danielle of Lou What Wear
I hope you all have a wonderful 4th! It's rainy here in Atlanta, which is just as well since I'll be spending the next three days doing nothing but working on my budget and finance midterm. Ah, I lead such a glamorous life! Happy holiday!
_____________
Dearest Lar,
Are you dressed up in red, white and blue today just so you can remind the Brits what they lost over 200 years ago? I kid of course, but it must seem strange not to get a holiday the first week of July. I miss the 4th of Julys of our childhood where we'd spend the whole day with family eating hamburgers, Jello jigglers, and cherries before driving to downtown Gaithersburg to see the fireworks. Goodness, is this what 30 is going to be like? Reminiscing all the time?
I wore these Levi's over to mom and dad's for my birthday dinner. We ate outside and it was wonderful until I realized that I was getting eaten alive by a mix of mosquitos, gnats and fleas. Luckily I wasn't wearing shorts. All of the bug bites are concentrated around my ankles and feet. It's not pretty! You might get too much rain and cold in Scotland, but at least you don't have the bugs.
Let's Skype this Sunday. I'll desperately need a study break and some quality sister time!
xoxo, Cath