While Lar is out and about in Edinburgh exploring castle ruins and city farmers markets, I'm at home. . . shining my shoes. . . on my deck. . . still wrapped with Christmas lights from last year (no point in taking them down now – Christmas is just around the corner!). I lead an exciting life.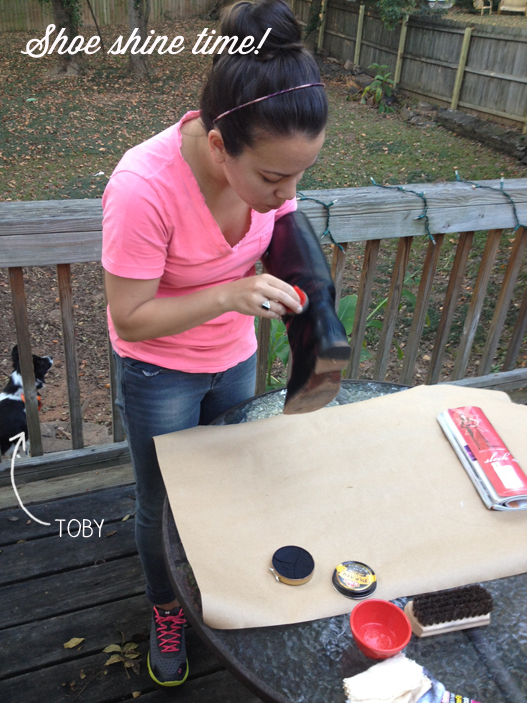 While I'd much rather be visiting the Scottish countryside, I do get a lot of pleasure in taking care of my clothing. Somehow shining my shoes is cathartic; it feels go to do something that prolongs the life of an item when so many products these days aren't made to last.
I'm no expert, so I'm not sure if I shine my shoes correctly, but it gets the job done. So, without further ado, here's how I go about taking care of my shoes.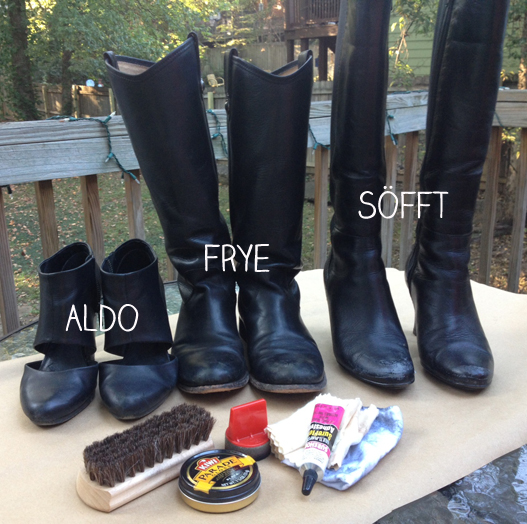 Tools: Horse hair shoe shine brush, can of Kiwi Regular Shoe Polish in black, applicator sponge, shine cloth and SureHold SureFlex adhesive. Everything except the adhesive (more on that later) is from a shoe shine kit that I've had for ages. All these items are available online or at your local drugstore.
First up, I brush off any excess dirt. If my heels are really caked in mud I'll use a toothbrush with soap and water to clean them. When I asked Troy to take these photos the other day I was feeling way too lazy to use soap and water, so you only get a pic of me dry brushing: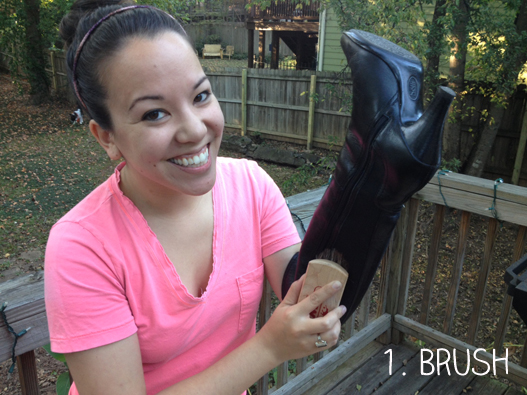 Next, apply the polish. I dab my applicator sponge in the polish and then move along the shoe in circular motions, making sure to cover all of the scuff marks.
I love how the polish packaging is so still old-school. I rue the day Kiwi decides to make their tins out of plastic!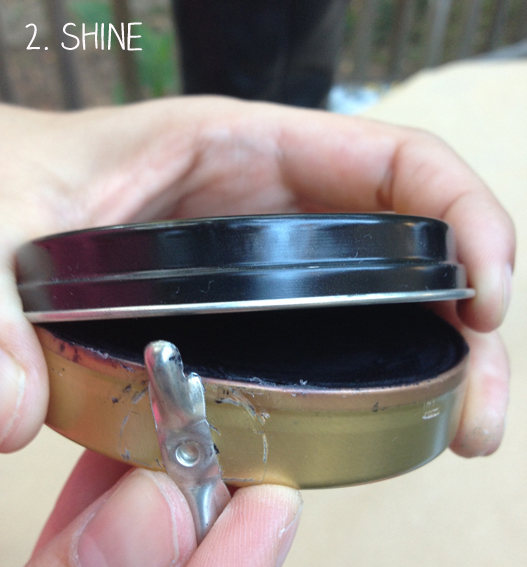 Last step: take a shine cloth and buff in the polish. If you want some extra shine, you can sprinkle on a little bit of water and buff a little bit more. Or you can go really crazy and add another layer of polish and buff again! I usually just stick with one application of polish and a little bit of water.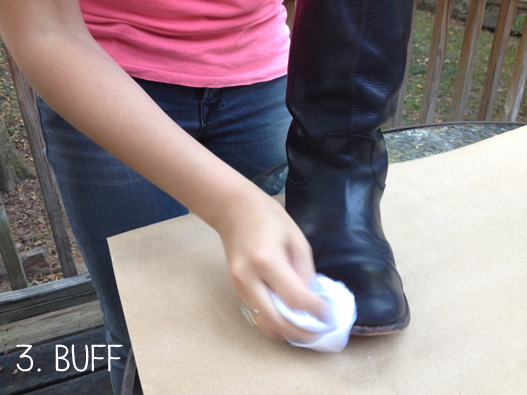 Now for some satisfying before and after shots: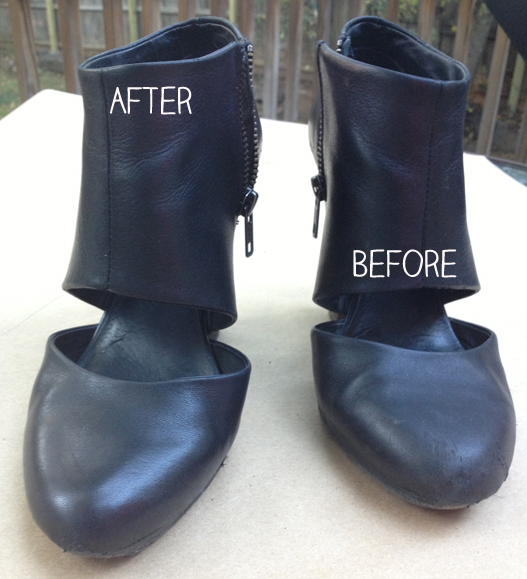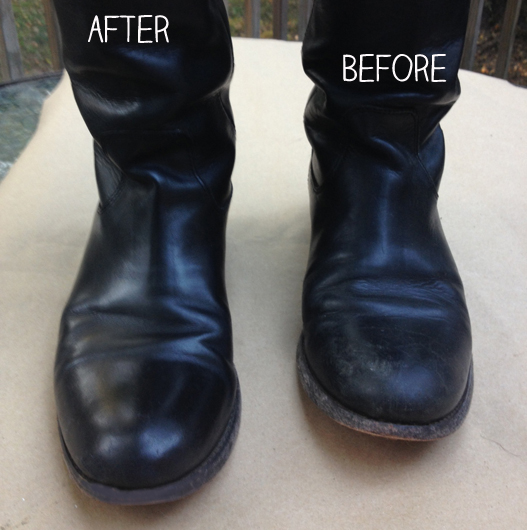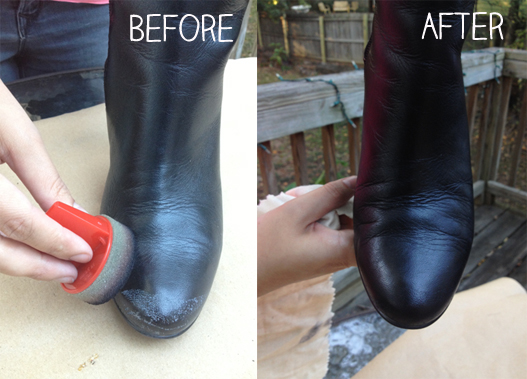 Ah. So much better, no?
But we're not done yet! I have two more shoe care tips I want to share.
Tip 1: Buy a tube of SureHold SureFlex adhesive. I hate, hate, hate that feeling when your inside sole detaches from the bottom interior of the shoe and starts bunching up right under your heel. Eventually all of my favorite pair of shoes suffer from this because I tend to over-wear shoes I love. So a few years ago I did some research – and by research I mean I Googled "best glue for inside of shoe" – and discovered this SureHold stuff. I was so concerned that any glue I used inside the shoe would make the sole too stiff and make it even more uncomfortable, but this stuff works like a charm. The inside sole becomes as good as new!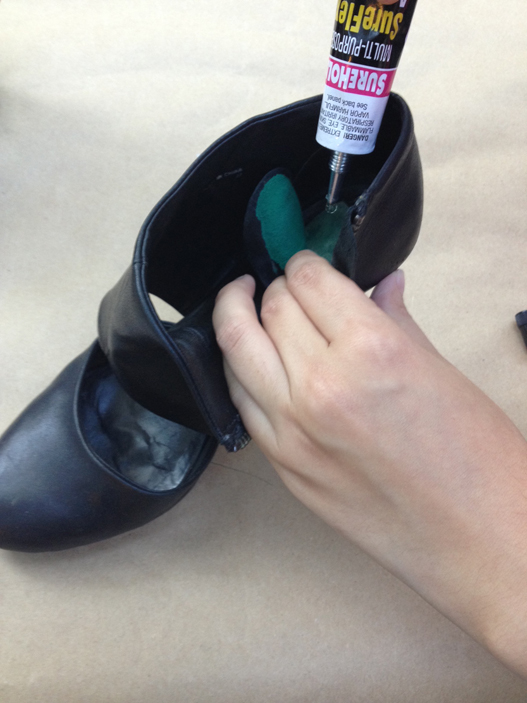 Tip Two: If you don't want your boots to get slouchy and don't feel like buying expensive boot shapers or making your own, just use a rolled up magazine. I've had these Frye boots for over two years and whenever I'm not wearing them I've used the same rolled up issues of Yoga Journal inside each boot. Easy peasy, lemon squeezy.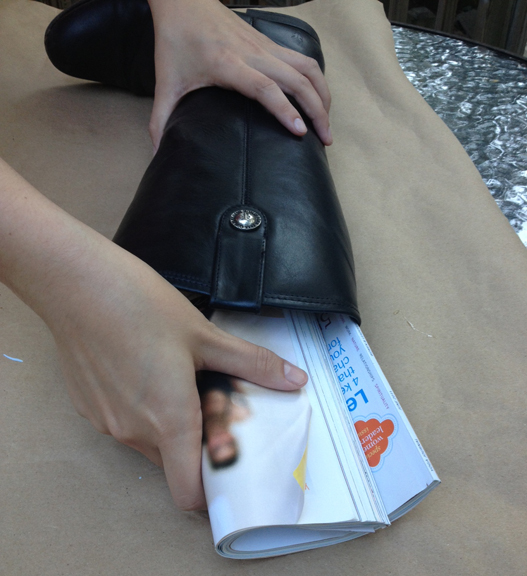 So there you have it! Now you're all shoe shining experts!
Next post: polishing silver! I'm kidding. . . mostly.
________________________________
Dearest Lar,
I bet you don't have to shine your Hunter boots – those things are indestructible. If it rained more here, I would absolutely buy a pair. Now, on the issue of ethical clothing, I like the idea of purchasing vegan shoes and purses, but they never seem to last nearly as long as leather products. I wish there was a shoe shining equivalent for non-leather items.
I had so much fun at the Lady Foot Locker/Under Armour event last weekend – even though I'm completely out of shape. It would have been even more fun if you could have come with me. The icing on the cake was that every blogger at the event got a pair of Under Armour shoes – the ones I'm wearing in the top photo and below: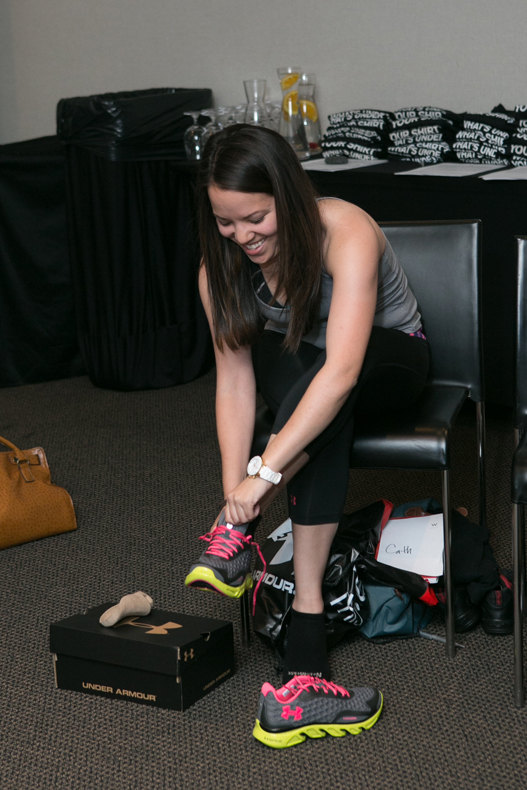 Photo via Lady Foot Locker
I'm hoping there will be some fun blogger events when you come into town for the holidays. I'm so tired of saying, "Hey, I'm Cath, one half of the AsianCajuns."
Love, Cath xoxo