Are you guys ready for an epic battle of Leon vs. Leon's? London vs. Decatur? Singular vs. possessive?
Well then, you're in for a treat!
Actually, it's not so much of a battle as it is a comparison. You guys enjoyed our home comparison so much that when Lar told me she ate at a place called Leon in London, I thought, "Wonder how it stacks up to Leon's." Leon's Full Service, that is. One of our favorite local bars in Decatur that we've mentioned in previous posts here, here, here, here and here.
Let the battle/comparison begin!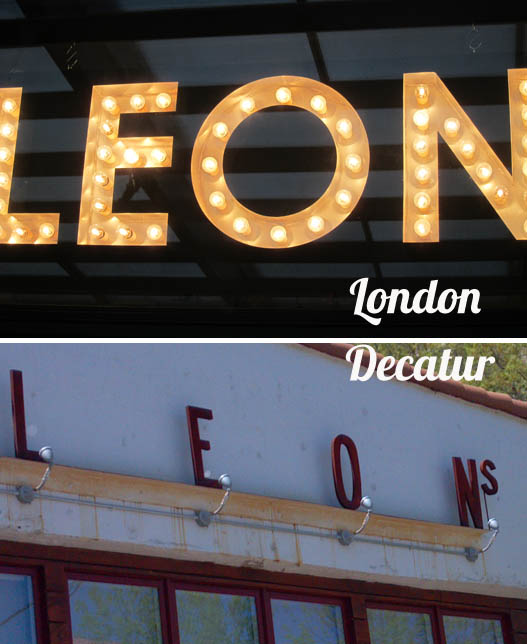 WHAT

Leon: (Lar) Located in London's Spitalfields Market (but it's a chain, so there are a bunch around the city).

Leon's: (Cath) Located in downtown Decatur, GA at the corner of Ponce de Leon Ave. and Church St.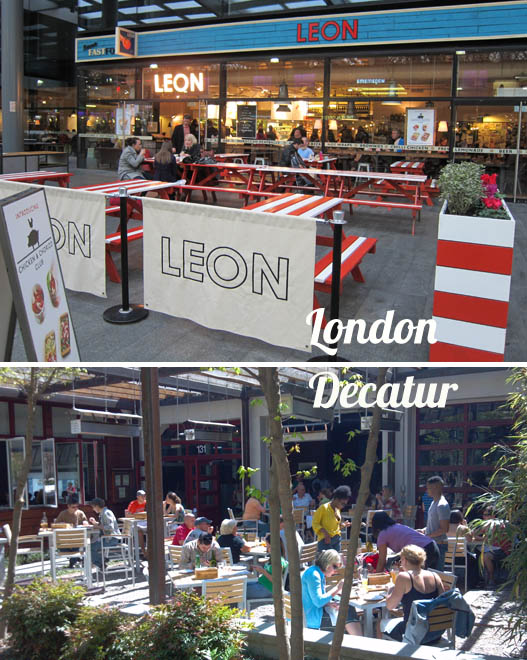 FEEL

Leon: (Lar) A light-filled new build with a slight vintagey farmhouse feel with a dash 1930s propaganda posters. Lots of communal farmhouse tables and book shelves with vintage items (lamps, boxes, books) scattered about. If you eat "outside" you are still covered by the Spitalfields Market roof (good for rainy London) and you have great people watching as you're facing the market stalls.

Leon's: (Cath) Formerly a shop and before that, a gas station. Lots of dark wood, Edison light bulbs and chalk boards. Even if you don't sit outside on the patio, you can sit in the main dining area with large windows and feel the springtime breeze.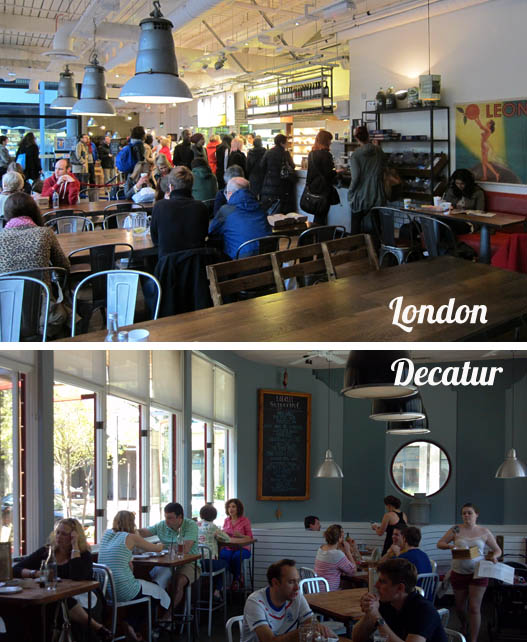 FOOD ETC.

Leon: (Lar) You might be weary because they call it fast food, but don't be. The food is served just as quickly as your favorite McDonalds, but what's put on your tray is nothing like it. It's fresh, healthy (for reals) and delicious. I got the superfoods salad of avocado, broccoli, fresh peas, cucumber, sprouts, feta and lime juice with just a bit of cracked pepper. I also got a side of their waffle fries and freshly juiced apple juice served with lime and mint. I've heard tell that they do a mean brunch as well. Check out their menu here. Oh and what fast food place do you know of that has wheat-free, vegetarian, and dairy-free items? Three cheers for Leon!

Leon's: (Cath) Wonderful, delicious cocktails and a great beer selection that can hold its own in a big beer-loving city. Pictured below was one of Leon's salad specials that included sliced fennel and arugula. I also recommend the homemade candy bar for dessert and the flat breads on the late night menu.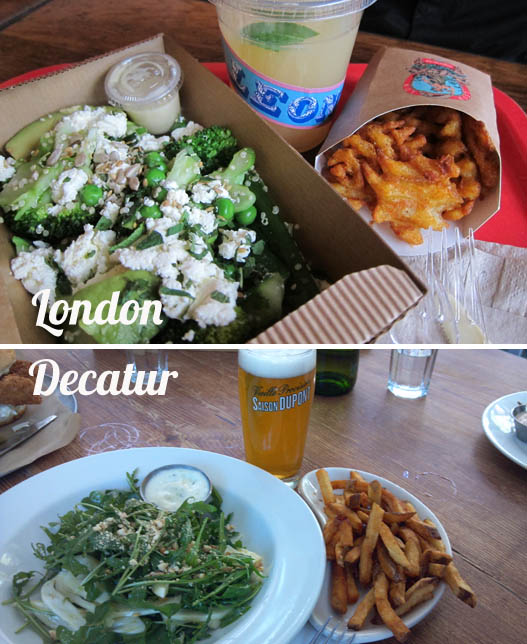 SPECIALTIES

Leon: (Lar) I'm not sure what Leon is known for because we kind of just stumbled upon it in our travels and ate as much as our tummies could hold in one go. I was still on my vegetarian/gluten-free kick at the time, but next trip to London I will certainly try their baked goods.

Leon's: (Cath) Cocktails! They just came out with their spring drink menu and I'm dying to try the Petal Pusher: Berkshire Mountain ethereal gin, lemon, elderflower syrup, strega, St. George absinthe, black pepper.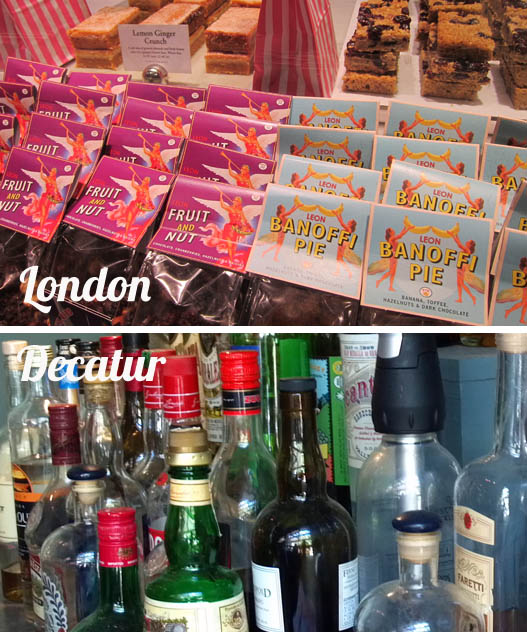 BRANDING

Leon: (Lar) They use this kind of 1920s/30s vintage poster art mixed with a rustic edge which I really like. It's cheery and harkens back to thoughts of homemade foods from the days of yore, but of course the food has a modern very healthy twist to it. I thought I was over that kind of vintage wine poster look (you know that one that everyone used to decorate their kitchens in the early Naughts), but with this rustic farm house twist, I think they make it work without looking at all dated or too hyper trendy.

Leon's: (Cath) Decatur's "community-driven restaurant and bar." Silverware and napkins supplied in a wooden box at each table, water served in reused wine bottles, and the famous Navy chairs at every table. Even the drink menu feels special with it's leather spine and front metal plate.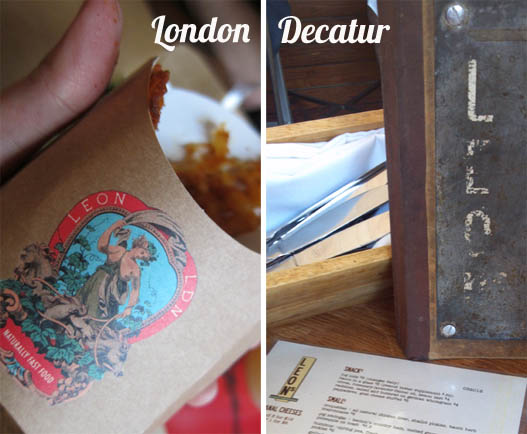 OTHER

Leon: (Lar) Fresh, nutritious foods and sustainability are their big pushes. They try to source as much as their food as they can locally, conserve as much water as possible and get involved with their communities. Their meat is all British, their eggs free range, and they attempt to buy as much free-trade as possible. They continue to aim to recycle as much as they can and so far four of their locations compost all their food waste. Go, sustainability!

Leon's: (Cath) Huge focus on locally sourced produce and meat. Bocce ball court in the side yard.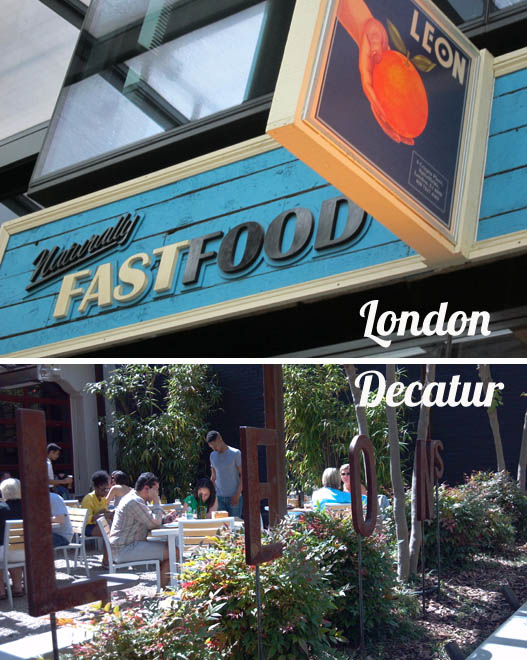 Cath: The verdict? Well, they're both pretty gosh darn great. Leon's in Decatur might have the upper hand because we've both been there. Maybe someday Lar and I will be able to eat at Leon in London together.
Lar: I hope Leon's expands in the states and Leon expands in the UK (come to Edinburgh, please!). I love how both places serve delicious, fresh food in a wonderful atmosphere while pushing a message of sustainability. Really the Leons are doing what I think all of today's restaurants should! So my verdict is win win!
______________
Dearest Lar,
Did I tell you that I played the Mega Millions a few weeks ago when it was at $550 million + ? Just like everyone else I was so sure I was going to win. My plan after winning was to fly over to see you. Then we could bounce around the UK together (including a stop at Leon in London) and visit all the Jane Austen and Downtown Abbey sites. Hell, we could have visited every great estate that has ever shown up in a Masterpiece Theater/BBC period drama in the past decade and still have money to spare. Better luck next time, I suppose.
I also meant to send you a pic of what I wore to a wedding recently: a sparkly TFNC dress from Asos, the Clare Vivier clutch you gave me and the gorgeous ring you got me in London. It always makes me so happy to be wearing something from you – it makes me feel like I have my twin nearby.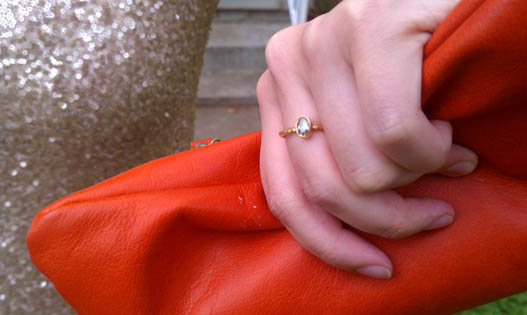 Is there a Scottish lottery? Maybe if we both play our respective lotteries our chances of winning won't change at all will double!
xoxo, Cath