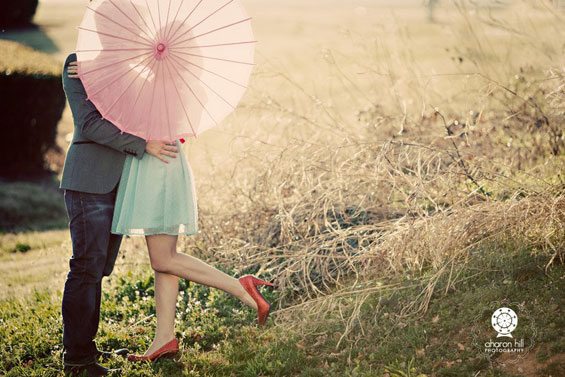 So not only do I have two wedding dresses, I also have two sets of engagement photos. For a girl who claims to be scared of big weddings and spending lots of money on one day, I sure do sound like a hypocrite, don't I?! (If you missed the first set of engagement shots, Cath posted a few here. They were done by Matt's uber talented sister on Tybee Island a day after we got engaged.)
These gorgeous photos were shot by my wedding photographer Aharon (pronounced like "Erin") Hill. And boy am I glad I found her! Not only are Aharon's prices uber reasonable, she also happens to be an absolute genius. She makes a teeny parking lot carnival in the burbs of Atlanta and a grassy patch behind a Checkers drive-through look like heaven. I don't think I could photograph heaven to look like heaven.
Oh and the other serendipitous bit of this shoot? I had my favorite make-up artist Amy Weissenberg of Smink do my make-up. I was planning on doing my own and having Amy  show up for my wedding day, but she will be out of town (ahhh boohoooo!!!) on the day-of, so she offered to do my make-up for this shoot. I'm so glad she offered because 1) I have learned all my make-up skills from growing up putting on stage make-up for Nutcracker perfomances and YouTube tutorials (that combination is probably not ideal) and 2) she is amazing!!!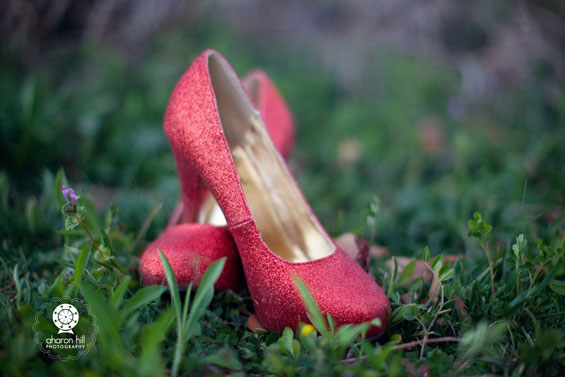 About the clothes:
On Moi: I took my Rodarte for Target dress and tied a red ribbon around it. The shoes- ahhh the shoes. I've always wanted a pair of ruby slippers ("The Wizard of Oz" has been my favorite movie since I was 1.5 years old), and I finally found them for $13 at Burlington Coat Factory. So the brand name is "Bumper" (yikes) and not "Louboutin." I think they'll still take me to the wizard either way.
On Matt: I think I spent much more time thinking of what Matt could wear because I get tired of looking at my worn-out closet duds. He ended up in a H&M blazer and jeans, Frye boots, and a shirt by some company I'm totally forgetting, anddd the piece de resistance, a ribbon bow-tie! I love the ribbon bow tie on a man. I haven't seen this done too much, but when it's done right it makes me swoon. It takes all the stiff, overly-pert-ness out of the regular bow-tie. What do you guys think?
So after this shoot, you know what happened? Cath threw me a surprise engagement party! I've never had a surprise party before (it makes it difficult when your best-friend shares your birthday and, you know, your DNA). It was the PERFECT end to an already wonderful day. Kitcath, thank you soooo much. Sharing that evening with you and all of our wonderful friends made all the stresses of the wedding melt away. XOXOXOX
Okay, I'll stop babbling and just let you guys look at the photos. You can see all of them on Aharon's blog here. Let us know what you think!