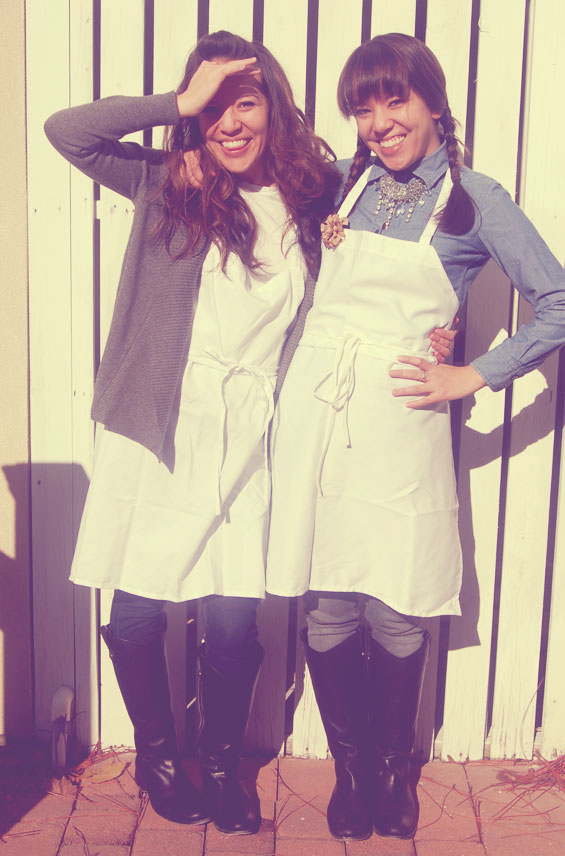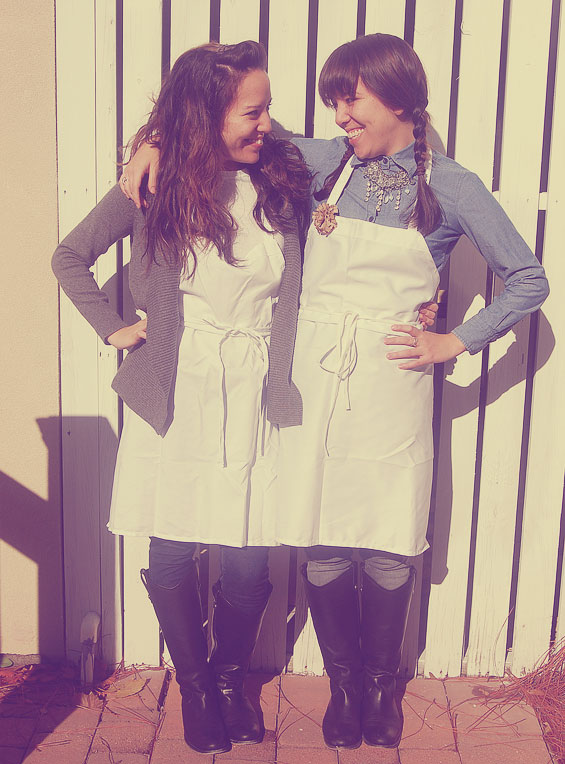 On Lar: sweater, Lands End; tee, Michael Stars; jeans, Madewell; boots, Frye
On Cath: button-up, Zara; jeans, Madewell; boots, Frye; necklace, Rockit Boutique in Decatur
Don't these aprons look very Martha? Our mom gave us all lovely white aprons for Christmas. Next trend in fashion: aprons as day wear sans the ironic statement about being a feminist and looking like a 1950s housewife. Wear with boots and jeans instead of nip-waist dresses!
——
Oh, and can I just say, you guys are the most awesome readers/commenters!!! Thank you so much for all the sweet words in the last post. Matt is the most wonderful person in the world, and one day soon I will introduce him properly on AsianCajuns (not just as that guy with the mustache).
So, do you want to hear about the wedding plans? I have two options for you: 1)Eloping! Or. 2) a courthouse ceremony! Yeah, I know. everyone  has told me those are crappy ideas. It's not that I don't like a pretty dress and creamy delicious cake as much as the next person, but weddings scare me. Big time. So, you know, I was kind of hoping to skip that part.
Tomorrow I'm actually having a pow-wow with Cath and the 'rents to try to work out something that doesn't involve a courthouse clerk, but not so big or stressful that I break out in hives. But don't fret, I'm not completely inept at all things wedding. For instance, shoes. Shoes I can do. And shoes I have done. It's one of three things that I have figured out about the *gulp* wedding, and I'm in love. What do you guys think?