My typical hair routine is pretty boring (and not as low maintenance as I would like). I wash my hair every other day. On the days I wash my hair, I blow dry it straight-ish – on rare occasions I'll whip out the straight irons – and on the non-wash days I usually create a sally and pull it up into a pony tail or leave it down.
Last Friday, inspired by Alexandar Wang's Spring RTW hairstyles, I decided to try something new: The Sideways Braid.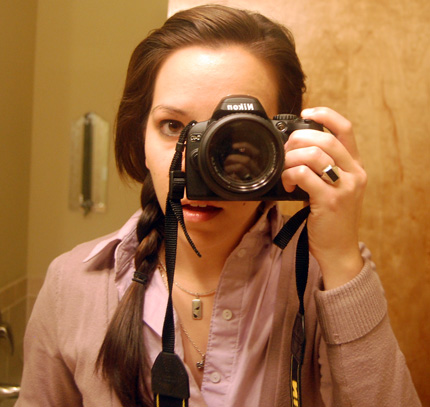 Side Note: Sorry for the crummy photos. Lar is out of town, snow-shoeing north of Seattle or something, and I can't figure out how to work the remote control/timer thing-a-ma-gig on her fancy camera.
The inspiration:
Now looking at the Alexander Wang runway photos again, I should have swept my hair down the front a bit more – and found a hair piece or something that would have given me a longer braid. But it already took me 10 minutes to get the braid angled right so I'm glad I didn't fiddle with it any more than I did.
Ultimately my casual Friday outfit consisted of Alexander Wang-ish hair and a very un-Alexander-Wang-ish outfit: American Apparel oxford button-up, H&M cardi and belt.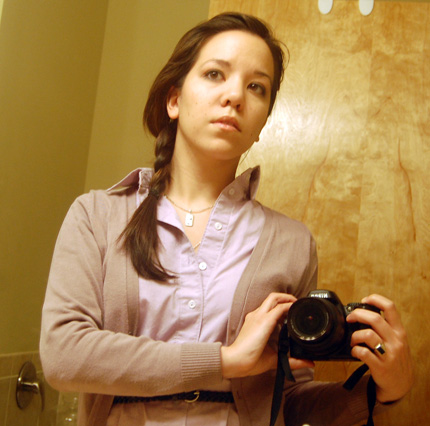 I have to admit that I'll probably keep this hairstyle for the weekends instead of a work day. The side braid has a tendency to want to slip apart during the day so I found myself re-braiding in between meetings to make sure the look was pulled together enough.
PS: I found this blurb on the Huff Po about the popularity of the Alexander Wang braids. According to the runway show's hairstylist, the braids are popular because they're "attainable" by the, uh, average woman. Harumph. I guess I just proved that.