Yep. All of my tax documents, warranties, and other not-throw-away-able papers fit in that blue box and blue folder. The blue folder is for my legal-size papers (mostly house-purchasing stuff). Everything else is in the blue box with plenty of room to spare. The black accordion folder is for work items that could easily fit in the blue box, but I need it to be more portable than the rest of papers so a separate folder is necessary. And that's it. All of the papers in my whole house.
I spent the weekend sorting and recycling old documents. Here's what my study looked like at the beginning of the weekend: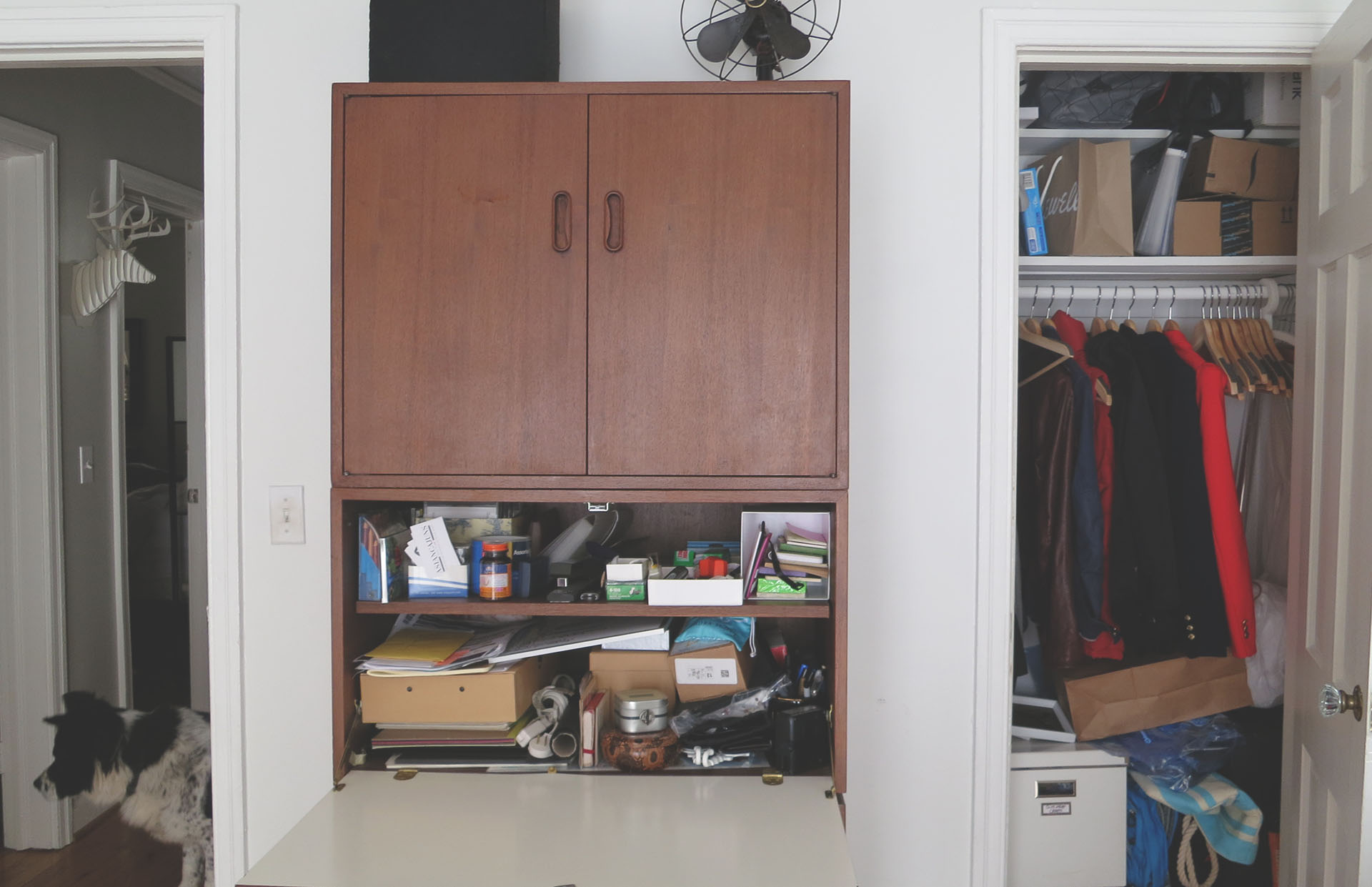 My important papers were mixed in with office supplies, tons of crafts, and random stuff that just didn't have a home.
As I do with every organizing project, I first re-read the chapter in Marie Kondo's book about going through your papers. She's pretty ruthless about papers, basically saying that you should get rid of everything except the very few items that you really need (house deed, tax documents, warranties, etc.).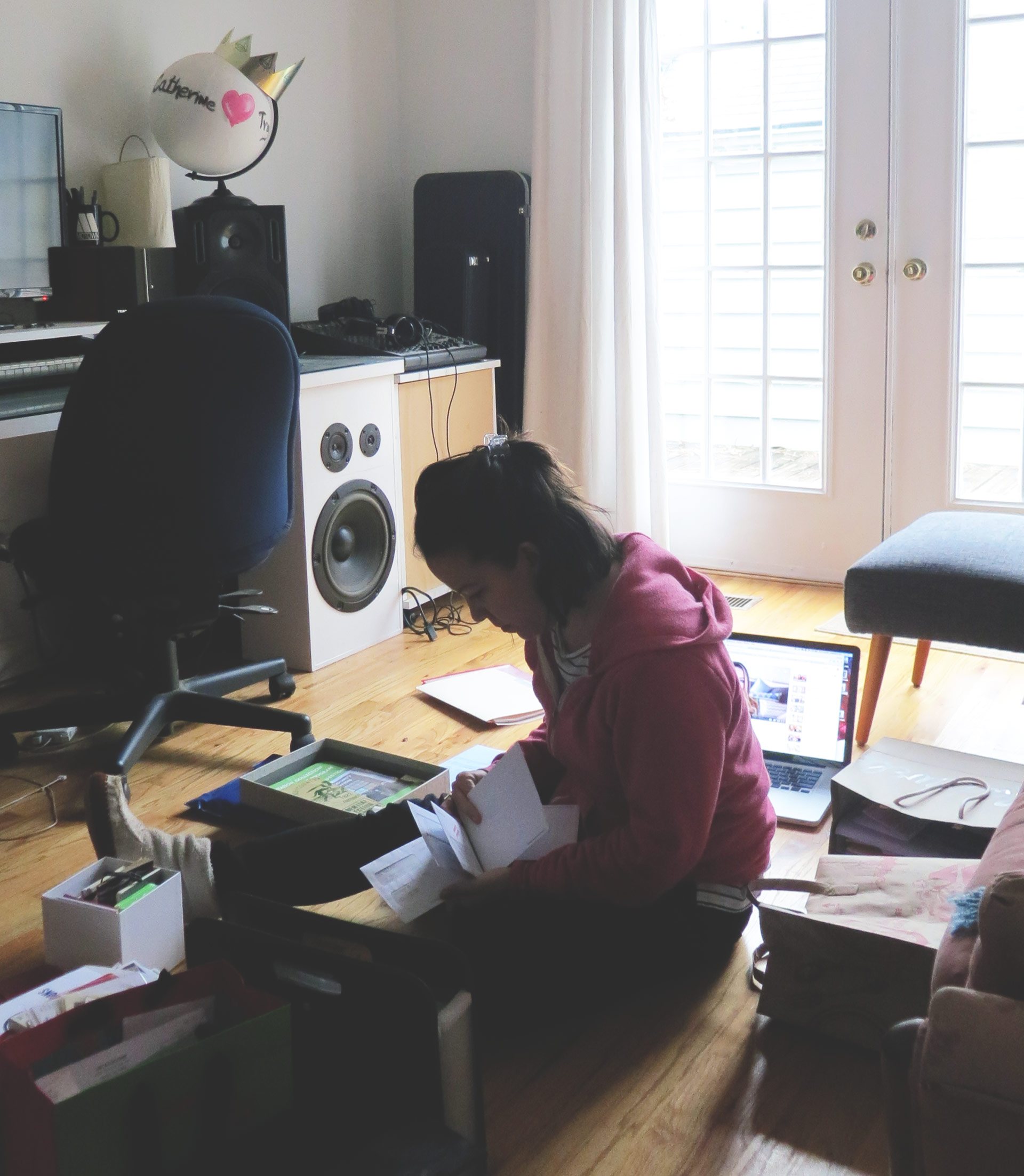 So I jumped right in. I got rid of all of my product manuals (I wrote down the model numbers in Google Docs for items like my stove and fridge), old vet receipts, medical claims that were super old, credit card statements, 7+ year old tax documents, and other boring, unnecessary paperwork. That was the easy part.
Then came the old letters from friends and family, artwork from college, and my fashion scrapbooks. I've kept so many letters from the past because I love letters – they're so old fashion, and quaint, and proper. Plus, isn't that what you do with letters? Keep them? Like a Jane Austen heroine. I'm sure Elizabeth Bennet and Anne Elliot kept all of their letters!
But the more I thought about it, the more I realized that as much as I love the idea of the letters, I've never actually re-read them. I was just moving them around with me from home to home for the past fifteen years. So, what did I decide to do with them? To the shredder! Same with my fashion scrapbooks that I spent hours putting together from magazines in high school. I thought that I would enjoy looking at them after all of these years, but found them pretty boring.
I also got rid of most of my craft items (clay, yarn, tons of different papers, colored pencils, etc.) because I've probably spent only about 5% of my adult life really crafting. If that.
Post organizing, all of my remaining crafts, office supplies, and random stuff (travel neck pillow, yoga block, dance shoes) fit into the cabinet. And I was able to clear out so much stuff in the study closest that it now fits all of our suitcases with room to spare!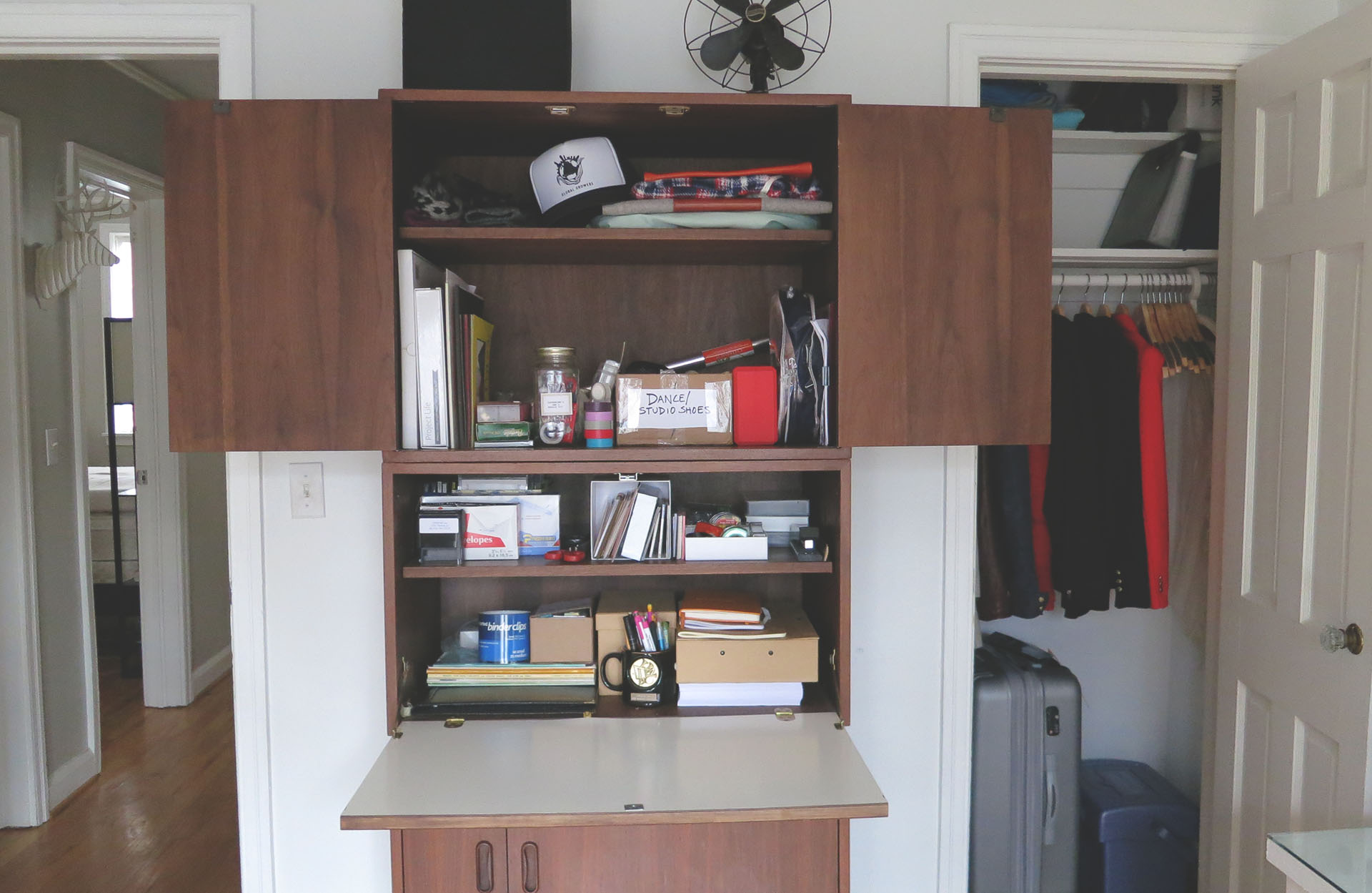 I'm honestly kind of surprised it took me the whole weekend to sort through it all. Grant it, I did take lots of breaks – took the dogs for a walk, worked out, saw a movie, went out to dinner, did laundry, etc. The papers were easy, but it was the letters, crafts, and other nostalgic bits that completely slowed me down. I should have anticipated that, but I didn't. Nevertheless, I persevered! And now I feel like a weight has been lifted off my shoulders. Even though I could close the cabinet doors and shut the closet door, I still hated going into my study before this weekend because I knew all of that stuff was haphazardly piled in there.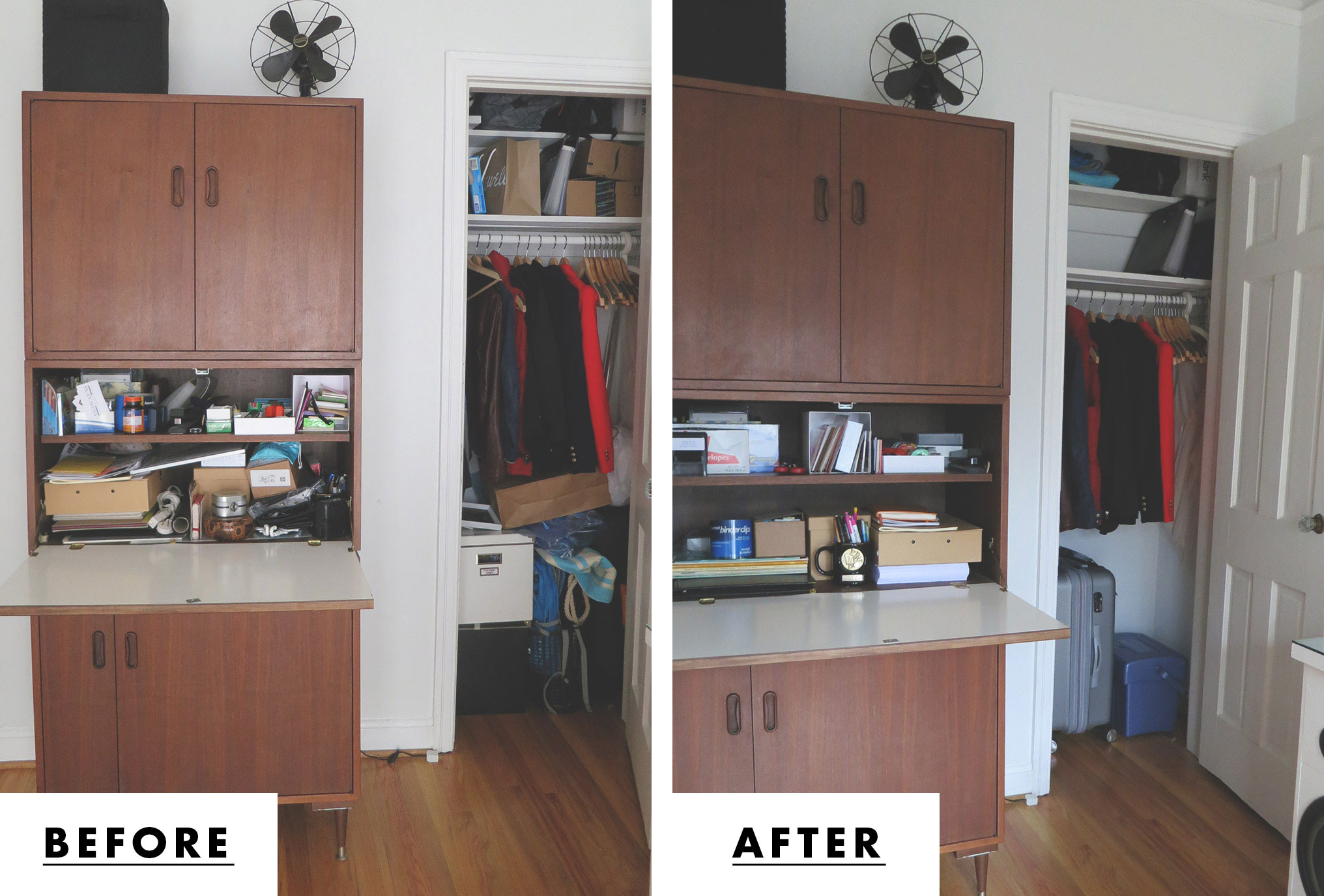 Now I feel a sense of calm wash over me when I enter the room. I know exactly where everything is and won't get annoyed by toppling paper piles.
Before I end this very wordy post, I just want to list a few things that helped me get through the process:
There's a nearby thrift store that I love and always bring my stuff to (it's Second Life for you local readers). The best part is that they're open on Sundays. So after I finish a big organization weekend project like this one, I can pack everything up in my car and drop it off. It makes the whole project really feel completely done and then I don't have to second-guess my give away choices – out of sight, out of mind.
My paperwork collection wasn't too ridiculous when I started the weekend, because twice a year, I go through all of my documents, check the required retention length for each type, and get rid of the ones that are old. I do it twice a year because there's a local paper shredding event twice a year in Decatur where you can bring bags and bags of your old documents and put them in a giant shredder that can shred everything in seconds. No need to clutter my home with a personal shredder that'll just burn-out on me.
For some of the time that I was sorting through my papers, I listened to The Minimalist podcast. Even though they weren't necessarily discussing paper clutter, listening to them helped keep me motivated through the whole process.
I didn't worry about having the perfect filing storage system for my remaining papers. The hanging folder box and accordion folder were items I already owned. Eventually, I might get a nicer looking setup or get some better organizing containers for my office supplies, but I don't really need to.
Before starting, I made sure to get all the papers in my house gathered together including the mail on the table near my front door, the fridge (lots of outdated stuff magnetized on there), and the dining room table, which always collects crap.
And there you have it. This post was a long one! If you've made it this far, good for you! Now, go celebrate by going through your own paper piles and let me know how you feel afterward.