Lar and I are still riding high from the marches on Saturday, so I figured, what better way to celebrate than with an organization post?
I kid. A little. Ever since starting this KonMari/minimalism journey, nothing gets me as excited as a well organized. . . anything. I'm only slightly ashamed to say that having everything in its place and organized makes me unbelievably giddy.
Over a year ago, I showed you how I culled through my wardrobe that was full of things that didn't spark joy and reorganized everything. Well, since then, I've moved my clothing around a bit and reworked my storage. Now every single item of clothing I own either fits in my chest of drawers (the star of this post), my tiny 1940s bedroom closet, or a small box under my bed for out-of-season clothes.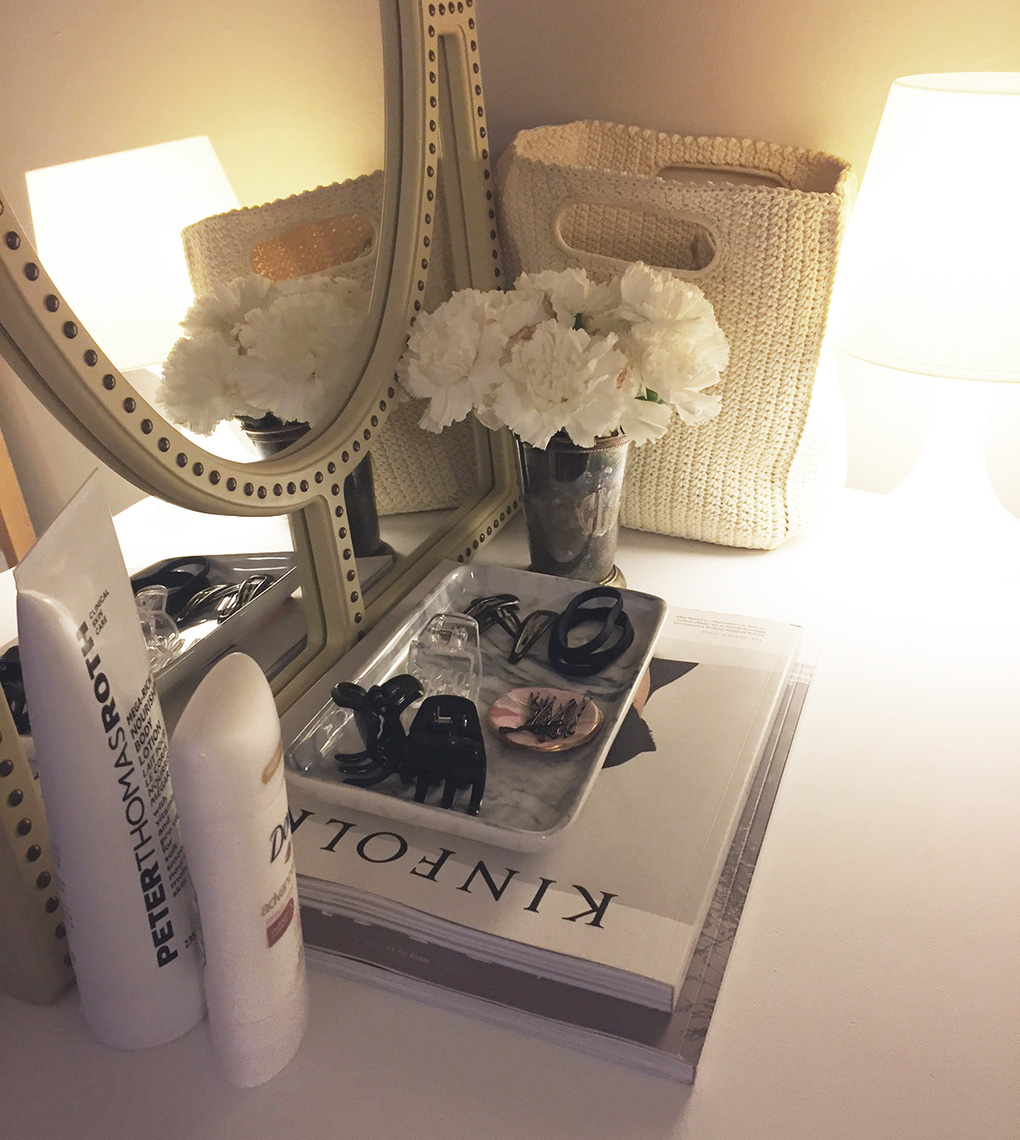 I've been on the hunt for a great dresser for the past few years and could never find something I could afford loved. Then I realized my parents had one that they weren't using in their basement. If you follow me on Snapchat (AsianCajunsCath), you would have seen my week-long process of sanding and painting the dresser with white chalk paint (I'm telling you, there is riveting stuff on my social media accounts, you're missing out!).
There are a couple of reasons I love this dresser:
I didn't have to buy it. You can't beat a free piece of furniture!
It's such a classic piece. I thought about replacing the hardware, but I love the curliness of the handles too much.
And most importantly, it's originally from my dad's childhood bedroom. That's right, its first home was in a townhouse in Chinatown, D.C. Decades later my mom painted it and added some beautiful gold detailing too it. Then, last November, I made it less pretty (but more fitting with my neutral decor) and painted it white.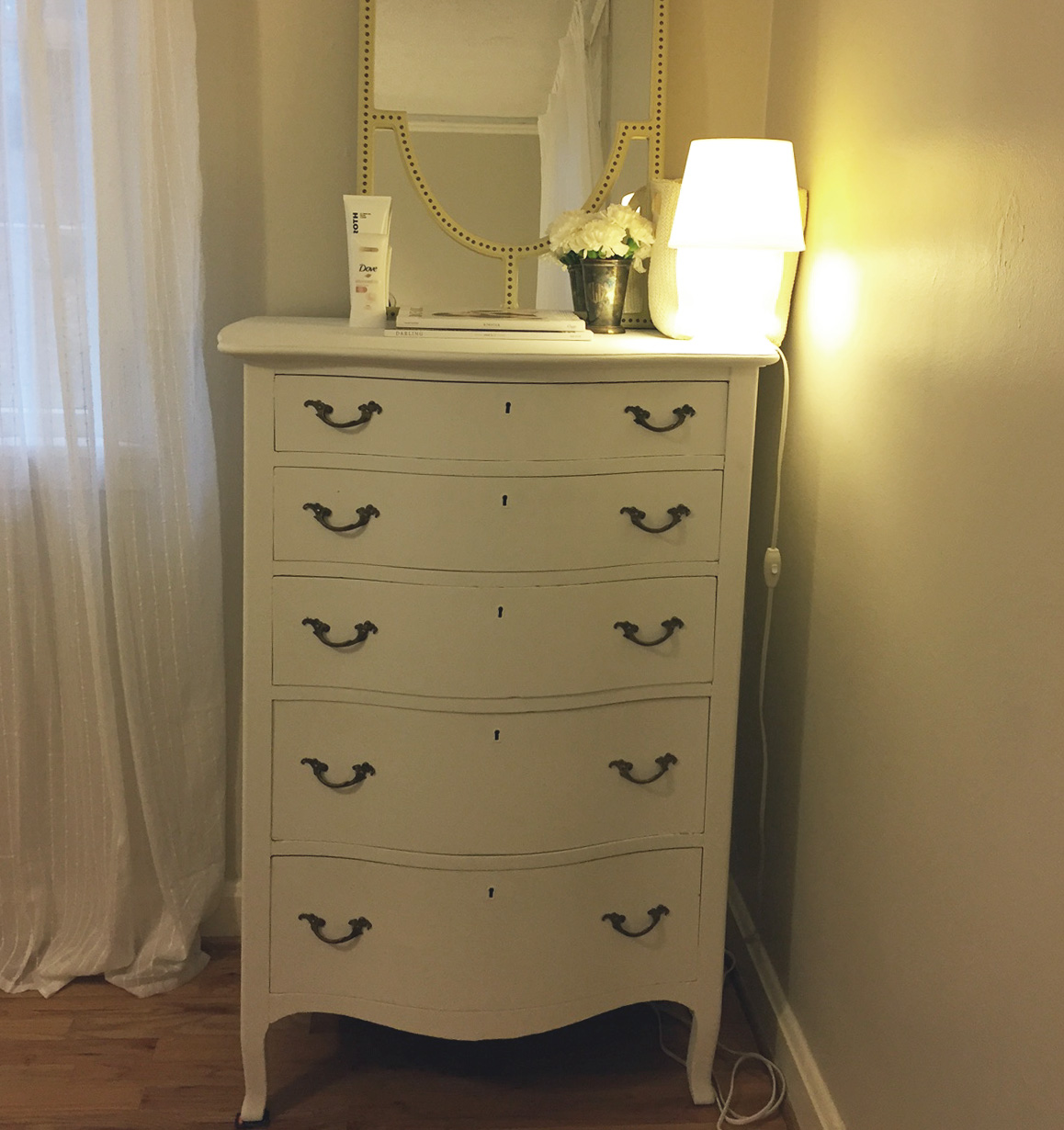 But I digress. This post is suppose to be about organization and not furniture after all. So here's everything that I fit into this dresser (minus my underwear drawer, which felt weird to photograph and share):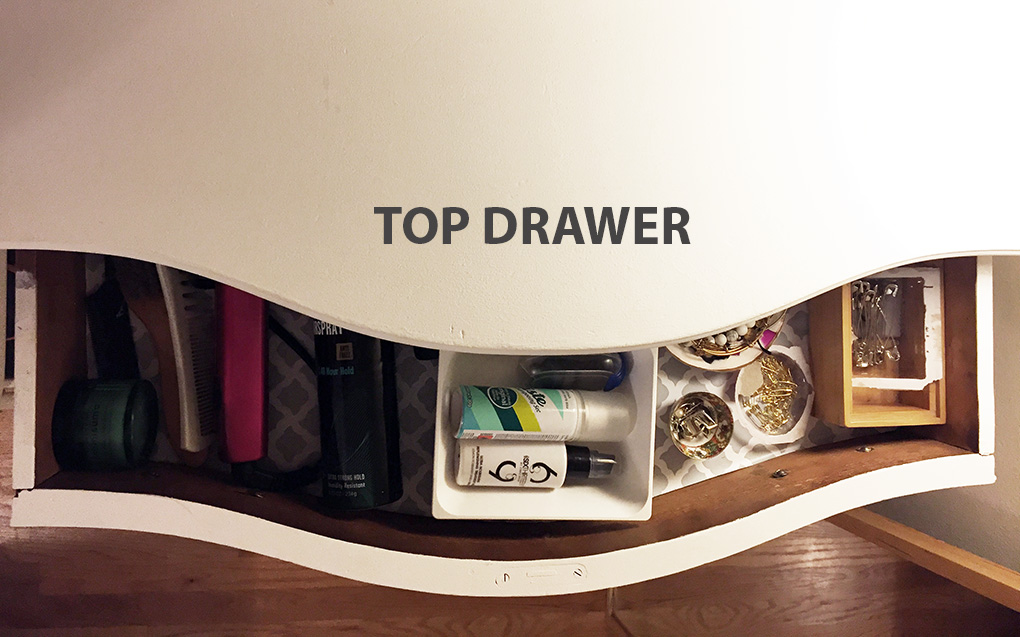 The top/smallest drawer holds my hair things and non-necklace jewelry. My straighteners, combs, brushes, hair spray, dry shampoo, bobby pins, rings, safety pins, and bracelets all cohabitate nicely in one drawer.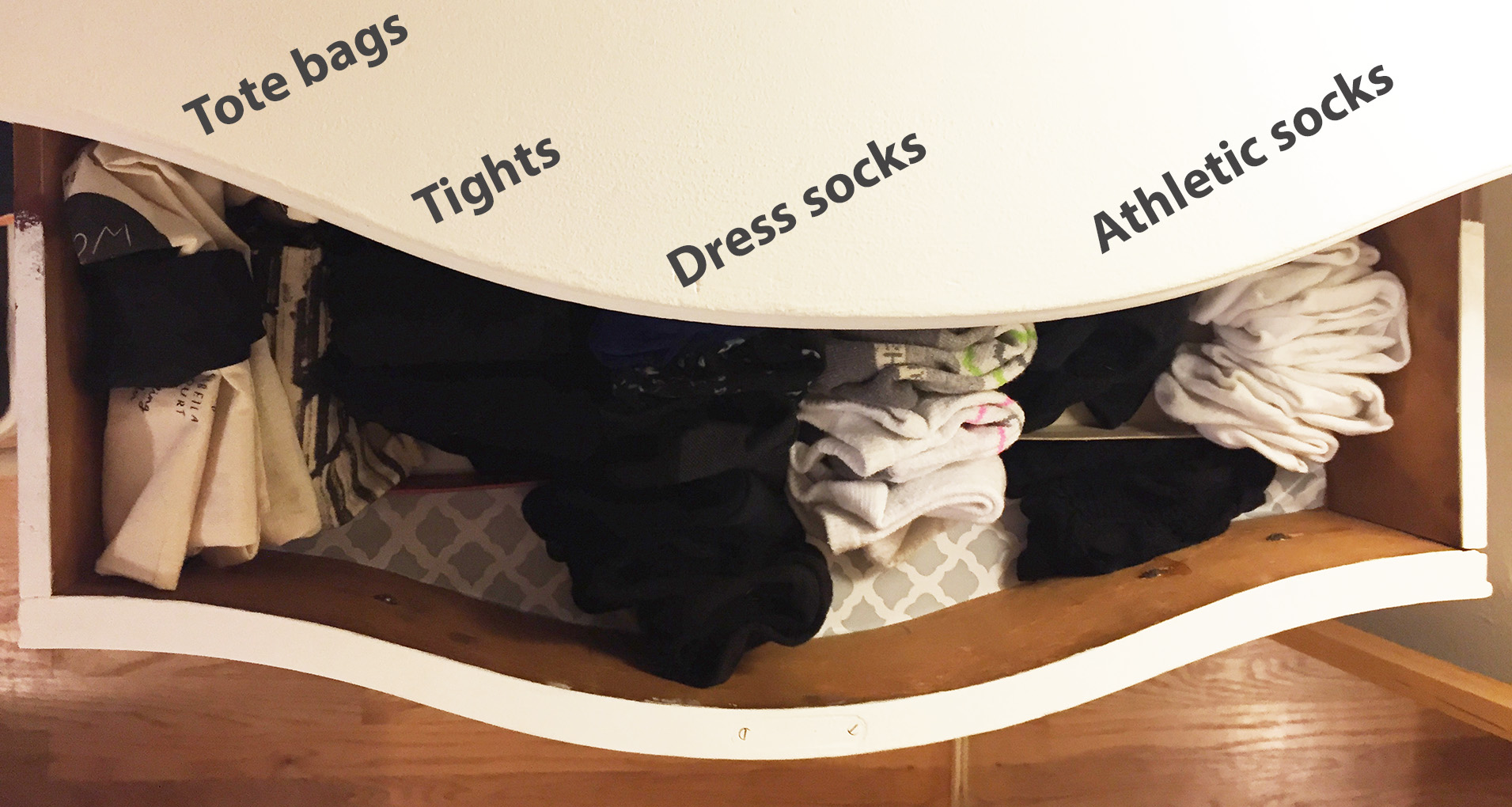 Next up is the tote bags, tights and socks drawer. Nothing too exciting here, but I do try to keep things nicely folded and rolled, which is recommended by Marie Kondo. I know it doesn't really make sense to have tote bags with socks, but I had some extra space and needed a spot for them, so there you have it. And it works.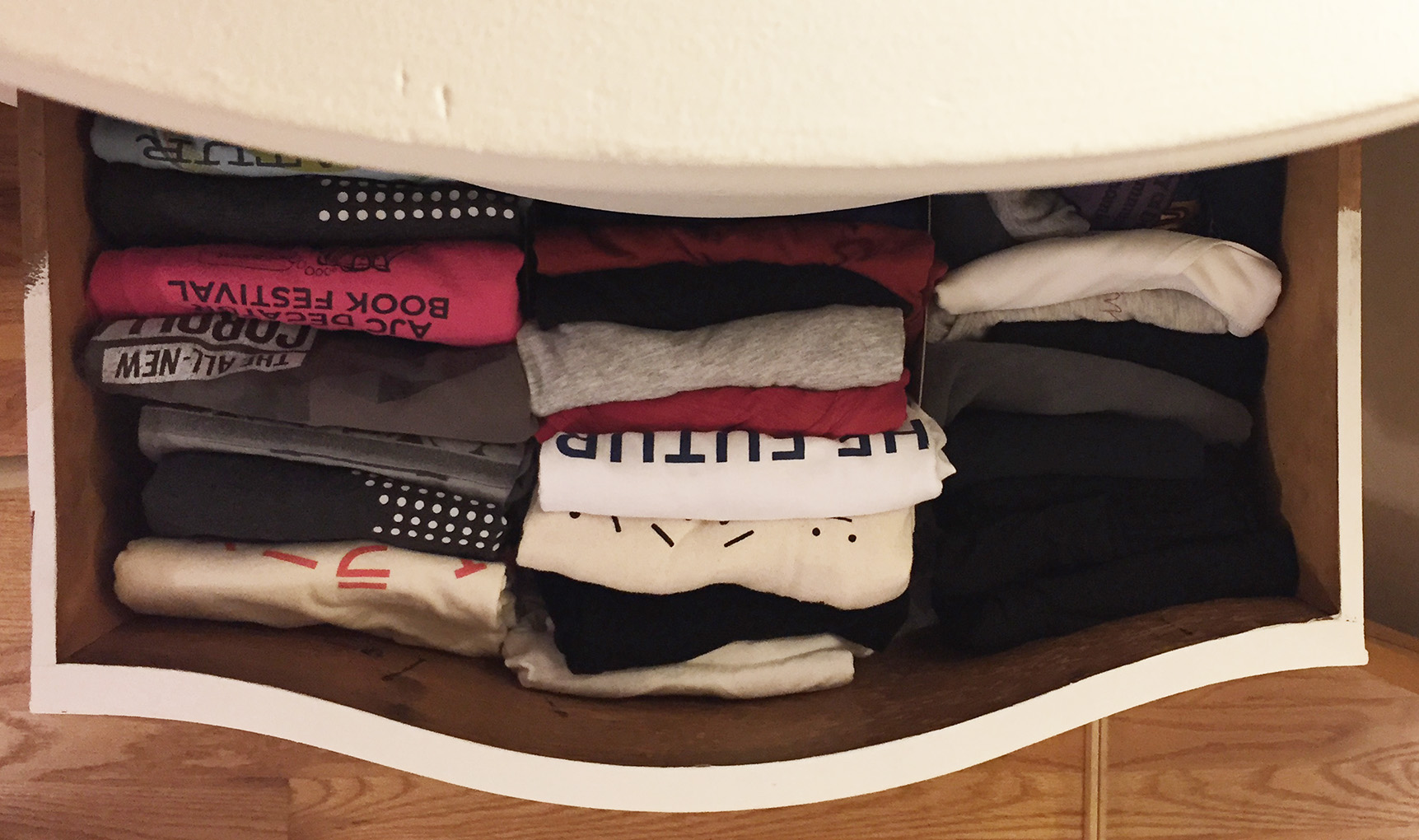 These are all of my tops that don't need to be hung up: sleep shirts, weekend shirts, and workout tops. Now that I look at this photo, I'm thinking maybe I should organize by color, but maybe that's getting a little too extreme. . .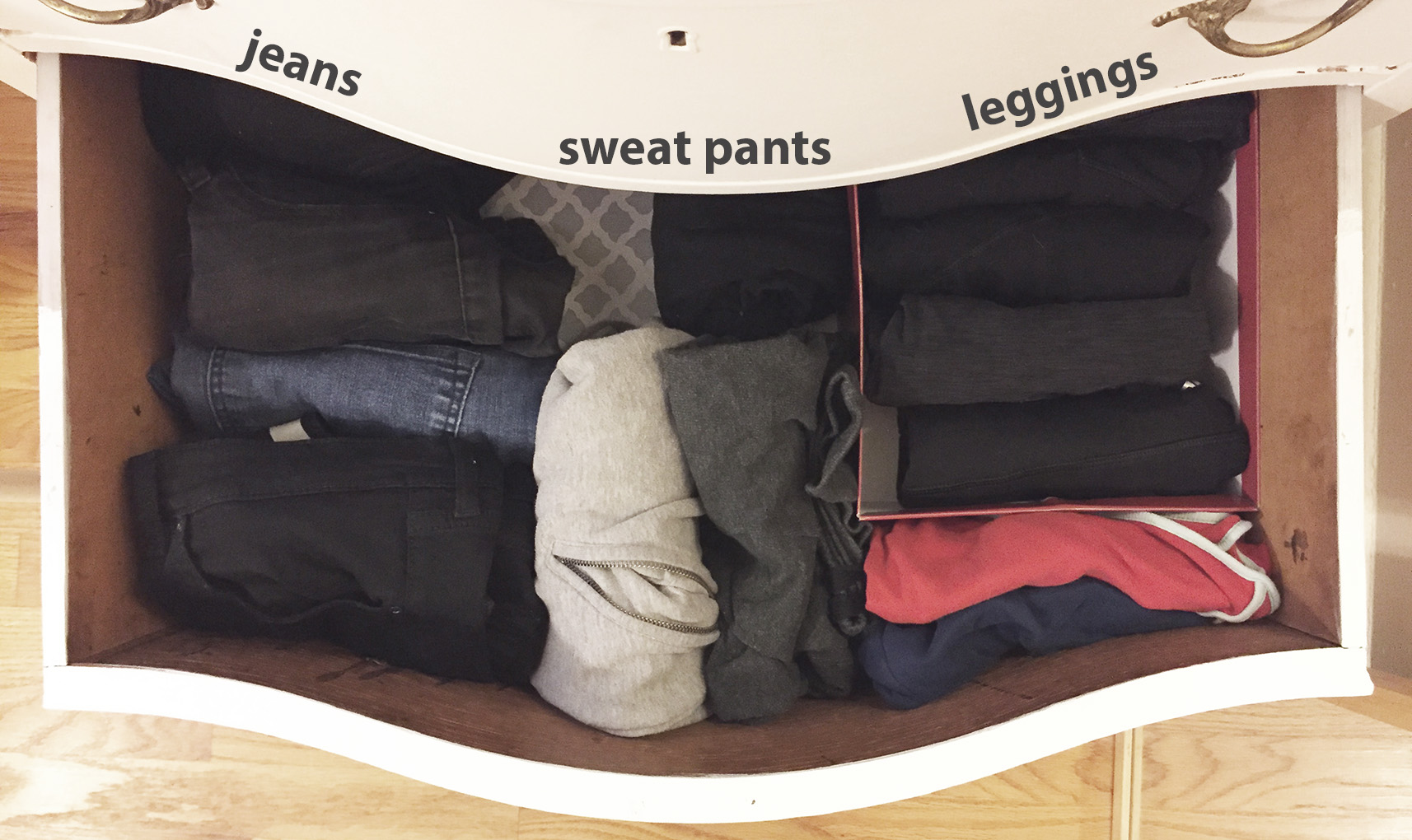 The bottom drawer is filled with bottoms! Pants, that is (or trousers to you Brits!). I find that in my old age the leggings/sweat pants sections seem to be overtaking the jeans section and I'm really okay with that.
So there you have it, all of my folded clothing in one place.
Here's one questions that I think folks might ask: Do my drawers always look so organized? The answer is yes! Ever since jumping on the KonMari bandwagon, organizing my clothes and keeping them organized has become easier. I have less clothes, so I know there's room for everything. Plus, I just spend a little bit of time each week doing laundry, folding everything and then putting them away where they belong. There really isn't any magic to it except the initial hump of purging what you don't really wear. Also, you know, you have to actually fold your laundry and put it away, but I swear that it's easier once you own just what sparks joy.
P.S.: For those of you who have been living under a rock have no idea what KonMari, Marie Kondo, or the term "spark joy" is, then I recommend you read this book. Cheers.
P.P.S.: To our regular readers, apologies that the comments aren't working. Every time I think I've fixed the problem, WordPress proves me wrong. I'll keep working on it and if you have any tips, shoot me an email at AsianCajuns@gmail.com.