This title might be a little dramatic, but hear me out. Even though I'm on a journey to reduce my worldly possessions, I still care about being somewhat stylish. If I had all the money in the world, I would create my ideal, minimalist wardrobe from the ground up. But I don't have gobs of money and it's probably for the best. For one thing, it would be wasteful to give away all of my clothes and go on a shopping spree. Also, I think having a budget and working with what you have builds character – at least that's what I tell myself.
My winter coat is one of those character-building instances. Before my KonMari purge of my closet, I had at least five winter coats. Most of them were easy to get rid of because they either didn't fit or they were dated. I was left with two coats: an Eddie Bauer puffer and a wool J. Crew coat. I ended up giving away the J. Crew coat even though it was well-made because the style was a little cute for me – it had toggle buttons.
That left me with the Eddie Bauer coat, which is a fine, practical winter coat, but not the best when it comes nicer outtings – weddings, professional networking events, etc. It just doesn't look right to mix the informality of a puffer coat with a dress and heels. At least that's what I thought and had my eye on buying this coat. My only problem was that I didn't have $250 to spend on a coat. So I've had to make do with my puffer coat.
I know in the great scheme of things, it's not a big deal (first world problems of only having one winter coat and what not), but I just don't feel super pulled-together when I put on my puffer coat. For example, this outfit would be so much more chic if I had a wool trench on instead.
Nevertheless, I've slowly come to terms with only having this one coat this season. For one thing, it's not overly puffy and frumpy – before cleaning out my closet, I rarely wore it because I thought it made me look like the Michelin man. I've also realized that my life is not as glamorous as I thought because I rarely have a fancy event to go to where a nicer coat is required. And lastly, I've been inspired by James Spader and his parka.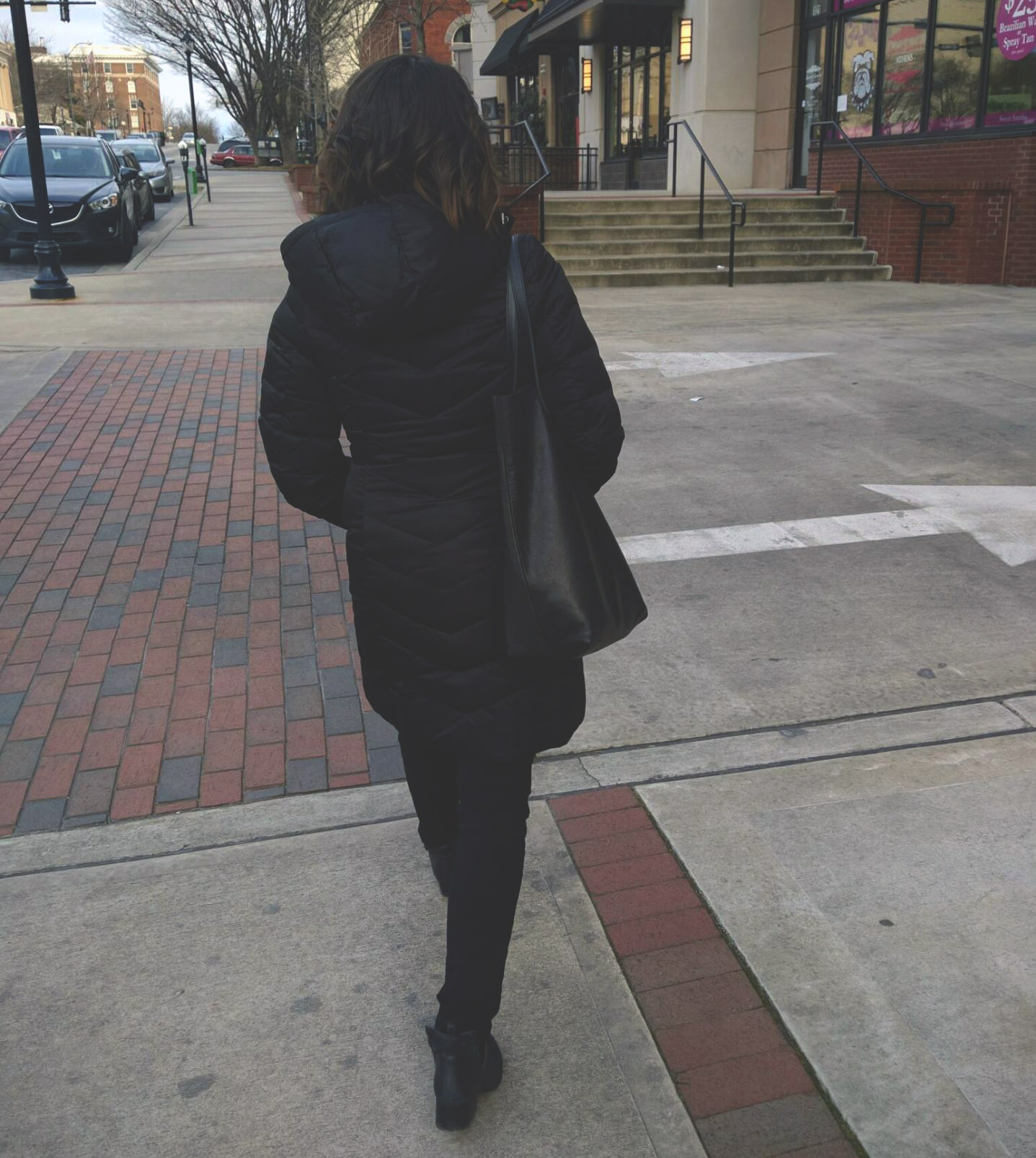 Eddie Bauer coat (similar) | Baggu tote | YARNZ scarf | Old Navy jeggings | Jeffrey Campbell boots (similar)