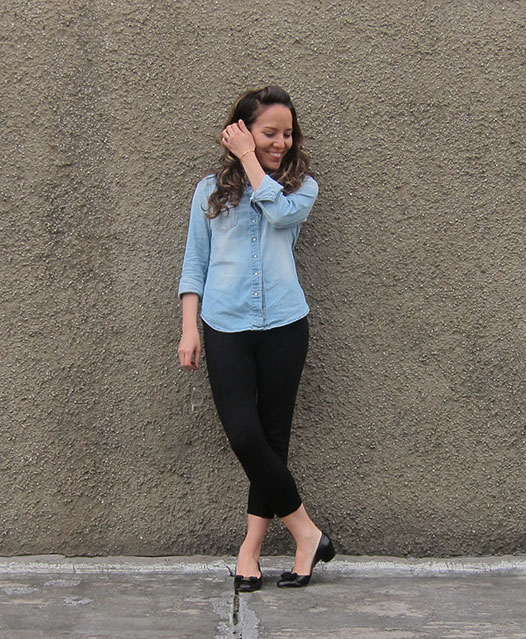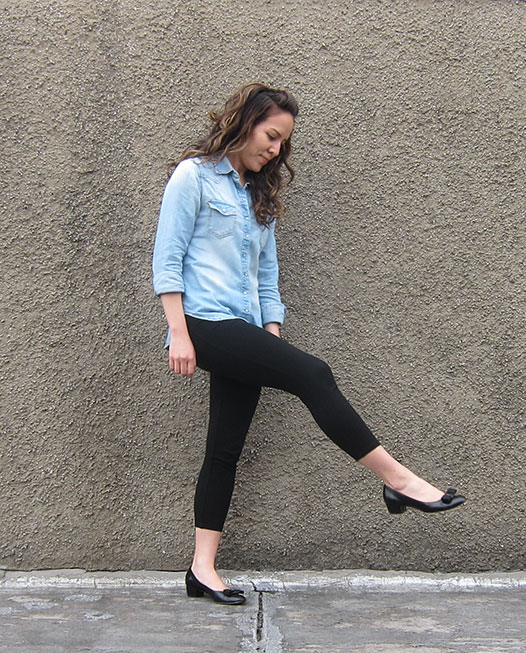 Shirt H&M (old) | Leggings Marks & Spencer | Shoes Ferragamo
I don't usually do outift posts anymore. Cath still inspires me with her style posts, but I honestly seem to wear about the same five basic outfits . mainly centred around stretchy trousers.
There are a few reasons for my sartorial shrinkage. Around the time I moved to Scotland four years ago, I really cut back on my shopping. Part of that was just down to having very limited funds after an overseas move (costly things, they are!). I had also started researching how horrendous working conditions are for many of the people who make our mass-produced clothes. I wanted to be more aware of all the stuff I had and think about where my clothes were coming from.
So with all of that, my outfits have become really boring the last few years. And I'm not saying that needs to happen if you start caring about the ethics and environmental effects of your shopping habits, but it did to me. I just really had a lot less interest in having lots of different looks and more interest in buying fewer, higher quality pieces (hence the spendy shoes above — the most expensive items in my closet by far).
I'd love to strike a better balance again where I could be a bit more creative with my style, but still keep my consumer habits humbled. I think these more frugal years in Scotland were an important stage in finding that style and learning about what I could do without very much. My secret hope too is that when we move to Seattle in September, I'll be able to wear fewer layers year-round than I do here (my next post is all about how I'm still wearing a coat . in the summer — egads, someone pass the vitamin D bottle!).
How do you guys approach the complexities of personal style and consumption?