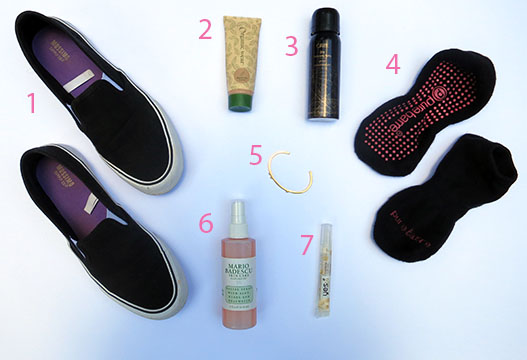 Here's my second favorites blog post for the year. In my first post I mentioned that I'll only do these every quarter because I don't think I have enough favorites to make it a monthly thing. So without further ado, here are the seven things I've been loving this quarter.
1. Mossimo sneakers – I know these are kind of passé, but I've been looking for a replacement for my black TOMs that I wore out last summer. These required no breaking in, were only $16, and go with everything.
2. Physicians Formula Tinted Moisturizer – I've been using this stuff for years. It's super light coverage so it's perfect for the summer and has SPF 15. I don't use this if I want a more finished look, but it's perfect for daily makeup.
3. Oribe Texturing Spray – I'm not going to lie. This stuff is expensive. I paid $26 for this little bottle (at a local salon, it's a little cheaper online) and actually thought I was buying hairspray. I was about to return it when I gave it a try and was hooked. It's perfect for reviving second day hair and adds texture unlike just regular dry shampoo. It also smells amazing!
4. Pure Barre – The socks aren't a favorite, but the workout is! A Pure Barre studio opened up two blocks from where I work and I decided to take advantage of the new client special. For those of you who aren't familiar with Pure Barre (or any barre class for that matter), it has nothing to do with ballet. It's more like pilates, but with a focus on isometric moves and exhausting major muscle groups: abs, thighs, arms, etc. It's one of the hardest workouts I've ever done, but after 12 classes, I already feel stronger.
5. Jennifer Zeuner bracelet – Another expensive item on the list, I'll admit, but I love how delicate it is and I wear it almost everyday. And the main reason why it's on my favorites list is because Lar bought one too and I love it when we wear the same things – even if we are thousands of miles apart.
6. Mario Badescu Facial Spray – I purchased this at an Urban Outfitters when I was in Phoenix two months ago. My skin felt so dry, so I would spray this on my face throughout the day and it completely helped. Now I use it to help set my makeup.
7. Yes to Coconut Cooling Lip Oil – This is a super cheap item – less than $5. I first read about it in a magazine and thought it was overhyped, but I'm so glad I tried it. Unlike lip balm, it doesn't sit on top of your lips and it doesn't feel greasy at all.
Are you a fan of any of these items? Anyone else doing Pure Barre? I'd love to hear what your recent favorites are.