It's going to be way too hot to wear this outfit this weekend – 90 degrees this Sunday! I'm never ready for summer weather. Spring and fall are my favorite seasons. If I could live somewhere that is always jacket weather, I'd be perfectly content.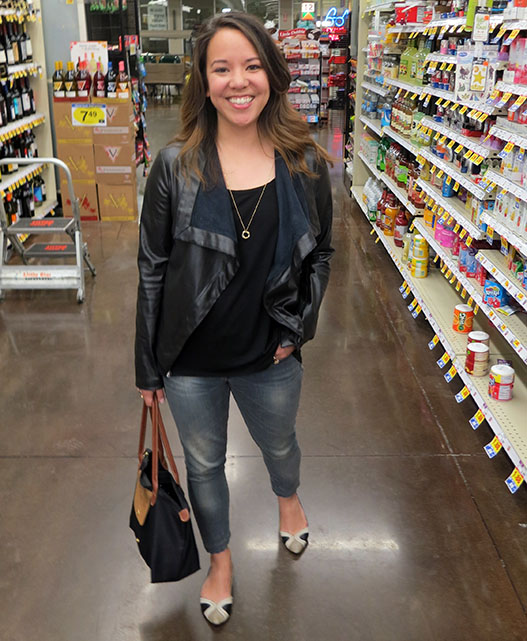 BB Dakota jacket | Urban Outfitters top | Gap jeans (obviously very old) | Boutique Karma necklace | Longchamp bag | Flats, secondhand from Meredith
What's that you say? Did I get Troy to take an outfit shot of me at our local Kroger? Uh. Yes. Yes, I did. I have no (blogger) shame. I realized my hair was looking decent when we went to the grocery store and whipped out my camera in the, ahem, beverage aisle.
I don't really have super cute, creative weekend outfits. If I spend money on clothes it's most likely going to be work appropriate because that's what I have to wear 80% of my waking life. For the most part, my weekend wardrobe consists of t-shirts and jeans. I like my t-shirts baggy and my jeans slim – and my shoes flat. I've come the realization at the ripe old age of 31 heels are not my friend. Don't get me wrong, I still love the way heels look and will wear them as much as I can, but after years of ballet and heel wearing, it's time to be a little kinder to my feet.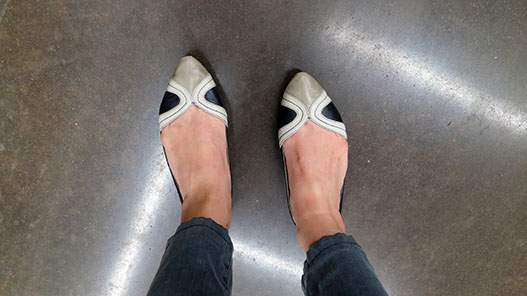 A t-shirt with jeans might seem uninspiring, but I like having a uniform for the weekend. I might branch out at some point this summer and get a romper/jumpsuit (what's the difference?!) to wear on weekends, but only if i can find one on the cheap. Any suggestions? H&M? F21? Let me know what your weekend uniform is.