Dearest Lar,
A week after your Amsterdam adventure (which sounded so magical, btw), Troy and I made our way back up to Blue Ridge, Georgia. It had been over a year since we visited last and we thought it was the perfect spot to celebrate our 6 year anniversary.
We stayed at Aska Lodge B&B again – the sweet owners made us chocolate cake and gave us a bottle of champs for the occasion 🙂
Unfortunately it rained for most of the weekend, but Troy and I aren't the hiking types anyways. Instead of enjoying the great outdoors, we went back to Mercier Orchards and visited the new cider tasting room.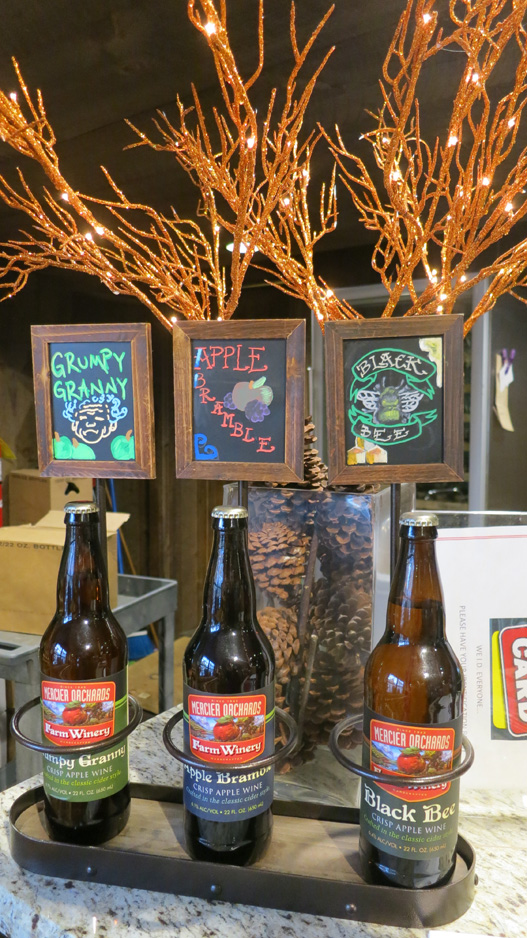 In my previous Blue Ridge post, I didn't fully explain how GIANT Mercier Orchards is. I mean, it's set up for the thousands of tourist that come every year in the fall to pick apples and enjoy the beautiful foliage of Blue Ridge. And they're constantly updating and adding to their facilities. So in the past year they created an awesome cider tasting room. The experience is very much like a wine tasting with a selection of ciders, some salty bar snacks, and helpful staff explaining the flavors.
Since I don't like sweet ciders, I choose to taste the four most dry ciders on the list. It was only $8 for a flight of 4 ciders and a souvenir wine glass. Troy and I ended up getting a bottle of Grumpy Granny, Adele's Choice and Lone Tree. They are all apple-ly, but not sweet. Just what I like!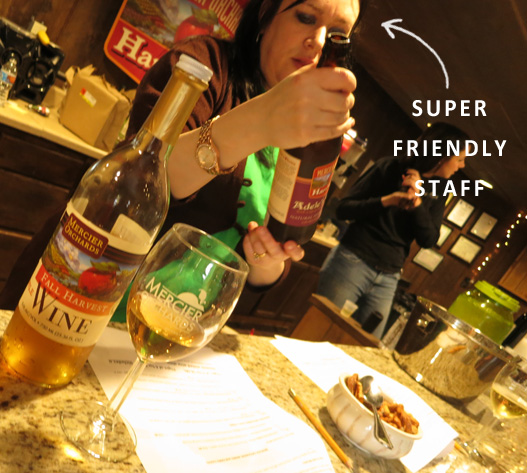 When you're at Mercier's, you cannot NOT stopped by the bakery for a fried pie. Look at all the amazing options: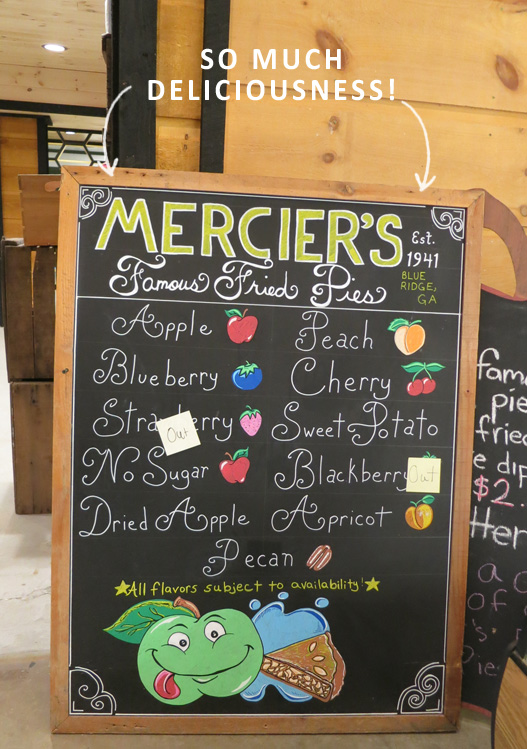 Troy and I ended up getting the classic apple fried pie, because, you know, it's an apple orchard. It did not disappoint!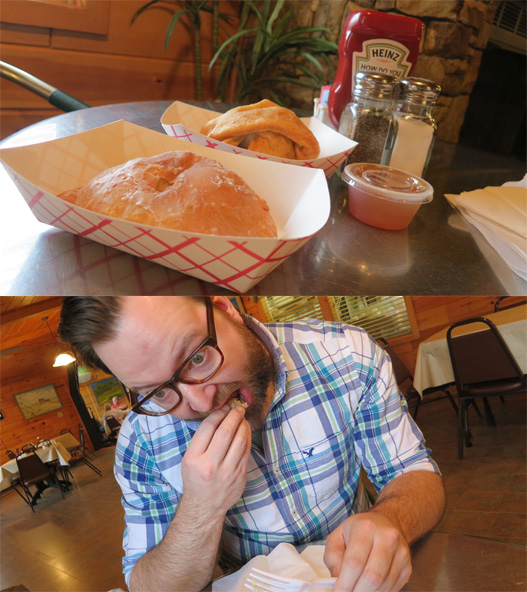 Did I mention we did the cider tasting and the fried pie eating before noon? And this was after having huge breakfast at the B&B. So before we headed into downtown Blue Ridge to eat and drink some more, I burned a few calories by visiting the Mercier Orchards gift shop.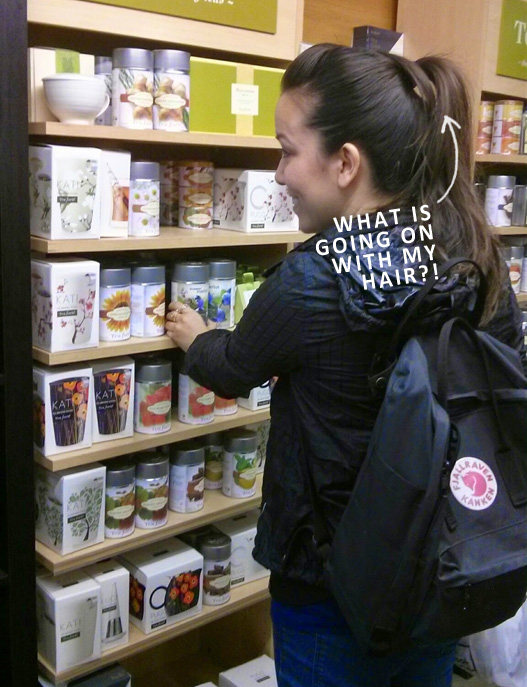 The gift shop is endless with every apple-themed item you can think of and so much more. There is a whole room just for kid stuff. Like these creepy/cute big-eyed stuffed animals. This is my impersonation of them: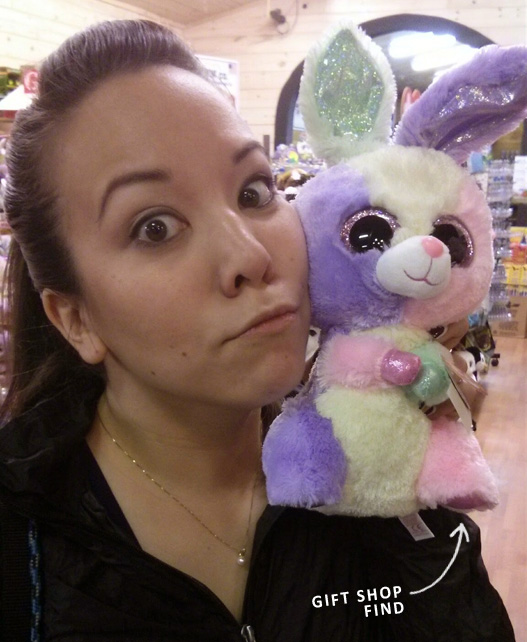 And even though I didn't buy this pretty box of tea, I'm including a photo of it because I love the design – like a pinky, neutral, clean-lined watercolor.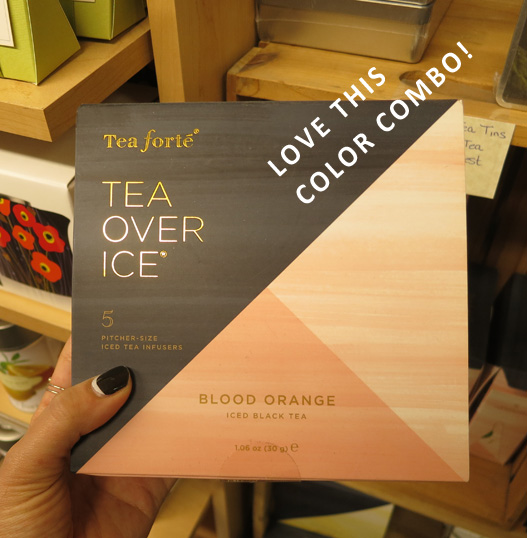 Troy and I walked away from Mercier Orchards with 3 ciders, half a bushel of apples and full bellies. Afterwards we spent the day in downtown Blue Ridge eating and drinking at Chester Brunnemeyer's Bar and Grill, Masseria and Harvest on Main with a nap in between lunch and dinner. So despite the rainy weather, it was pretty much a perfect mountain getaway weekend.
The setting wasn't as beautiful as Amsterdam and the winter isn't the best time to visit Blue Ridge, but it wasn't bad for a quick 2 hour drive north of Atlanta!
Hope you're having a wonderful start to the week. Let's Facetime/Skpye this Saturday!
xoxo, Cath