Dearest Lar,
While you're exploring Amsterdam (finding canals, drinking green juice, buying Van Gogh postcards, etc.), I did a little exploring in my own backyard today. Fig and Flower opened up a little less than a year ago in the Poncey Highland neighborhood and I've been meaning to check it out ever since.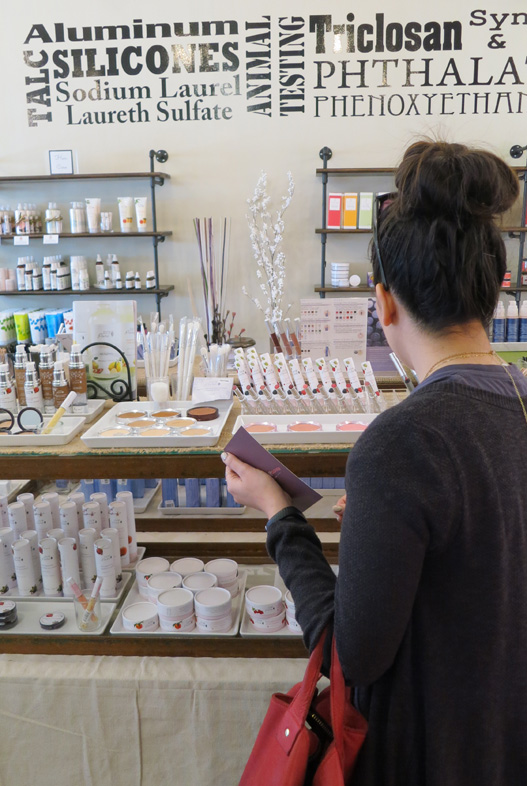 Fig and Flower sells all natural makeup, skincare, and household cleaning products. So it's basically a store made for you!
For the past few years, you've been inspiring me to switch to more natural products. Sometimes I slip up – like when I'm suppose to make a quick trip to pick up a prescription at CVS and end up with three new chemical-filled lipsticks (I blame the weekly coupons!) – but overall I've been trying to clean up my makeup and skincare routine.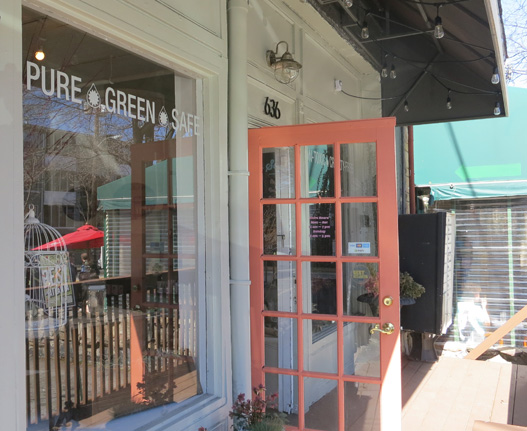 I seriously wanted to buy everything at Fig and Flower times two (one for me and one for you).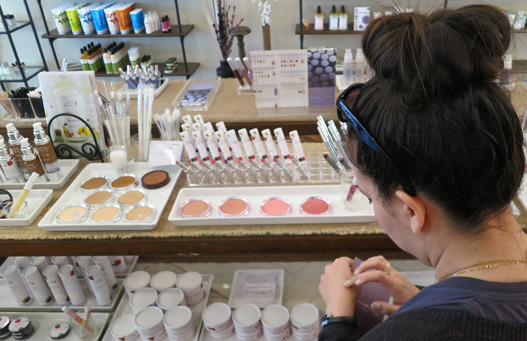 They even carry Vapour, an all natural makeup brand I've been wanting to try forever. Look at all of the pretty lip colors! That's Troy in the background checking out the selection of beard oil.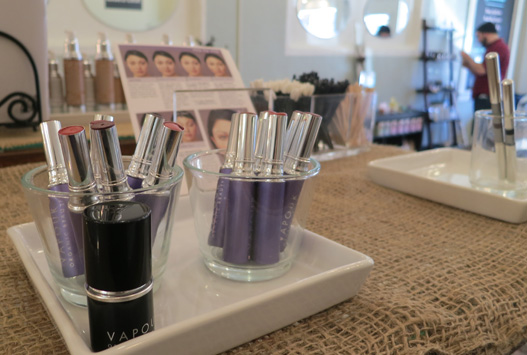 I felt like a kid in a candy store. I can't wait to take you there next time you're in Atlanta!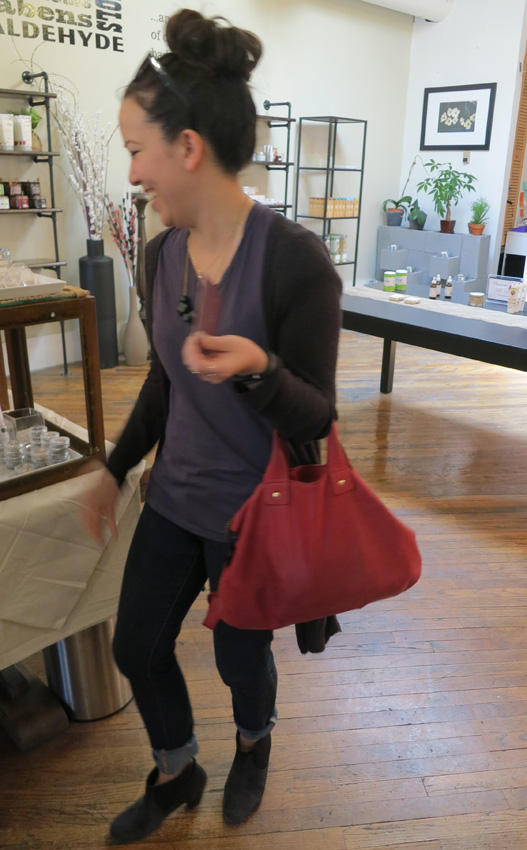 Just a few more of the brands they carry: Holly Beth Organics, Indie Lee, Acure, and 100% Pure.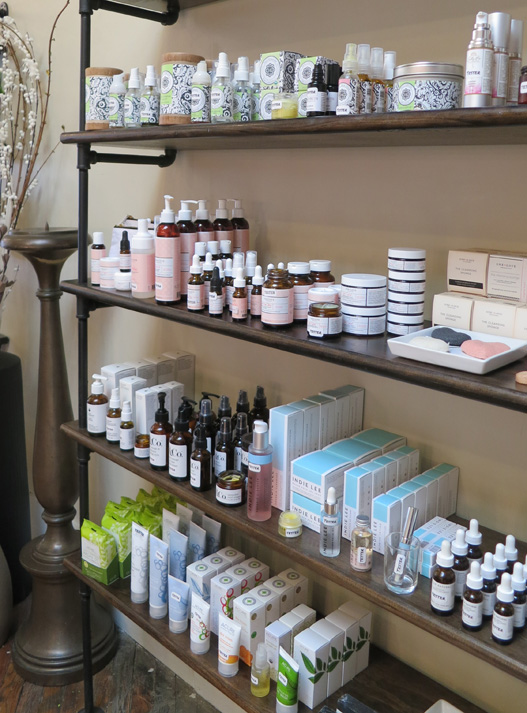 Also, look at these amazing services they offer: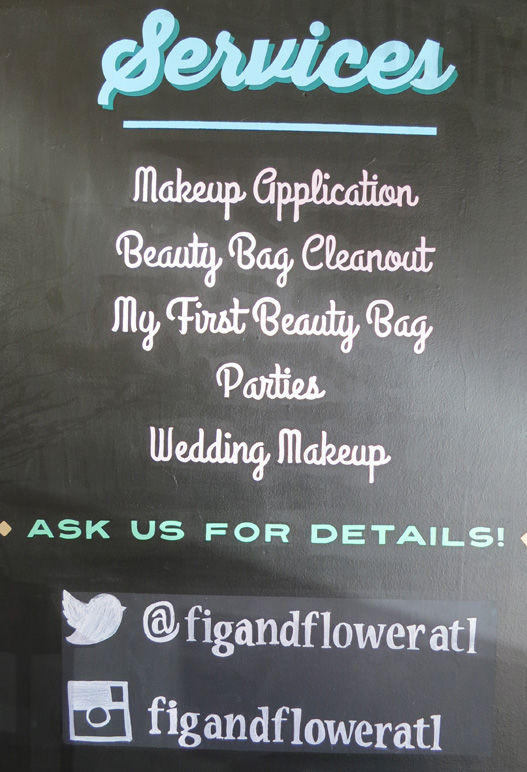 I really want to come back for a makeup application and beauty bag clean out – that's where they show you how you can replace your favorite items with all natural versions.
Becca, a makeup artist that works at Fig and Flower, was super helpful. I told her that I'm attempting to grow out my eyebrows and she explained the best technique for doing it. I'm listening to her in the photos below, which is why I look so serious – because eyebrows are serious business.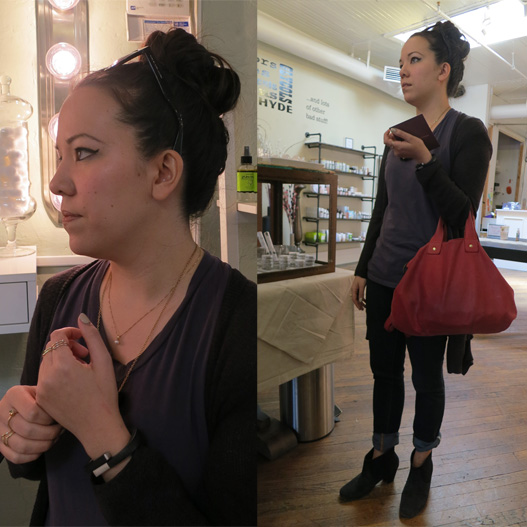 This is me laughing at the thinness of my brows: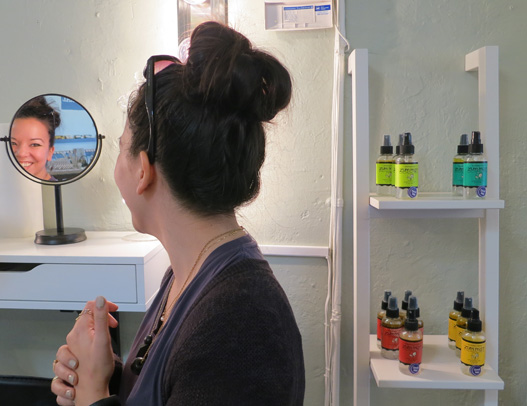 If my eyebrow grow-out is successful, I might do a future blog post on it. If not, I will never speak of them again!
I ended up purchasing the 100% Pure Eye Brow Powder Gel in Brunette. I initially thought it was too light, but Becca showed me how it just subtly enhances my brows without making them look drawn on.  I also got the 100% Pure Naked Palette since the only other all natural eye shadow I have is the Josie Maran Argan Beautiful Eyes quad, which is all shimmery shades. I've been wanting to jump on the Urban Decay Naked palette bandwagon, but have been hesitant since it's not an all natural brand. So the 100% Pure palette is exactly what I've been looking for – all natural, neutral, matte shades. I'm going to spend a few weeks playing around with it and then I might do a mini 100% Pure Naked Palette makeup tutorial.
I can't wait to see all of your photos from your long weekend getaway to Amsterdam. I'm so jealous that you got to go to an Other Stories store – and experience a different culture and what not. 🙂 Is it bad that I get more excited about stores you're visiting than museums. I think I've become shallower with age.
Let's go crazy and Skype during the workweek once you get back to Edinburgh, ok?
xoxo, Cath