Dear Lar,
This post is kind of the opposite of the Konmari method of organizing. I forget how I stumbled upon these Kitchens of Iceland photos by Emily Johnston (possibly via Cup of Jo), but I just fell in love with them.
Not only are they great photos, I just love, love, love the imperfect, messiness of the kitchens. Even though we're more Type A's and love organization, we've both talked about getting so bored with all the "perfectness" that you see on social media these days. It's all started to look the same: the perfectly styled coffee table, that plaid scarf and Valentino (or Valentino-inspired) heels, the touch of glitter, everyone being able to eat stuff like this, drink these, and still look like this, etc. It's not real life.
So, in the name of keeping it real, here are current photos from my kitchen inspired by Emily Johnston (but not nearly as good). In a perfect world, I would have already painted the cabinets and walls white, replaced the hardware, installed some kind of cool backsplash, ditched the dirty sponge, and figured out a better use of counter space. But none of that is going to happen anytime soon – although, I did throw out the sponge this week 😉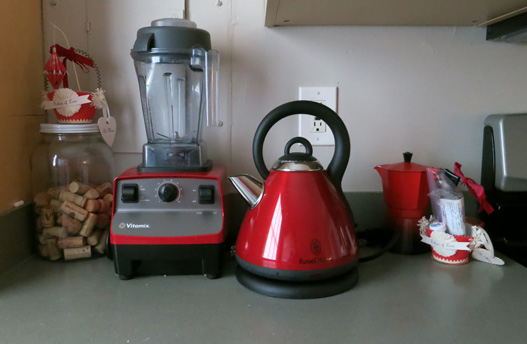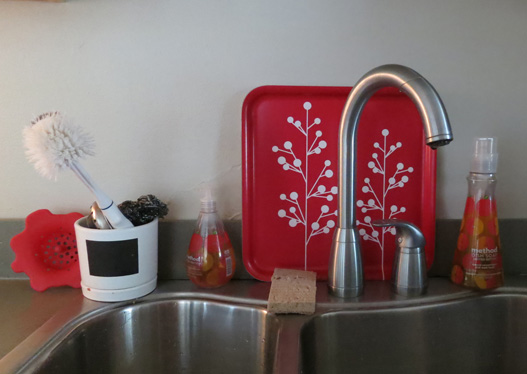 I find that I've started following more blogs that don't have picture after picture of perfect styling. Authenticity! That's the word I've been looking for! I just want to see more authentic living. I find that so much more compelling.
Now, on a totally unrelated note, here are some links that I forgot to tell you about when we were skyping today:
• It's almost dinner time and I'm thinking about making
this
because I have a spaghetti squash that Lena's mom brought me from a Michigan farm a few weeks ago.
• Totally out of season, but I can't believe
these
are sold by Payless. I love their high-end designer fugliness. I would get them in black and wear them with black shorts and a slouchy navy blue sweater – in the spring.
• On a
completely irresponsible
whim I bought
this outfit
for the holidays online. It arrived on Friday. It's getting returned this Monday. I looked like a sparkly, navy blue marshmallow.
I was going to say, "I hope you have a great short work week!" but then realized there is no Thanksgiving in Scotland. Duh. So I hope you have a great regular week. I can't wait to see photos from your week-long, relaxing holiday on the coast!
xoxo, Cath