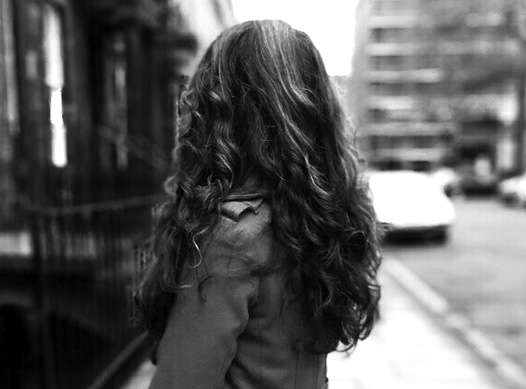 Dear Readers,
You know that hair the "it" girls have these days? It's fairly straight with just a hint of wave and volume in just the right places? It's the key to the insouciant off-duty model style and somehow seems bedheady without even a whiff of frizz.
That is the opposite of what my hair does.
Cath and I have had very thick, slightly wavy hair since we were about 13. Like most people, our hair texture changed when we hit puberty. As wee lassies we had very long, straight hair. I've always liked the bit of wave I got once I was older, but I usually would blow dry and straighten it to kill the frizz and not have to worry about the volume getting out of control.
About two to three years ago I noticed my hair was getting dryer and my trusty hair straightener wasn't taming the fly-aways like it used to. I blamed it on the Scottish water and Scottish wind (when in doubt, blame the weather!) because I figured moving from Atlanta to a place with a considerably different climate would wreck any girls usual hair routine.
I persevered though — more heat! More oils! More hair masks! And still I had a halo of frizz that seemed to get more, not less, tenacious. I also started to notice my hair curling in loose tendrils instead of just "S" waves when I would give my hair a break from heat tools.
The past three weeks I've put my blowdryer and straightener away to see what my hair would do left to its own devices. And by "left to its own devices" I mean I googled "how to style curly hair" daily to figure out what to do with this frizzy lion's mane. And, man, does it want to curl.
This hair story probably sounds really undramatic, but having your hair change is a bit mind-blowing. At times when I look down at my curls I feel like I'm wearing a wig — that's not my hairs! I send Cath constant texts with pictures of the status of my hair: day two, less frizz, slept with it in a pineapple (I had never heard of pinappling hair before last week). It's just a bizarre experience that I feel compelled to share with the one person who not only knows me so well, but also used to share my exact same hair.
That's what makes it even more bizarre — my genetic identical no longer looks like me. Cath's hair waves but doesn't curl, and it looks way more slick when she straightens it.
So using Cath as a constant, I think we can say my hair change is environmental, not biological or at least not congenitally biological. I do live on a different continent and eat a different diet from Cath. I changed my diet (mainly vegan and tons more green stuff) drastically when I moved over here three years ago. My endometriosis was also getting much more severe (and was much more severe than Cath's is now, thank goodness!). So maybe diet and hormones are having their say (Curly! Curly! Curly!).
Quite honestly, a year and a half ago when I was hospitalised because of the complications I had from endo, I thought the stress and the pain of the experience would change my hair. I was expecting a lot of it to fall out (and it did thin out for a while) and/or maybe even go grey. Curly was not on the list of things I thought might happen.
And I do kind of like to think that all that's happened: the good (beautiful Scotland) and the bad (hospital stays) and the different (I wasn't even vegetarian before I went vegan) maybe all contributed to this change.
So the question is, have you guys had this experience? Or have your friends? There's been very little scientific research about this (I know because I've been a-Googlin' like crazy) so it's great to talk to other women and hear their "hair-story." I'd love to hear yours!
Xoxox and curls,
Lar
p.s. Cath, I hope you aren't getting sick of hearing about my hair bafflement! I promise I'll start culling the curly hair What's App pics.