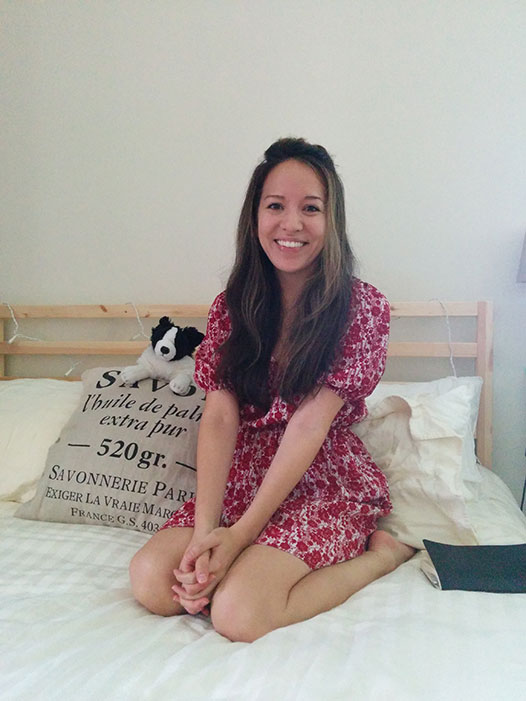 Dear Cath
Do you recognize this dress?
Because it was Alison's, I call it my teacher-with-an-edge dress (readers, Alison is an awesome primary school teacher at a charter school in a low socio-economic area of Atlanta —  coincidentally where Matt and I used to live!). I wear it roughly once a week — usually with tights and a coat (that pic above is a lie — bare legs in Scotland? Ha!).
I feel like hand-me-down clothing is just another component to the ethical clothing supply. I've bought a few new pieces this year, but I'm still trying to be fairly conscientious about the amount I buy and where it's sourced from. And this dress was not only recycled, but received from such a lovely person that I feel happier when I wear it than if I had bought it new.
I still remember the thrill of getting cool-cousin-Genn's hand-me-downs: all those 90s Betsey Johnson dresses and random assortment of jackets and tanks. Thinking about it now, a large part of our wardrobe growing up was probably hand-me-downs. We couldn't afford to do much shopping so we took what we could get.
It's tricky not to be snagged by the siren song of the high street shops — especially when the seasons change. New coats, new boots, fuzzy sweaters, faux fur jackets, gloves! So I'm constantly looking for inspiration to fight the urge to run into Zara and buy everything that looks furry or glitters: enter We Make It Last.
It's a digital magazine all about sustainable clothing and style. One of my favorite fashion bloggers (see above) now blogs on the site, which equals double the amount of inspiration. It really helps to see a community that you admire trying to curb their consumerism and doing it with ingenuity and beauty.
So I'm going to keep trying to ignore the glittery enticement of over-shopping this holiday season (for myself and others). I know this will be a challenge, especially when all the festivities start. There's less time to make things or source things properly and you easily get caught up in the frenetic energy of the season — so easy to shop and eat and shop and eat. I'll let you know if I avoid any of that. (Considering make next post to you is all about food, I'm probably not off to a great start ;D).
I hope this post helps you, Cath! I know it will be hard to not spend money so you can save up for your endometriosis surgery. And especially when you are stressed with work and school and thinking about saving money, the last thing you want to do is . save money. But I'll be with you every step of the way.
Love you more than that velvet Betsey Johnson hand-me-down dress from 1995!
Lar