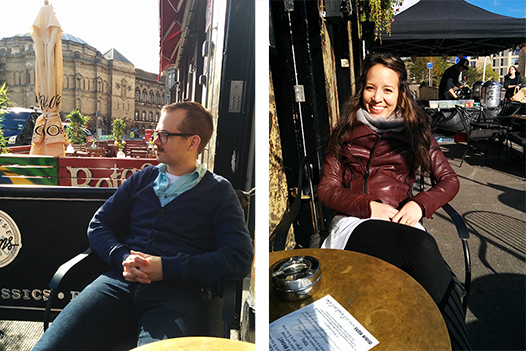 Dear Cath
You know how I was just bemoaning the fact that Edinburgh can be so miserably oppressive in the winter? Well, the last few weeks have been amazing. I mean, it rains a lot and we have gray days, but it's not been cruel, ruthlessly windy and cold. And it's the end of October!
In fact today is windy and rainy, but it's warm-ish. And it feels wooonderful. And last weekend we actually sat outside in the sun for lunch. Our first summer in Scotland we couldn't do that once. In summer.
Matt and I have been even more wary of this approaching winter because we won't have our usual reprieve in Atlanta for Christmas. I don't like thinking about not being together, but my fingers and toes are crossed that this will be the first and last time we spend the holidays apart. And in the meantime I'm sorry you'll have to hear me give you constant Scottish weather reports.
Winter closing in isn't all bad though. I love the drama of the light at this time of the year. As the sun makes it's slow descent, the angle of the light is so intense. Yesterday I went strolling through Princes Street Gardens and up Castle rock just as the sun was setting behind the castle. Soon that will be happening at around 2:30 or 3pm, but for now it's still at a reasonable 5:30pm and looks beautiful.
I hope you are having a wonderful weekend and are getting a touch of autumn in Atlanta. Can't wait to chat later today!
xoxoxox,
Lar