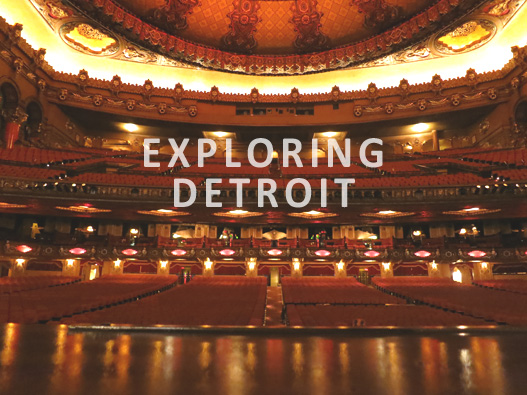 Dear Lar,
While you were exploring Lindisfarne Castle, I was spending time in the equally exotic Detroit. Alright, not the most exotic place in the world, but I was still excited to visit since I love exploring cities  – especially ones that I've never been to.
(Note to our readers: I went to Detroit for a conference, but also had the added bonus of getting to visit Troy's cousins who live just 25 minutes north of the city. This trip was probably my only summer "vacation" since I'm trying to buy a house and have zero extra money to spend)
I know Detroit gets a bad rap, and some of that is warranted, but there are some amazing things about the city. Get ready for some scrolling! I've including lots of pics and text so you can get a feel of the city – or at least my very biased view of the city.
First on the tour: The Fox Theater!

This place is just like the Atlanta Fox Theater except MUCH bigger and even more fabulous. It's so hard to believe that in the 1920a amazing, opulent theaters were built for the movies. Troy, his cousins, and I got our own private tour of the place and we had an amazing tour guide that turned out to be the theater's organ player. After the tour he played the Star Wars theme music, which is crazy to hear on a giant organ in a nearly empty theater that seats 5,000.
I wish movie theaters still had crazy, over-the-top decor. Now  a-days you're lucky to get a seat without squished up popcorn and a sticky floor.
Next stop: Lafayette Park.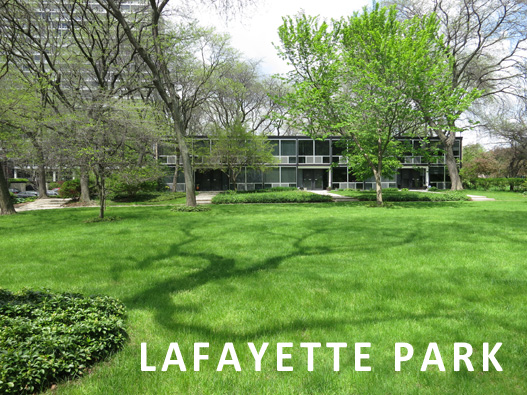 The conference I was attending offered a downtown bus tour of Detroit. I'm so glad I signed up for it because one of the stops on the tour was Lafayette Park, a mixed income neighborhood just east of downtown Detroit. My absolute favorite part was the rows of condos designed by Mies van der Rohe. They look timeless in their peaceful, grassy surroundings and I felt like I was walking around in a Dwell magazine article (Funnily enough, I just found an online Dwell article about Lafayette Park. See the slideshow here). What made the tour even better was that one of the homeowners (wish I could remember his name to give him credit!) opened his home for the tour group so we could see what the interiors looked like.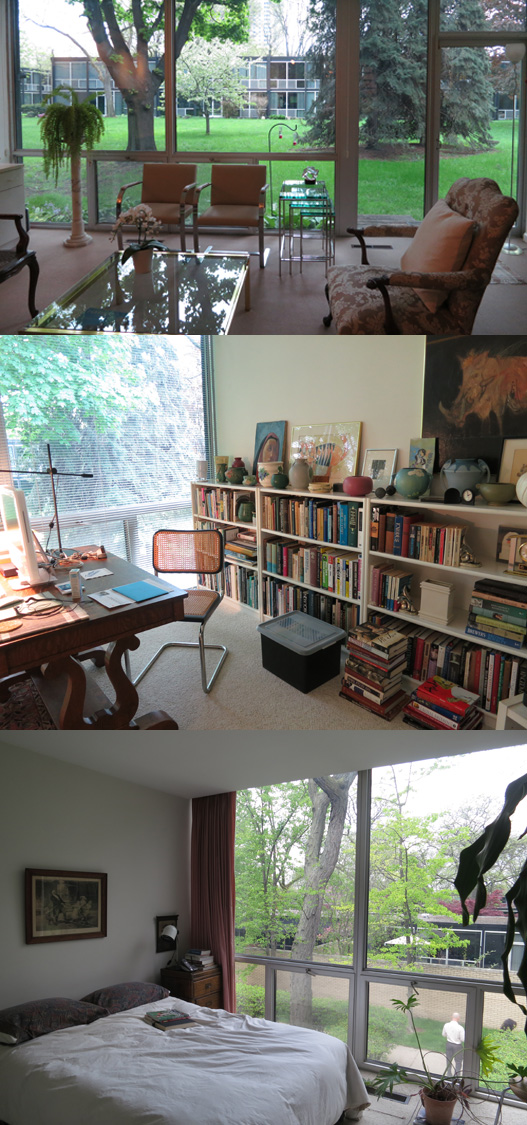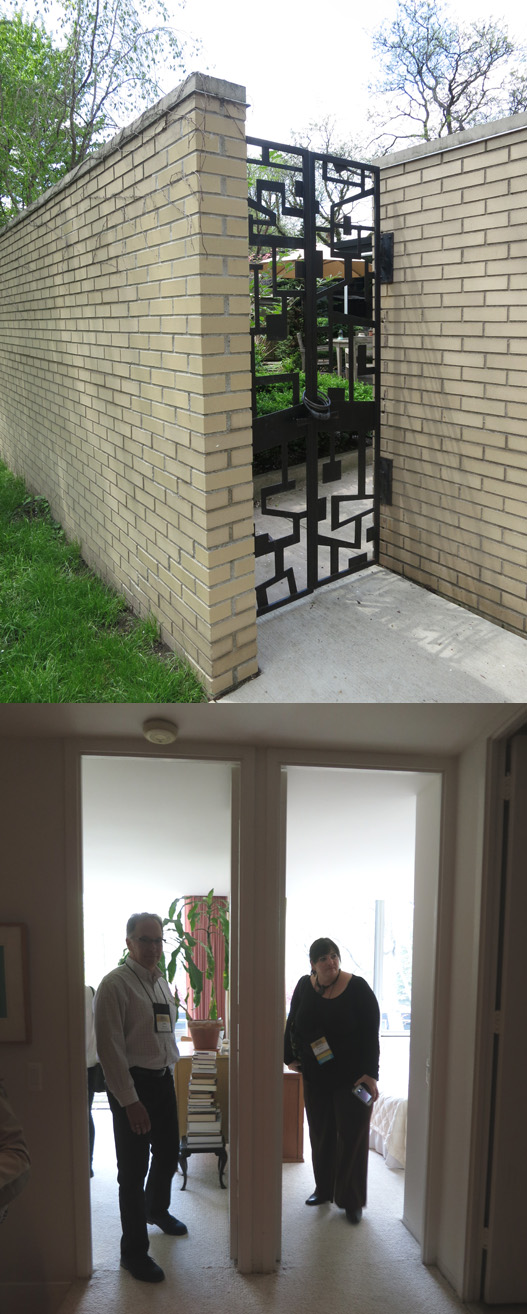 I fell in love with the floor-to-ceiling windows at the front and back of the house and efficiency of van der Rohe's designs. Also check out the extra tall doorways in the photo above. You'd think that would look silly and disproportionate in a small townhouse, but it just adds to the airiness of the space. If I ever had to move to Detroit, I would live in one of these townhomes – if I could. I hear there's a long waiting list to move in. Can you imagine a waiting list for housing in Detroit?! That's what good design does!
Next stop: Shinola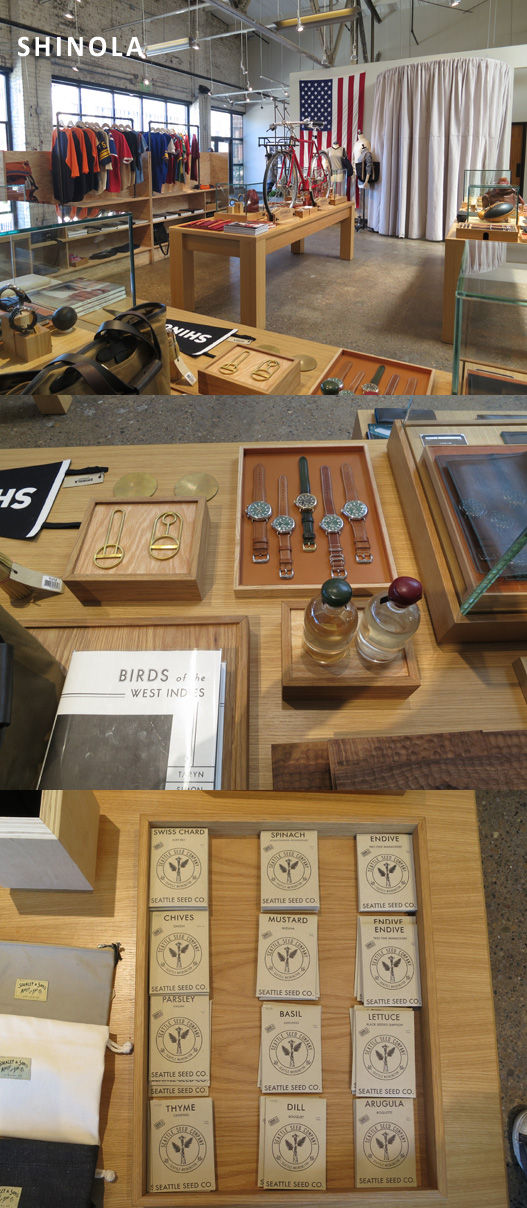 I recently learned about Shinola at Worthmore Jewelers in Decatur. They started carrying Shinola watches and have a Shinola bike in their storefront window that I pass by everyday on my way to Starbucks. When I was planning my trip, I knew I wanted to visit the Shinola store.
Back in the day Shinola used to be a brand of shoe polish and the famous saying went, "You don't know shit from Shinola." Poetic. Anywho, now it sells/creates made-in-America products like watches, leather goods, and bikes. Apparently if you buy a Shinola watch, you'll get a little tin of Shinola shoe polish.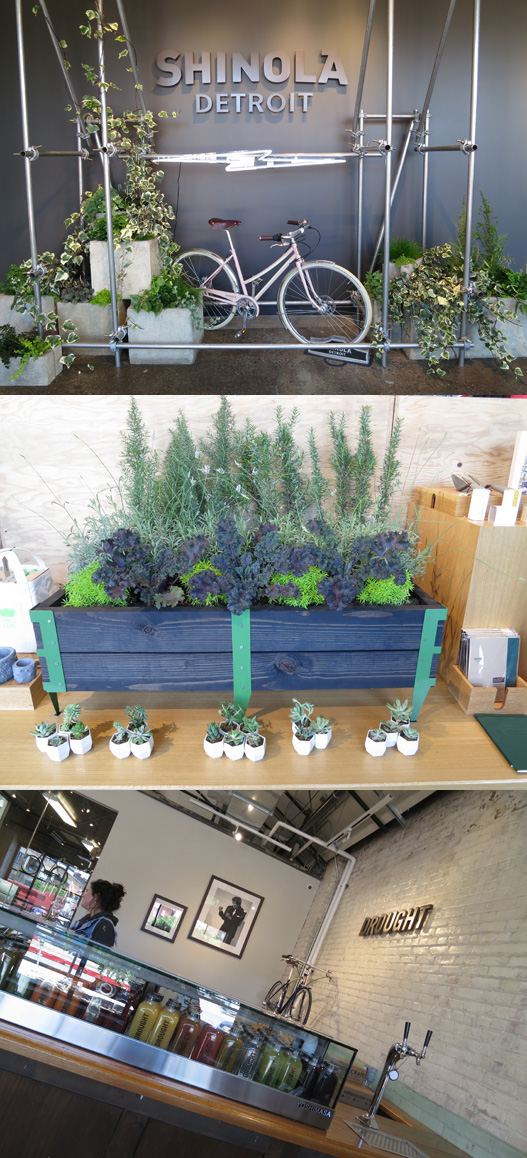 The Shinola store is located in midtown Detroit – an up and coming yupster area. I took tons of photos in the store and tried to cull it down to my favorites. I loved the succulent display in the front and there's a juice bar, Drought, right inside the store. I bought the yellow juice (pictured above), which was a combination of apple, ginger and lemon. It was so delicious! Across the street from the Shinola store are two other super cute stores, City Bird and Nest. I highly recommend visiting all three stores if anyone finds themselves in Detroit.
Next stop: Food and bev around town

Since I was stuck at my conference in downtown Detroit for most of my trip, I didn't get to explore as much of the dining scene as I would have liked. Nevertheless, I did find some gems (with the help of some suggestions on Instagram – thanks @moybien1212!). The first and third photos are from Public House in Ferndale, a Detroit suburb 20 minutes north of the city. Ferndale is filled with mostly independently-owned shops and restaurants, which you know I love. I always look for neighborhoods like that when I travel and Ferndale doesn't disappoint. The second photo is of Sugar House located in Corktown – a downtown neighborhood. It feels like a bar in Brooklyn. I stopped in for a Negroni before heading next door to Slows BBQ for dinner (not as good as southern BBQ, but still worth a visit). Another restaurant favorite was Roast. It's in the touristy area of downtown and is more for the fancy business-types, but the quality of food was so good I figured it was worth a mention here.
Next stop: Eastern Market
I took some pictures of the Eastern Market on my iphone, but none of them did it justice so I'm skipping photos for this section. What is the Detroit Eastern Market, you ask? Well, think of your favorite Farmer's Market and multiply that by 100 and you'll roughly have an idea of the size of this place. It consists of multiple buildings and is only open on Tuesdays and Saturdays. I was incredibly lucky to be in town during the annual Flower Day, which pretty much means every plant/flower nursery in the state of Michigan comes to sell their plants. Between all of the amazing flowers (check out my Instagram here), food vendors, and street performers, I could have spent all day at the market. If you come on Flower Day, you would have no idea that Detroit was suffering economically. It is so crowded that you have to shuffle along at such a slow speed I swear I saw a snail pass me as I was trying to get to a succulent booth.
Next stop: housing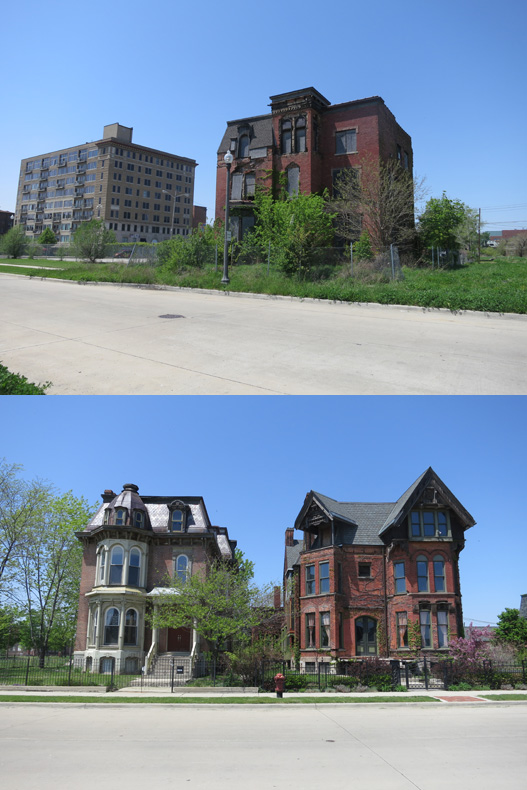 Detroit has an abundance of housing stock. The further you get away from the city core, the more empty homes you see. It almost reminds me of NOLA post-Katrina. The houses in the photos above are actually in the city center near midtown, which used to be filled with mansions (the wealthy auto CEOs had to live somewhere!). Some mansions are still standing, but most of the them are abandoned and in total disrepair. There are a handful that have been fixed up like the house on the left in the photo above, which gives me hope.
And no visit to Detroit would be complete without stopping by the old train station building: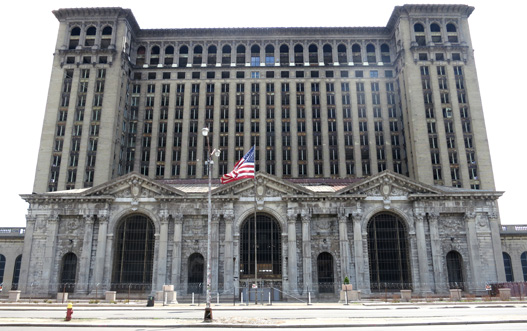 It's been vacant since the 1960s and was too big for the city even when it was initially built 100 years ago. There are hundreds of thousands of photos of this building online so I almost didn't post it, but it's so eerily amazing and the architecture is breathtaking that I'm including it anyways. If only we had something like this in Atlanta!
Detroit doesn't have the critical mass – or the money/economy – to see an immediate rejuvenation, so beautiful mansions and huge historic buildings are left to rot. But after spending five days in the city, it's evident to me that the situation is not hopeless. There are pockets of life throughout the city. And one benefits to having a shrinking and slow economy, is that it's affordable. So creative/entrepreneur/artist-types are drawn to the city and are moving in to set up places like Shinola and Public House. I hope I'll get a chance to visit Detroit again and can't wait to see how it's changed for the better.
Goodness! I never thought I'd have so much to write about Detroit, but there you have it. Have I convinced you that it's a city worth visiting – at the very least?!
Love,
Cath