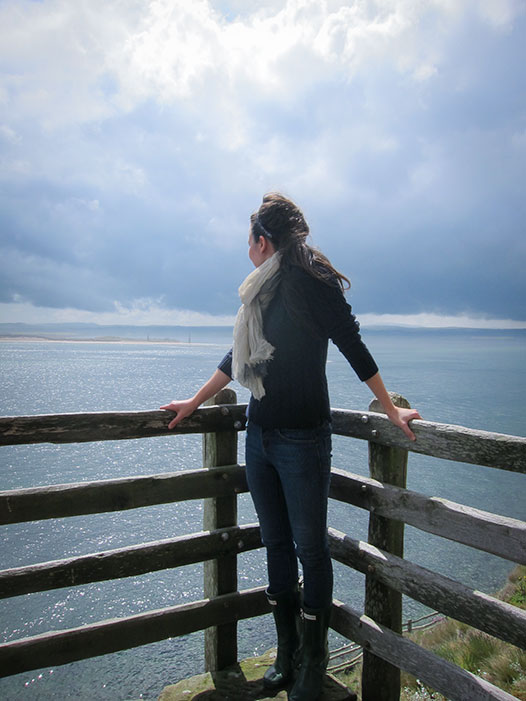 Dear Cath,
Are you ready? This is gonna be a long 'ne — lots of piccies. Get your scrolly finger limber and settle in with a cuppa. Oh wait, you probably don't want hot steamy tea in Atlanta at this point, do you? Iced soy latte then?
We are house museum people through and through, aren't we? Remember one of our very first AsianCajun posts? House museums make me giddy. I think it's all the historical voyeurism. What did they eat, draw, listen to, see? Lindisfarne Castle, run by the National Trust, totally scratched all the nosy itches. You would love it! But since you weren't there, I'll take you! Step-by-step through this post: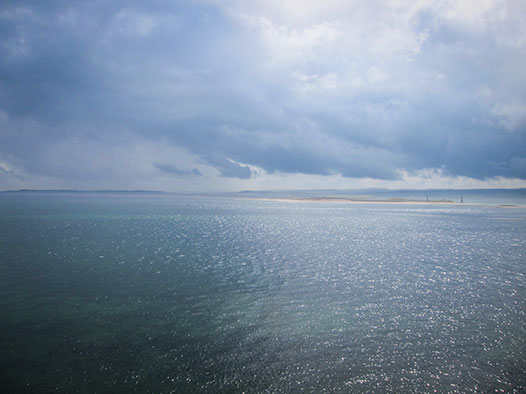 Firstly, it's located on Lindisfarne (aka Holy Island) just off the north eastern coast of England — spitting distance to Scotland. It's a lovely walk from the village of Lindisfarne to the castle rock (see below). It sits in the midst of a green, sheep-dotted field on the shore: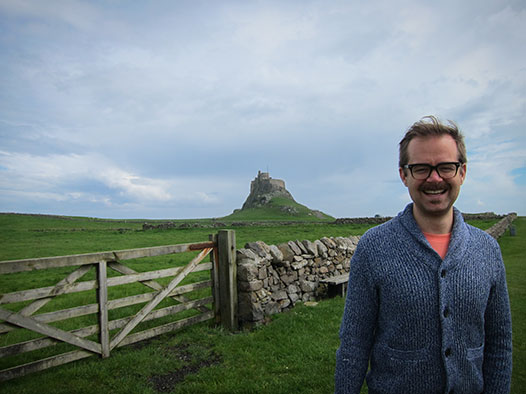 The castle was originally built by Henry VIII to keep out invading Scots (maybe to be used again come September?) but was never used for more than housing bored military men.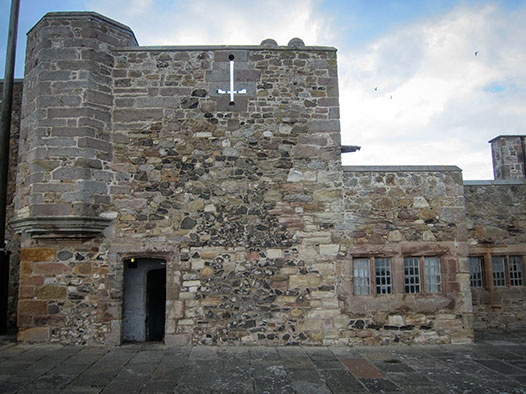 Skip ahead a few centuries and Edward Hudson, editor of Country Life magazine, decides he wants to make the castle his summer home. Who doesn't love a bit of cold stone and rain for a summer holiday? Regardless of his questionable climatic tastes, he was by all accounts a lovely, shy man who would entertain the likes of J.M. Barrie, Lytton Strachey, Anna Markova and cellist Madame Suggia here.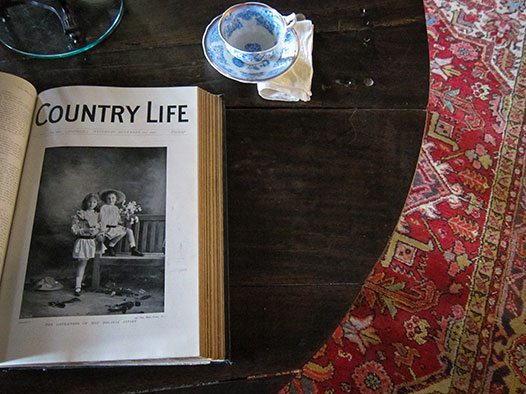 To make his castle more hospitable, Hudson hired famed English architect Edwin Lutyens (pronounced "loo-chins"): an arts and crafts man through and through. So this castle is arts and crafts coziness meets Elizabethan stone. A good combo if you're into dark rooms, roaring fires and comfy sofas.
Lutyens' signature is his herringbone brick, which you see a lot about the castle passageways: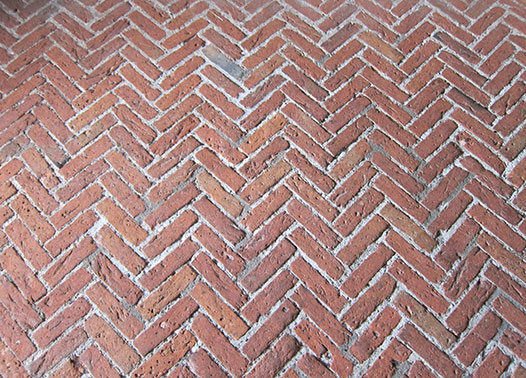 Want to see the kitchen? Here's Matt inspecting some veg: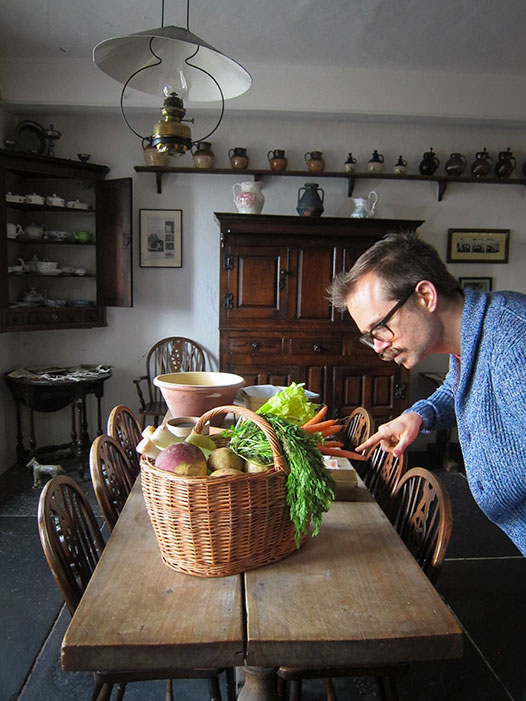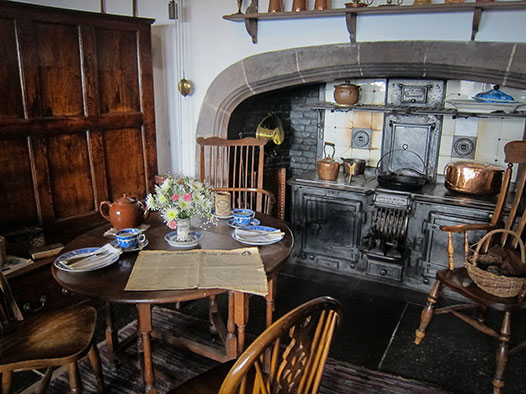 I love when house museums are set up to look like their owners just left. In this case, they made a mad dash for the sun as they were having their tea and reading the newspaper: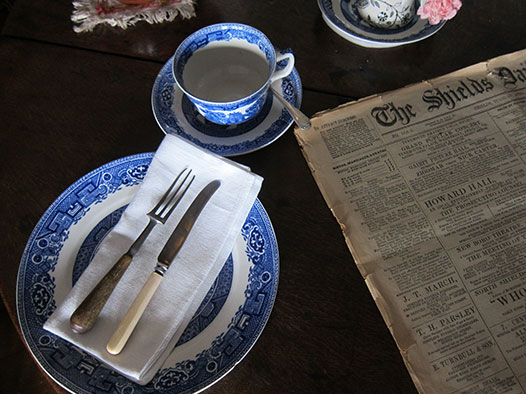 And someone was just about to give the dishes a good scrub-a-dub: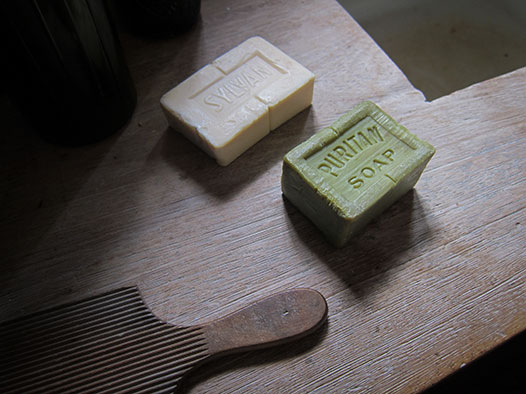 They were expecting guests for dinner too: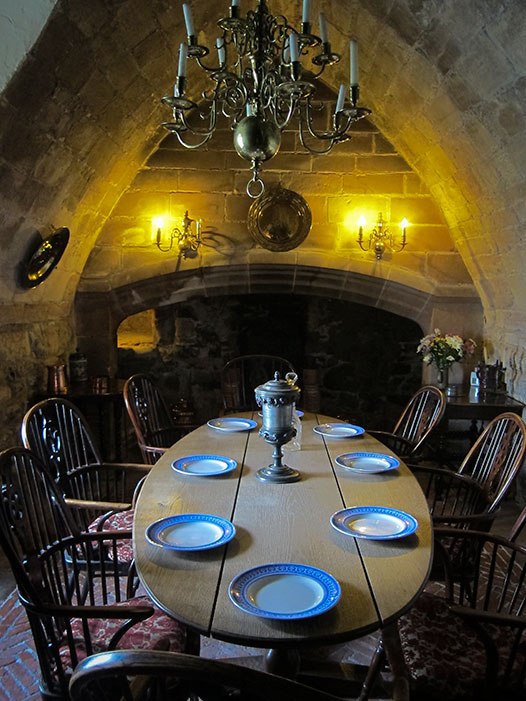 I love this Yves Klein blue in the dining room: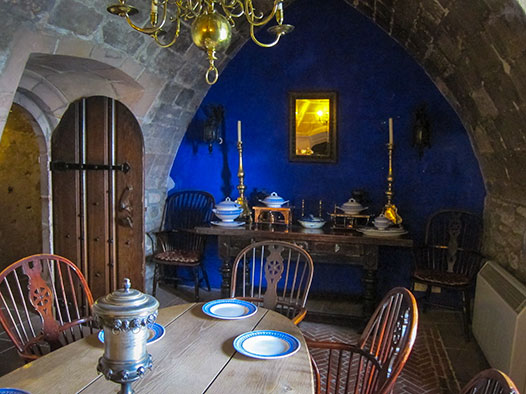 Someone spent their morning sketching: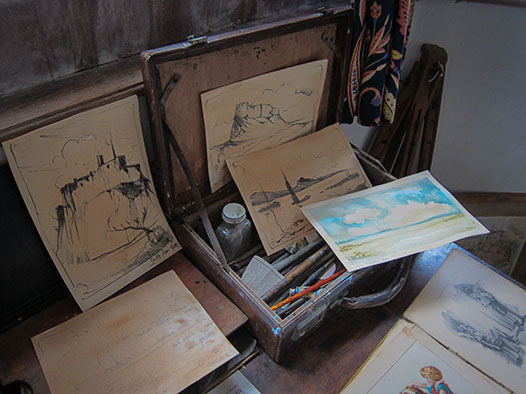 Writing letters: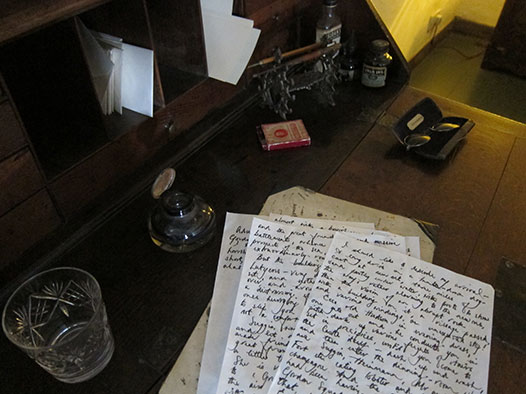 Powdering their collars (?):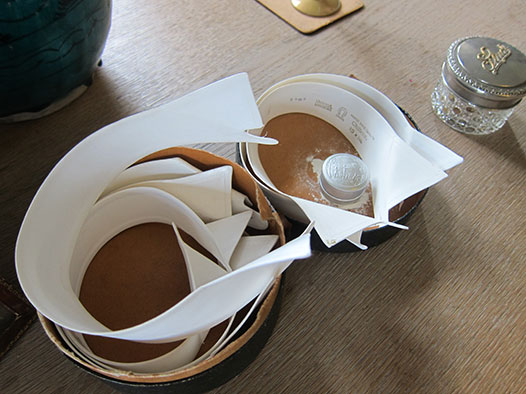 This is known as the ship room because of the wooden ship suspended from the ceiling. A good place to kick your feet up and read Country Life magazine: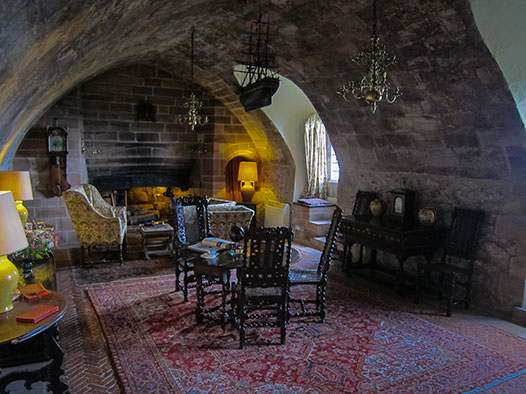 Another good reading spot: the windowseats looking out toward the ocean (don't they look like the Mary's windows at Applecross in Persuasion?):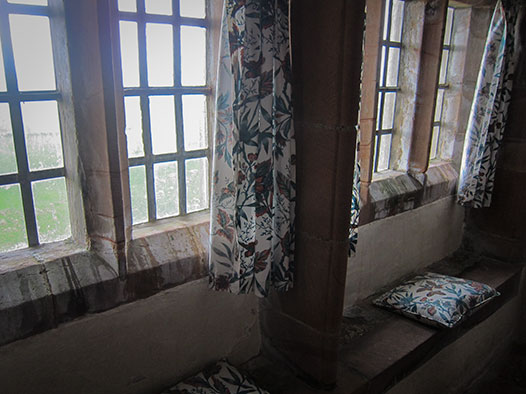 You could also go upstairs to the music room and listen to Madame Suggia play her cello or at least have nose around her sheet music: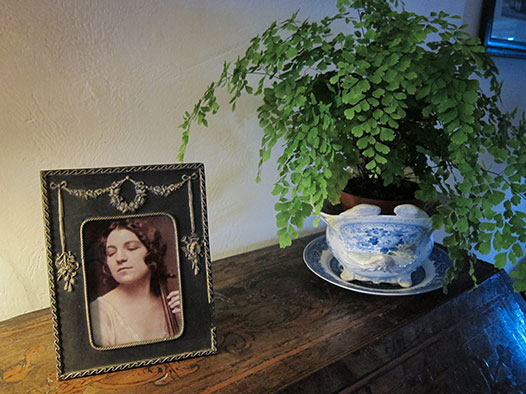 Or maybe a room tidy? Seems you've left your Edwardian chemises hanging all over your Renaissance canopy, tsk, tsk: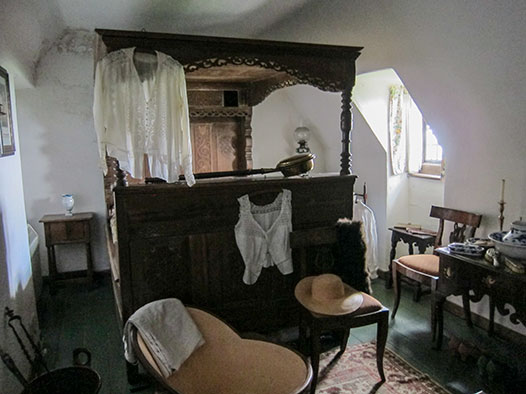 A few things didn't exist when Mr. Hudson was around, like this anthropomorphized tapestry chair: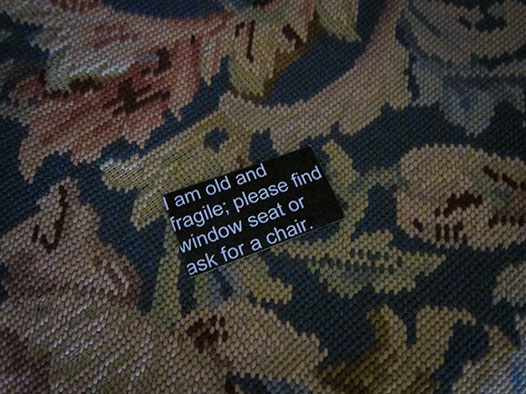 Another delight? Famed gardener Gertrude Jekyll planted a small garden where the garrison used to keep their veg patch: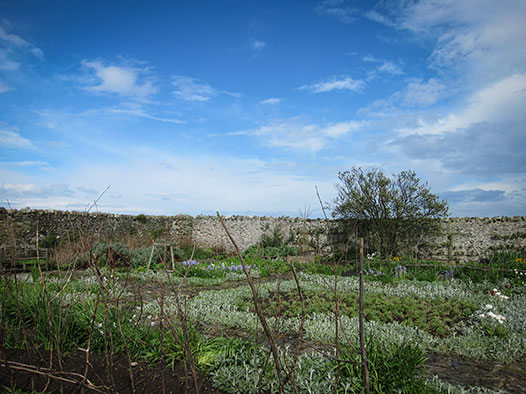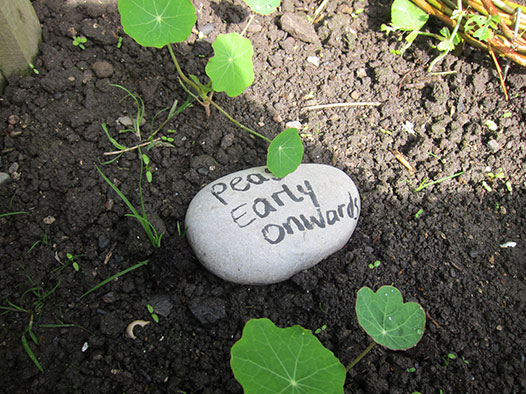 She also landscaped the harder-to-reach bits around the castle mound by shooting pellets of seeds into the cliff-side: gives Garden and Gun magazine a whole new point of inspiration. Nicely done, Gertie: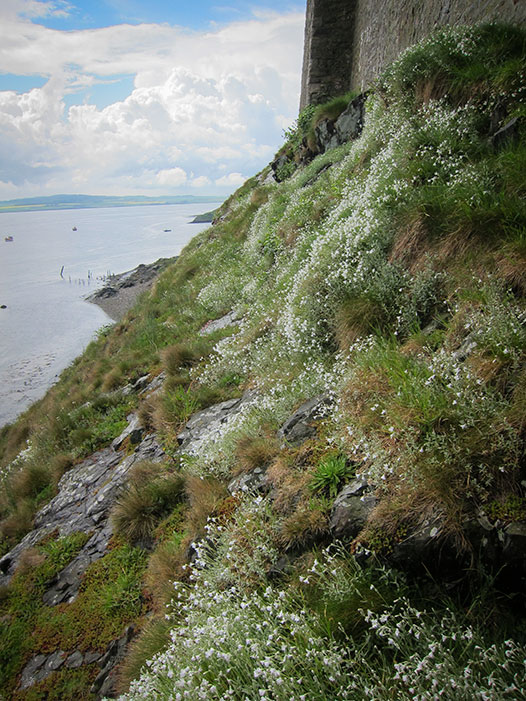 Here's one last look of the castle (and the sheepies!) from Gertrude's garden: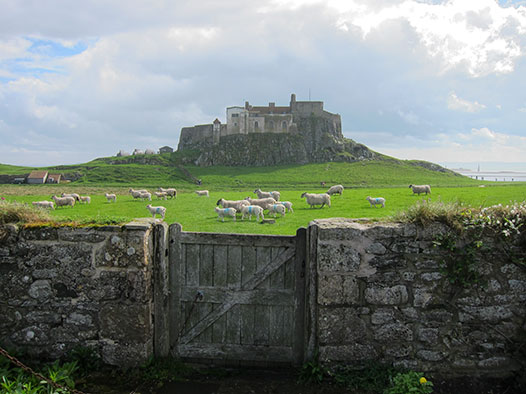 And one last view to the sea from the castle: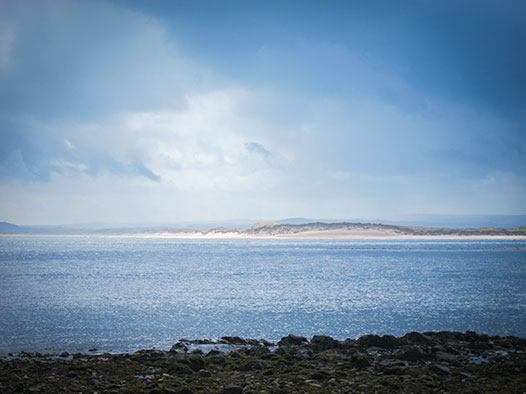 How'd you like the tour? Could you smell the salty air and the rain moving in across the grass?
I hope you are having a wonderful time in Detroit, Cath! I know that you are probably not going to house museums (Detroit must have some beautiful, crumbly old places) while you're conferencing, but I do hope you are having some fun.
Love you like Lutyens loved brick!
Lar