As much as I love looking at holiday gift guides I sometimes get overwhelmed by so much stuff. So I figured it was about time for a non-gift gift guide. Instead of buying more stuff, here are some of ideas of things to do this holiday season: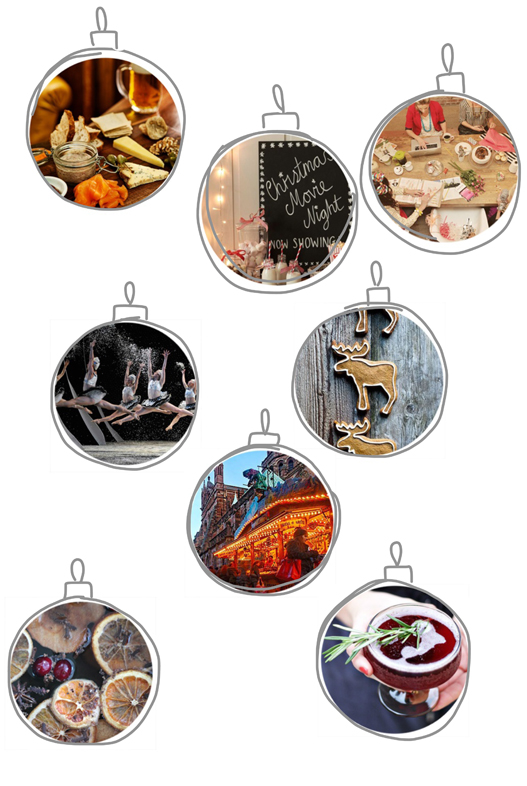 Photo credits: beer & cheese / Christmas movie night / Crafternoon / Mark Morris' nutcracker / reindeer cookies / Christmas market / Stovetop potpourri / cocktail
Go to (or host) a beer & cheese tasting. Troy and I recently went to a Belgian Christmas beer and cheese tasting at The Brick Store a few weeks ago with our friends. It was so much fun trying beers and cheeses we wouldn't normally eat. Check out this page if you're interested in hosting your own tasting.
Host a Christmas movie night. For the past two years Troy and I have gotten our friends together to watch Home Alone and eat mac and cheese. If we're feeling really crazy, we'll watch A Christmas Story afterwards. Elf, White Christmas, Scrooged, Die Hard, and Love Actually are also great options.
Have a holiday crafternoon. Get some friends together to make your (last minute) gifts. This year, my friend and I made 15 t-shirt scarves for our co-workers. We watched movies, munched on snacks, and spent an afternoon and an evening crafting.
Go see a live performance. The Nutcracker, Handel's Messiah, A Christmas Carol are all great options. My family and I love going to see A Christmas Carol at the Shakespeare Tavern in downtown Atlanta. It's a great performance and you can eat shepherd's pie and drink Sam Smith beer while watching it.
Bake! I'm not much of a baker, but I always want to make cookies around the holidays. A lot of my friends have done cookie exchanges this year, which sound like a lot of fun. Since Lar isn't eating much sugar these days I'm planning on making these vegan cookie dough bites and these gluten-free chocolate chunk cookies when she comes into town.
Visit a Christmas Market. This one is a little easier in Europe where almost every major city has a huge month-long Christmas market. Nevertheless, there are some great pop-up, weekend-long markets stateside.
Make your house smell Christmas-y. This weekend I plan on making this stovetop potpourri and I'm going to make a batch to bring over to my parents' house on Christmas day.
Make a holiday cocktail. As I'm writing this post, I'm sipping on a glass of eggnog that Troy just made me. It's delicious! I used to never like eggnog because I'd only ever tried the store bought stuff. If homemade eggnog is not your thing, here are a few other holiday cocktail ideas from Martha.
___________________
Dearest Lar,
Have you ever made vegan cookie dough bites before? They actually sound yummy!
We'll have to do a couple of Christmas movie nights when you get into town.
I can't believe we'll get to be together in five days – woohoo!
xoxo, Cath