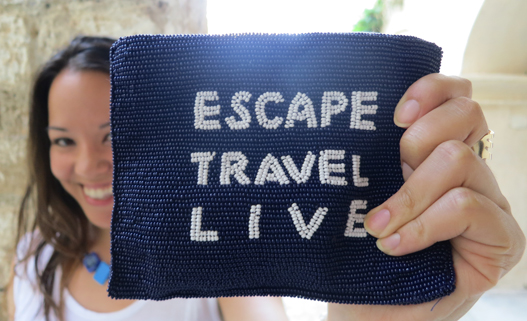 I consider myself a planner. I love to plan for trips. I make clothing lists, site-seeing lists, hotel/stay detail lists, and detailed itineraries before all of my trips. I wasn't able to plan for my Italy trip nearly as much as I would have liked since I had a final due 3 days before leaving and I was more worried about Lar than figuring out travel details. Nevertheless, I put a decent amount of studying time thinking about what clothes I'd want to wear in Italy. I established a color palette (navy blue, white, and neon green) and was able to fit all of my clothes in a small-ish hiking backpack.
Even with a limited wardrobe, I imaged that I would be flitting about Italy looking elegant, non-touristy and well-traveled. Ha! How naive I was! How did I think $10 Old Navy tanks would equal elegance?! Also, why did I think summer would be magically cooler in Italy?!
I mentioned how hot I was in my Venice post. Well, it didn't get any cooler in Florence, Rome or Tivoli. So I spent most of my vacation trying to stay as cool as possible. I only wore my jeans on the plane and I only wore my ankle denim in the mornings. Otherwise, I was in tank tops and shorts 90 percent of the time. The only exception was the one dress I packed that became a travel favorite:


 The dress is from Lulu's two years ago and has pretty much fallen apart since I wore and washed it 5 times in Italy. Still, it was great because it didn't wrinkle easily and there was the NVSS (no visible sweat stain) factor – I know, I'm sorry, it's gross.
Accessory details: Fjallraven backpack (my new favorite bag) • Marc by Marc Jacobs sunglasses • r-ki-tekt necklace • Stella & Dot scarf (I bought a matching one for Lar)
When Troy met up with me in Florence, I tried to make an effort and wore a skirt – by midday I had changed back into shorts. Sorry, Troy!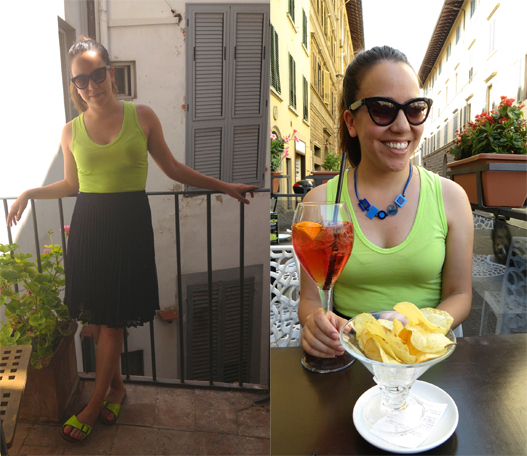 Outfit details: Bobi tank from Squash Blossom Boutique • Asos lace skirt (Lar has the coral version) • Falsi Gioielli necklace purchased in Florence (we'll be blogging about that wonderful shop shortly) • Birkenstocks purchased in Venice
If I had one outfit to sum up my Italy wardrobe it would be, I'm ashamed to say, the one below: a tank top and shorts. I look like I'm supposed to be on the beach – not exploring an Italian city – but I wasn't ashamed at the time, just really, really hot and sweaty.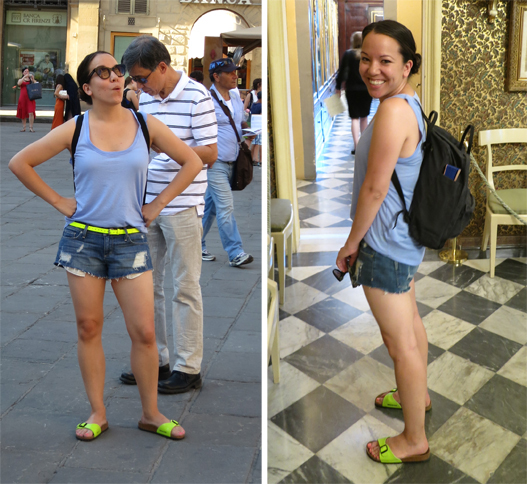 Outfit details: C & C California tank • Target belt (old) • Paige Denim shorts
Below is the $10 Old Navy tank I alluded to earlier. I packed one in white and navy blue. They're super soft and perfect for hot weather, but I felt so. . . American wearing them.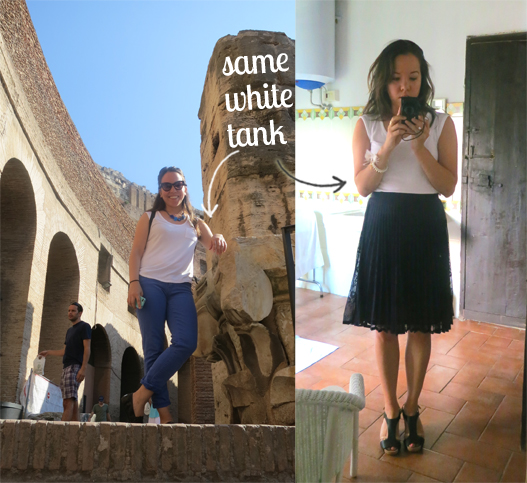 Outfit details: J.Crew denim • TOMs shoes • Jami bracelet • Campers sandals from Sq/Ft Boutique
I wore my trusty Havaianas the whole time I was at the villa in Tivoli. It was heavenly – and not stylish as all 😉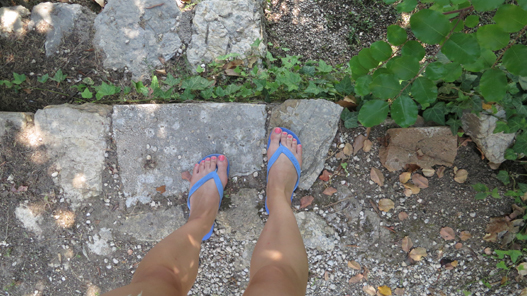 If I had to do it all again (packing for the trip I mean), I would have invested in some non torn-up shorts, packed more summer dresses, and purchased a pair of comfy leather sandals ahead of time. Also, I would have packed about 100 gallons of bug repellent. All things to keep in mind for my return trip someday!
____________
Dearest Lar,
Even though you were officially convalescing on the trip, you were about a million times more stylishly dressed than I was. I wish I had thought to purchase some knit summer dresses and flow-y blouses like you did. I know you never believe me when I say/write this, but you are infinitely more stylish than I am. Next time I'll just let you buy and pack for me, okay?
Love you so!
xoxo, Cath