I've had a special place in my heart for Skip N' Whistle ever since they sent me my tacky Christmas sweater t-shirt. They have the most cheeky t-shirt prints and the company is based out of New Orleans (yay Cajuns!). So even though Lar and I don't usually post on Thursdays, I wanted to let you lovelies know about the Skip N' Whistle sale going on over at Fab.com for the next two days.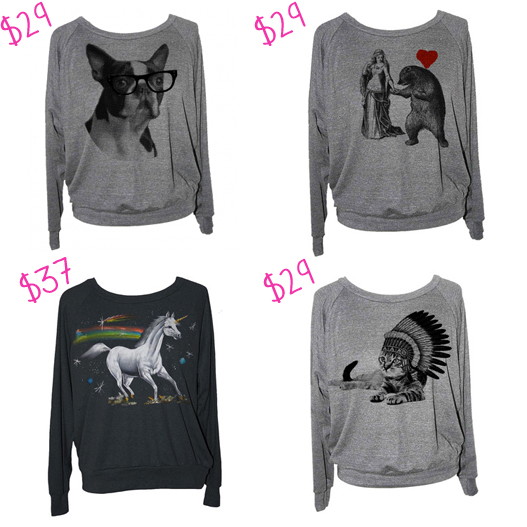 These are just four of the options on sale. I think the pup is my favorite, but the bear one has the perfect mix of sweetness, weirdness and awesomeness rolled into one. Then that cat just looks damn cool and the unicorn shirt randomly reminds me of this Macklemore song. Which one should I get?! Ugh, I don't know! First world problems abound!
You can see all of Skip 'N Whistles sweatshirts here. Happy sales shopping!