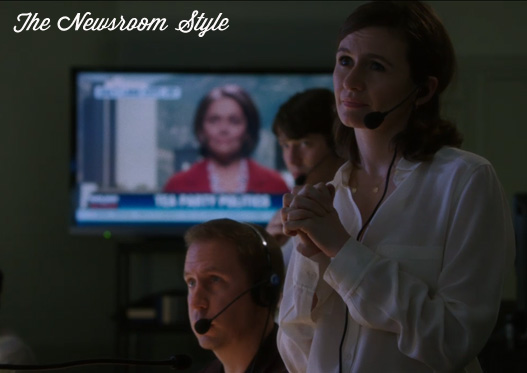 There have only been four episodes of Aaron Sorkin's The Newsroom, but I'm already a big fan. I love the wordy, quick-witted characters that I've been missing ever since The West Wing ended its seven season run. Then there's the pretend world of an honorable cable news station that I really wish existed – like a Bartlet presidency. Another reason I'm a fan? The clothes!
There aren't too many photos showing off the outfits online, so below is a mix of images from the official site and a few screen captures I took. Are you ready for a superficial look at a substantial show? Here goes!
Emily Mortimor's character takes the (fashion) cake with her uniform of button-up silk shirts, pencil skirts, pumps and simple necklaces. If I had money to buy a brand new work wardrobe these are pieces I would get: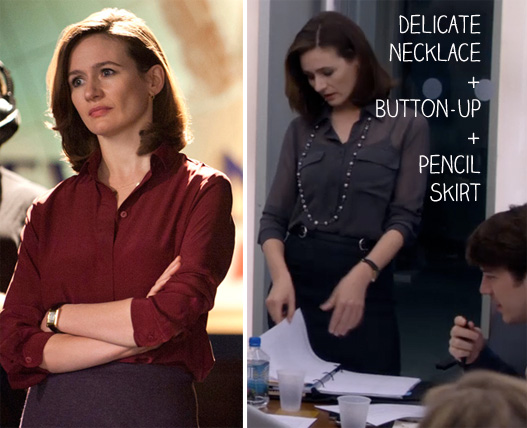 Mortimor wears this gold necklace a lot. I've Googled like crazy to find out who makes it, but no luck:
Update 8/25/12: The wonderful people over at Dominque Cohen emailed me to let me know that Mortimor wears their 5 Coin Drop necklace – amongst a few other lovely pieces. Now I'm lusting after her wardrobe even more!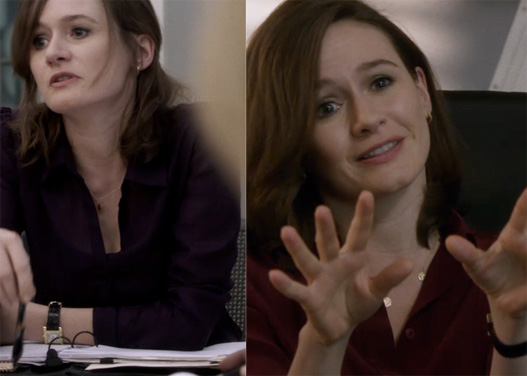 Alison Pill's character has a pretty similar wardrobe. During one episode both she and Emily Mortimor are wearing similar blouses with small puff sleeves. Pill's character wears more dresses. My favorite so far is the brown shirt dress she wears during the first episode (below left).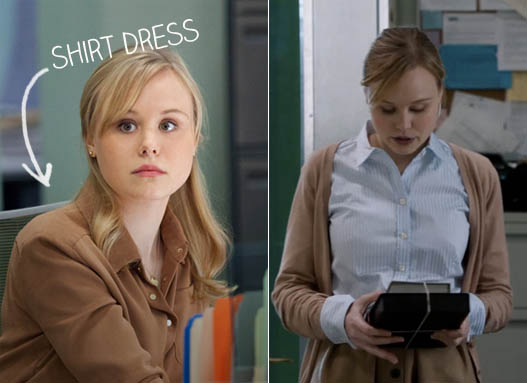 The show also has some really nice – and practical – hairstyles that I want to try if I can manage to wake up early enough before work: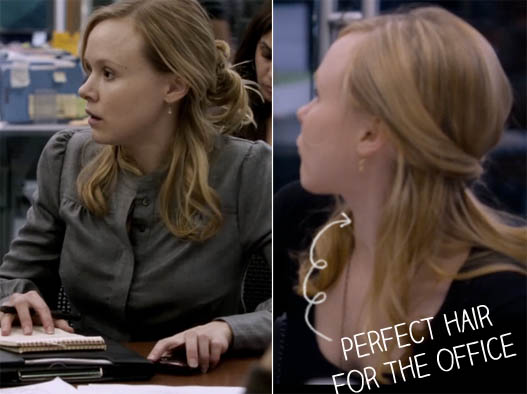 Olivia Munn's character is a bit more conservative. Her wardrobe so far has mostly consisted of blazers and Roland Mouret-ish dresses.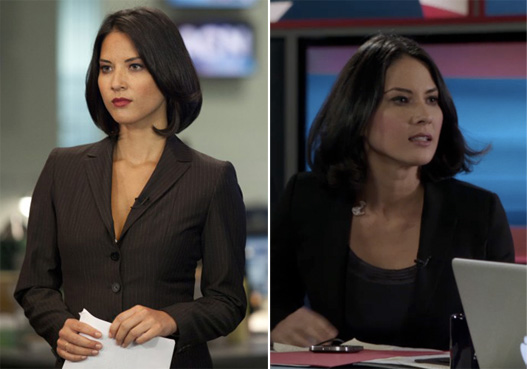 To round off this post, below are some Newsroom-inspired pieces that you can purchase now: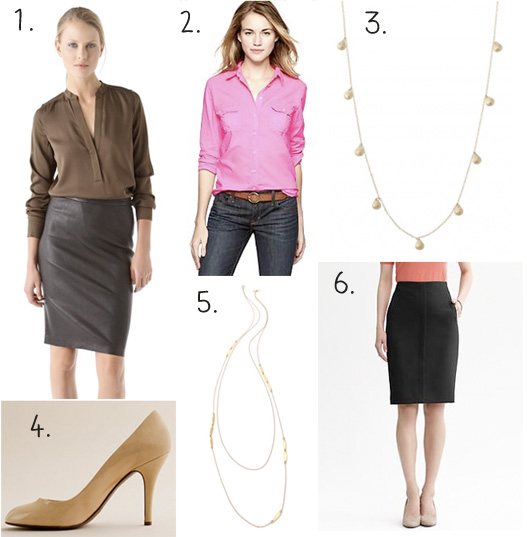 1. Vince blouse
2. Gap pocket shirt
3. Stella Dot layering necklace
4. J.Crew pump
5. Gorjana layer necklace
6. Banana Republic pencil skirt
Anyone else out there a big Newsroom fan? Have you noticed the clothes too?
________
Dearest Lar,
I hope The Newsroom becomes popular enough to cross the pond so you can see it. Didn't the West Wing air in the UK? Do you remember we used to watch West Wing episodes on DVD when we were studying in Scotland?
You only have two more classes and I'll be done with class in week – and then I'll be flying over to see you in no time!!
xoxo, Cath