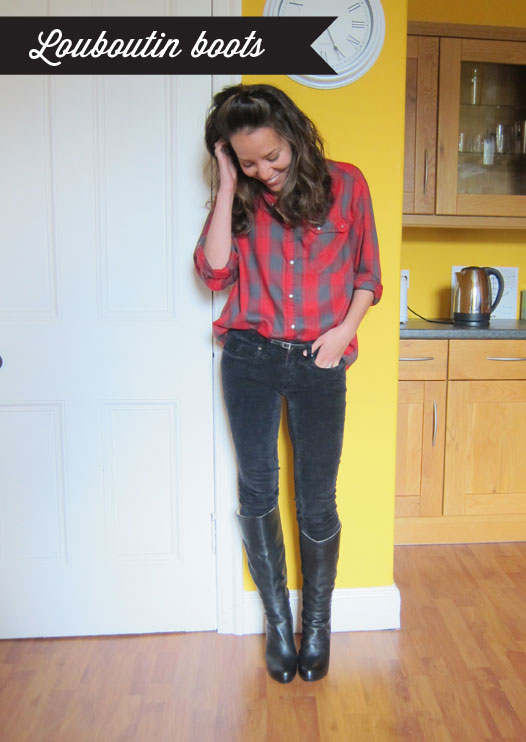 Happy Monday, lovelies!!! We had a drenching Saturday and Sunday (one headline said we got three months worth of rain in three days- gahhh!), but it's all blue skies and sunny today. It's still chilly this morning (it's been the 40s and low 50s), but I can't complain when the gray is gone.
I'm sorry to always be giving you my local weather report. Being in Scotland really makes the weather the most important topic of conversation — year round, but especially in the spring/summer. I think it's because even Scandinavia must have more consistently warmer weather in June (I'm judging this by all the Swedish fashion blogs I read and those ladies are wearing shorts! Luxury!).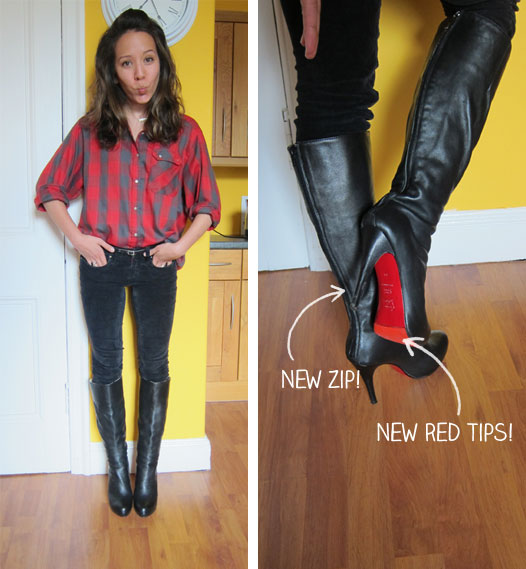 Outfit dets: thrifted Wrangler flannel • Blank black cords • Cheap Monday belt • Christian Louboutin boots via the-dumpster-in-front-of-my-house
One nice thing about the chilly weather? I can break out my knee-high dumbster-found Louboutin boots and wear them without breaking a sweat! They are newly zippered and re-soled. They aren't the most practical shoe whilst living in a city full of cobble-stones, but they are unbelievably comfy for 5-inch stilettos. Seriously. The night I wore them out, Matt and I had to run half a block to catch the bus and that was easy peasy lemon squeezey.
I did almost face-plant later that night on the way to the loo in a crowded restaurant. Nobody would have probably noticed because I grabbed onto the wall somewhat discreetly when my heel slipped, but I let out a "whoaaah—eek" (the squeak at the end is always eight octaves too high for human ears to bear). So on my return journey back to our table, I did that stiff-legged "don't slip, don't slip, don't slip" walk that looks oh-so-awesome when you wear look-at-me-red-soled shoes.
——
Dear Cath,
I can't believe that I'm going to get to see you in just a little more than five weeks?!!!! EEEEEEkkk!!! Best Birthday prezie ever!!! Speaking of which, how should we celebrate our 29th(s) when you are here?
Hope you have a smarvelous Monday!
xoxoxoxo,
Lar