Seriously. Next to a dumpster just a few doors from my flat. Just sitting there in all their red-soled glory, slumped against a giant trash can. And… they fit perfectly. I take this moment to humbly genuflect to the shoe gods (or dumpster gods? or just karma, the universe, gods, god? I thank you all.).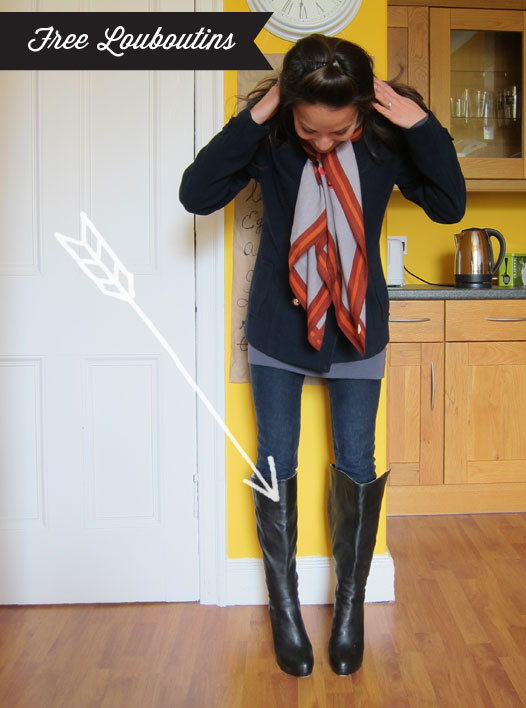 Outfit dets: Primark peacoat • Madewell scarf and skinnies • Christian Louboutin boots via the-dumpster-in-front-of-my-house
That Matt and I just happened to be walking past the dumpster at that time of the day (they weren't there an hour prior, when we had left the house), and that it had not rained and turned the boots into mush still boggles my mind. And on top of all that, why would someone ever throw away a pair of $1500 boots? Turns out there was a broken zipper and some scuffed up soles, but otherwise they are shipshape and the leather feels like buttah!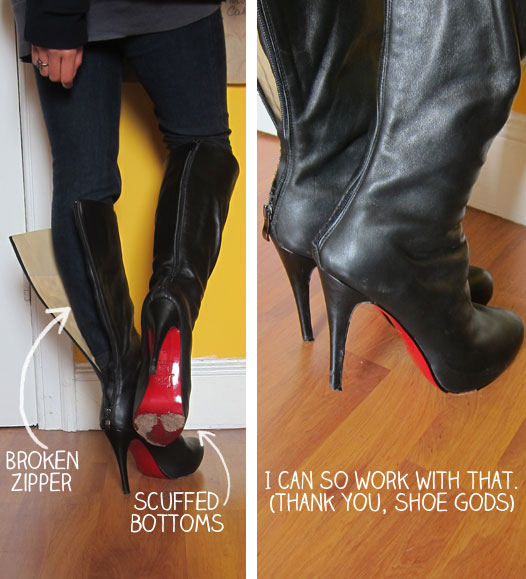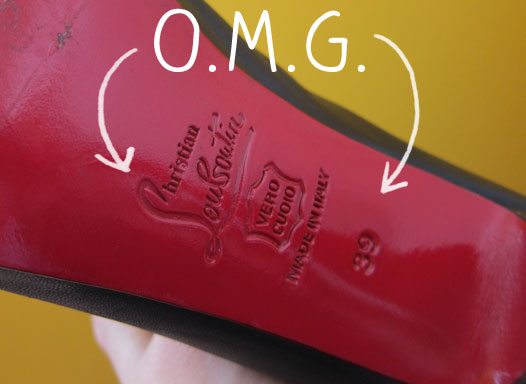 After I snatched them up (glancing furtively left and right), gave them a sniff, shook them upside down, tried them on, and took these photos, I scurried to our shoe repair shop around the corner. In a week I'll have resoled (just the front scuffed bits) and re-zippered Christian Louboutin stiletto boots. I might be $100 poorer for the repairs, but I'll be a pair of Christian Louboutin's richer (I've never had or thought I'd have Louboutin's in my closet). Totally worth it don't you think?
I do think this beats my $1.60 Bottega Veneta purse find at Good Will.
—–
Dear Cath,
I'm still kind of reeling from the shock of finding these black beauties. I will take gobs more photos once I get them back next week.
I wish you could have been with me when I took them to the shoe repair shop. The very nice (and very Scottish) cobbler was not "familiar with shoe maker's mark" (dude! red sole!) so me saying "these are Christian Louboutin's I found by the dumpster!!!" did not impress him a bit. But when I told him that the boots were originally £800, he literally clutched his counter and doubled-over while gasping. Yeah! That's the reaction I was looking for!
I hope you are having a lovely week and that the universe leaves at least a pair of Choos by your trash bins!
Love,
Lar