For those of you who don't follow us on Facebook or Google+ or Twitter or Instagram or who haven't read this blog in the past week, you might not know that we'll be hosting a Google+ Hangout tonight at 6 p.m. EST. Tonight! Lar will be teaching a tutorial on how to make tissue paper tassels and I'll be there to look pretty – ha! For details, scroll down past the outfit pics.
Notice how I've been wearing my hair up in a bun a lot lately? It's my I-don't-feel-like-washing-my-hair-so-I'll-pull-it-back-in-a-bun look. Perfect second day hairstyle. It reminds me of my ballet days when I had to put my hair in a bun everyday. I did it so often that I started getting a bald spot at the hairline – it was so attractive!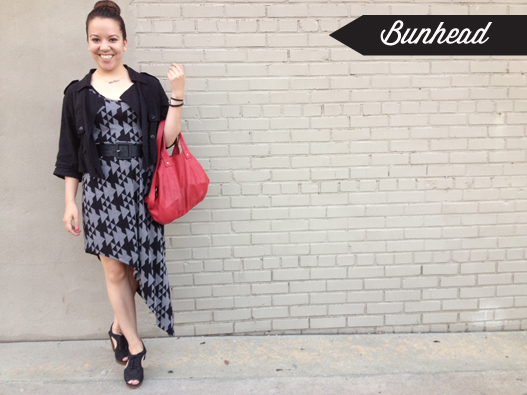 Dress from Squash Blossom Boutique • Urban Outfitters linen trench crop jacket • H&M Belt • Madewell heels • Clare Vivier purse
I wore this outfit out to dinner last week. I know sideways asymmetrical skirts aren't as popular as the high-hem-in-the-front-low-hem-in-the-back skirts, but I love the edginess it creates in the outfit.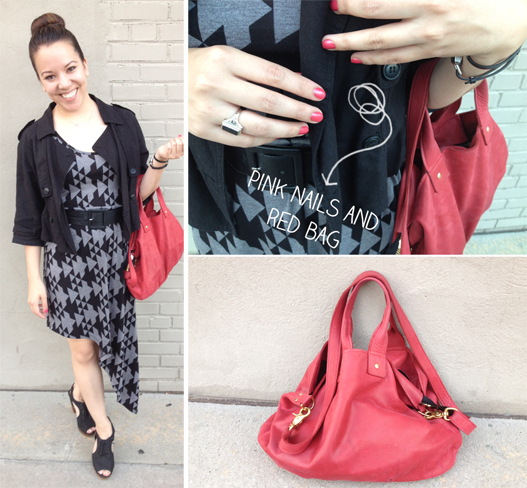 Yes, my nails clashed with my purse, but somehow it worked – or at least it looks like it worked in the photo.
Now, for the details on the Google+ Hangout tonight:
At 6 p.m. EST, Lar will be leading a tutorial on how to make those cute tissue paper tassels she made for her flat in Scotland. Up to 8  readers can "hangout" with us and watch or follow along with the tutorial. If you aren't in the first 8 or are busy at 6 p.m. tomorrow, you can watch the video later on YouTube or our blog.
For those of you who are new to Google+, here's some basics:
Create a Google+ account
Circle up with AsianCajuns on Google+
Test out the Hangout function to make sure your camera and audio are working – it works best in Google Chrome of course!
A little before 6 p.m. tonight, you'll receive a notice from us that you've been invited to a Hangout. Click on the notification box in the top right-hand corner to start Hanging out with us!
I hope you can join us. If you do, you might get a chance to see Lar do something like this: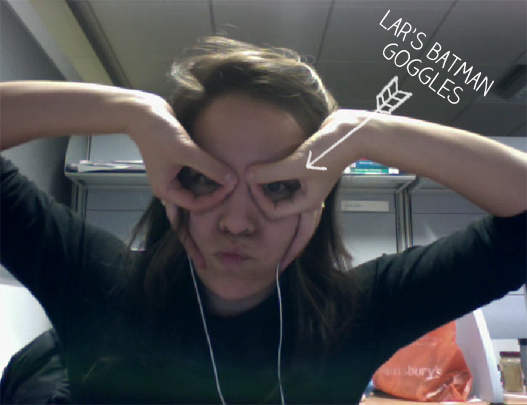 ______
Dear Lar,
I can't wait for our Hangout tonight! I feel so high-tech doing something like this!
You've been posting such amazing photos of food, that I finally broke down and went to Miso tonight with some friends from school. I've been trying to be disciplined about going out to eat and saving for my ticket to come see you, but sometimes I just get a craving for food that I can't even come close to cooking myself.
I'm currently watching Persausion as I blog – click here for Instagram evidence. Isn't it such a great film? You need your own copy on DVD in Scotland!
Can't wait to "see" you at our Hangout!
xoxo, Cath